We've reviewed a variety of devices on this site, but the one we haven't touched yet is the "audio glasses," or glasses-type speaker devices. In 2019, BOSE introduced sunglasses with audio capabilities, in 2021 Razer, and in 2022 Anker introduced products in the same category.
I actually installed the BOSE product at the store, but the size didn't fit and it didn't fit at all … I also tried Anker products in stores, but gave up on the feeling of tightening my temples. As with most eyeglass frames, the fit is important, but
Then, in May 2022, HUAWEI's wireless smart glasses "HUAWEI Eyewear" were released. I was asked if I would like to review it, but I accepted it with the condition that "If I can't install it properly, can I decline it?" Well, will it be the third honesty …
HUAWEI Eyewear Wellington type full rim review
This is the HUAWEI Eyewear package. Only gold stamping in a pure white box is as simple as it gets.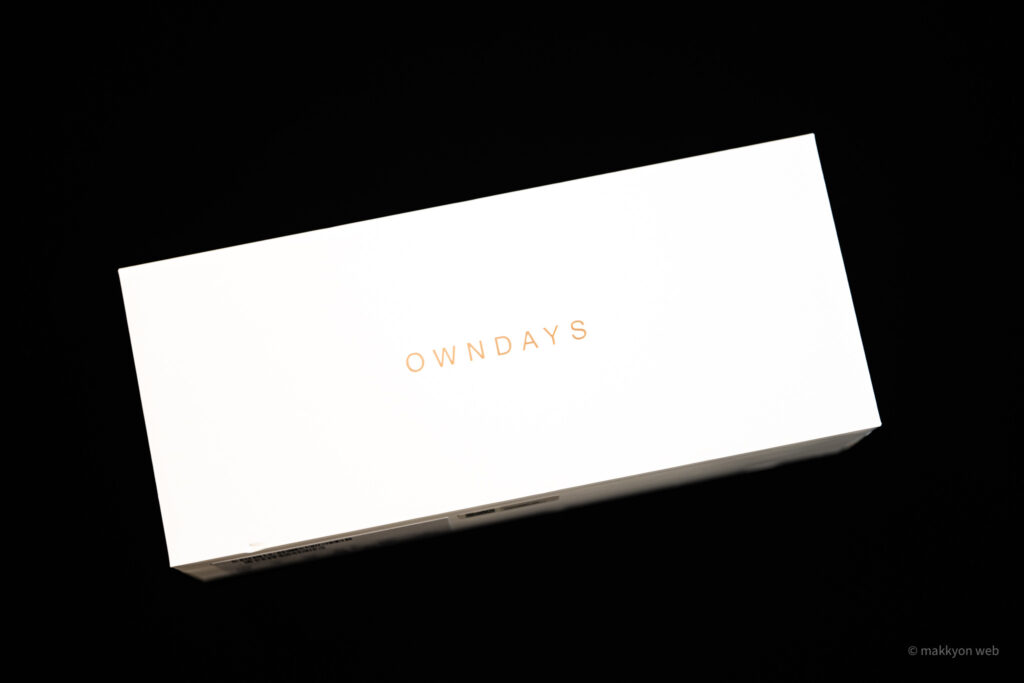 that? OWNDAYS? Isn't it HUAWEI? I tought? That's right, this time we will review the collaboration model "OWNDAYS x HUAWEI Eyewear" with OWNDAYS.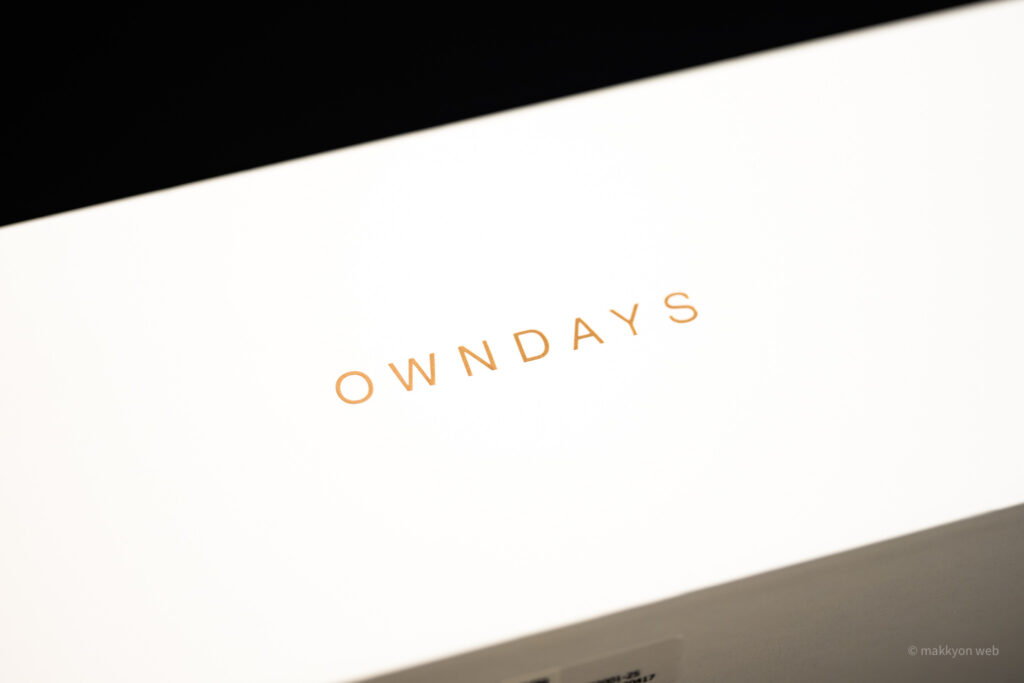 The collaboration model with OWNDAYS has a different sales channel, is it OWNDAYS storefront? Online shop,orPayPay Mall storeYou can buy it at. The difference from the HUAWEI model is in the latter half of this article (which shows a surprising development).
By the way, OWNDAYS is a Japanese company, but it was announced on June 30, 2022 that it will be integrated with India's largest eyewear company, Lenskart. It is said that this business integration will create one of the largest eyewear companies in Asia. (See release below).
OWNDAYS Co., Ltd. (Representative Director: Shuji Tanaka, hereinafter "OWNDAYS"), the holding company of the OWNDAYS Group, is Lenskart Solution Private Limited (hereinafter, "Lenskart (…)".
I didn't know much about the eyeglass industry, but the scale is amazing. Return to review.
The package of HUAWEI Eyewear is horizontally long, and it looks like a smartphone.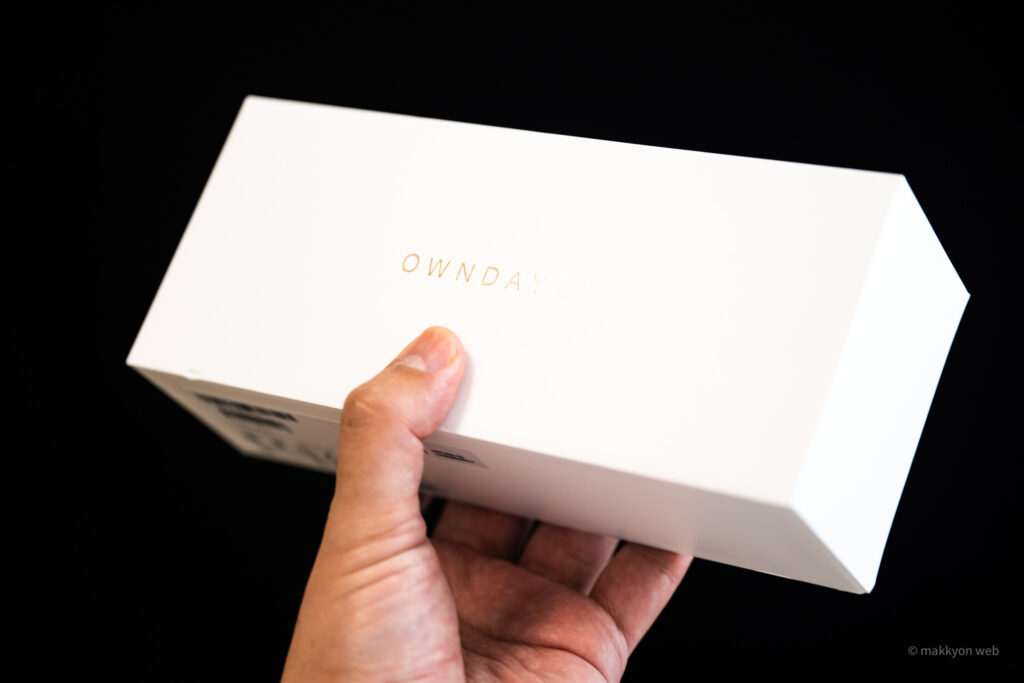 Let's take a look at the contents.
HUAWEI Eyewear adopts an epoch-making mechanism! ??
The contents are as follows. The HUAWEI Eyewear body has a protective case bag, a charging converter, a quick start guide, and a glasses wipe.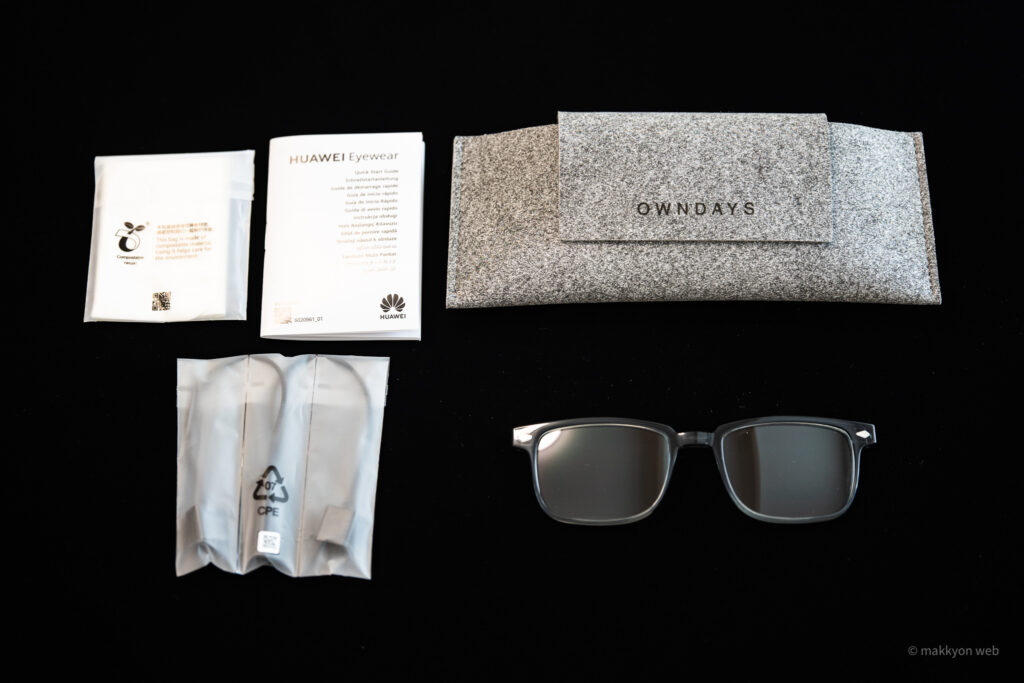 It is this that makes me feel uncomfortable. Only the front part of the glasses.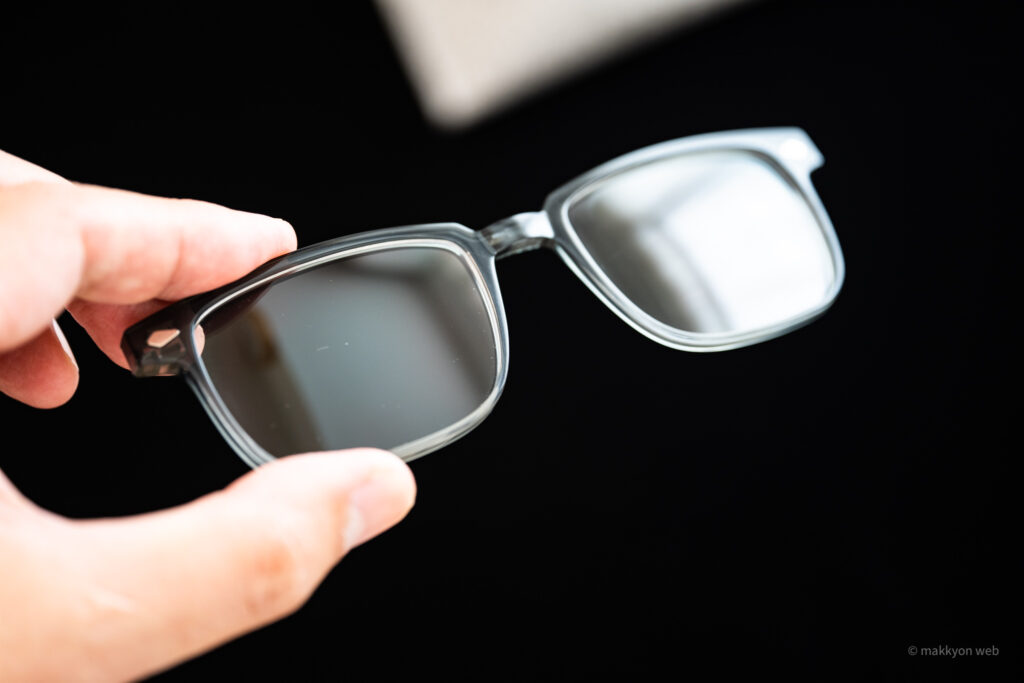 There was a glasses frame in the protective case bag.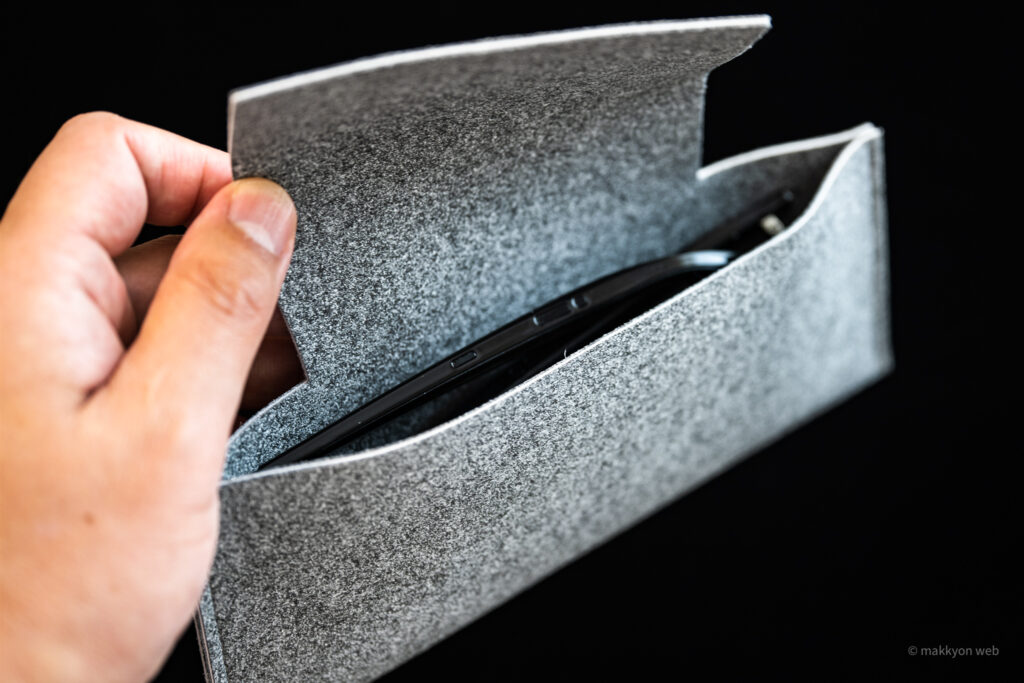 This is the main body of HUAWEI Eyewear.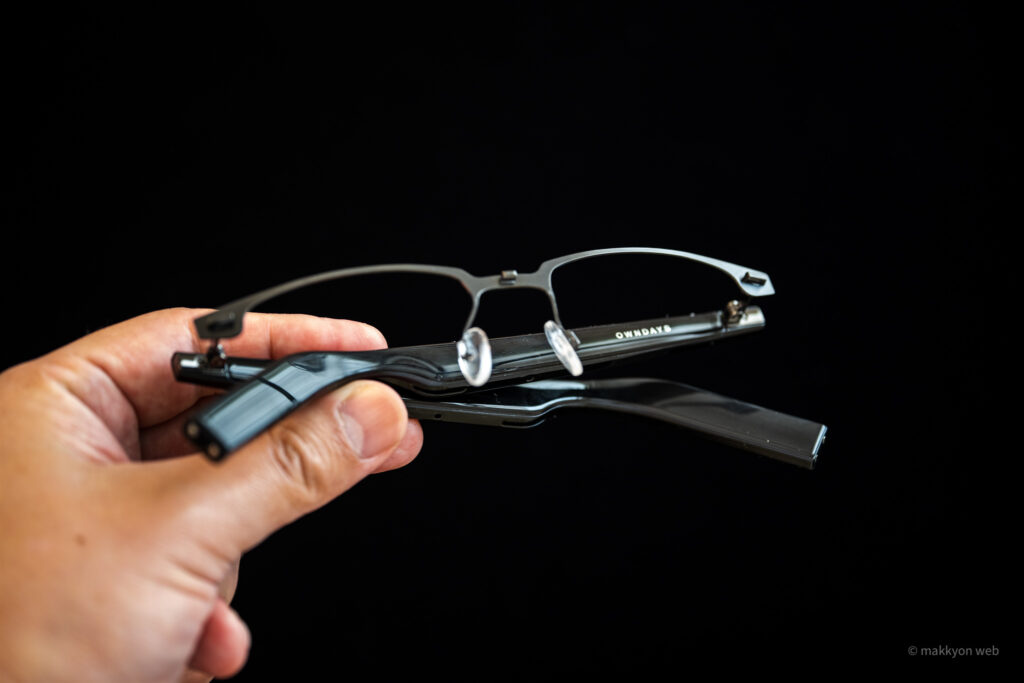 Let's open it up like this. It is a glasses frame without a lens.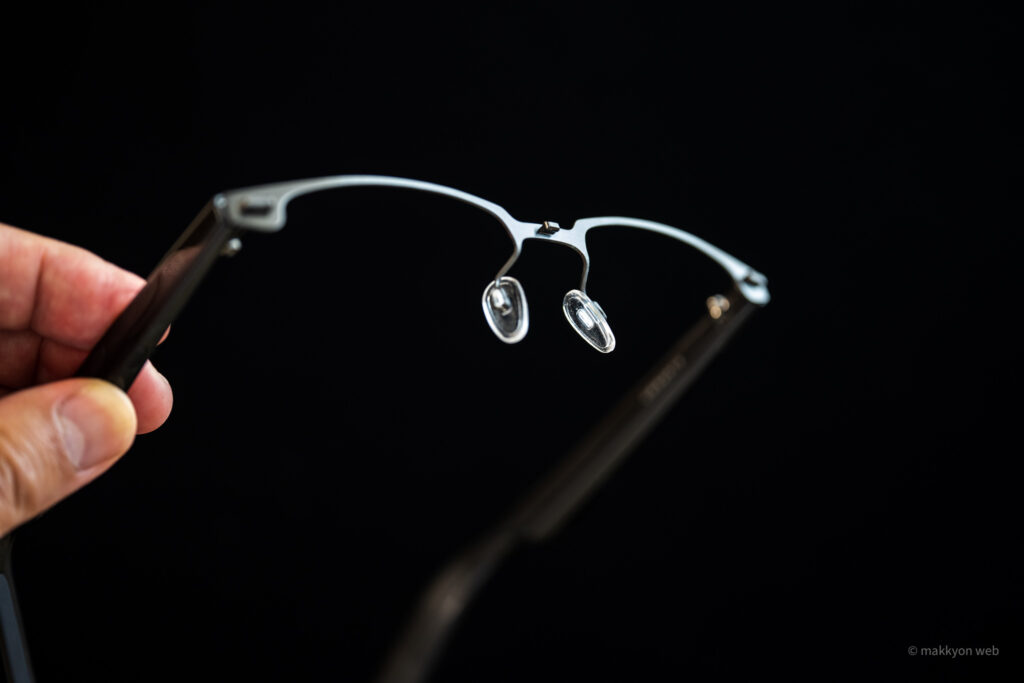 In other words, HUAWEI Eyewear is completed by combining these two parts.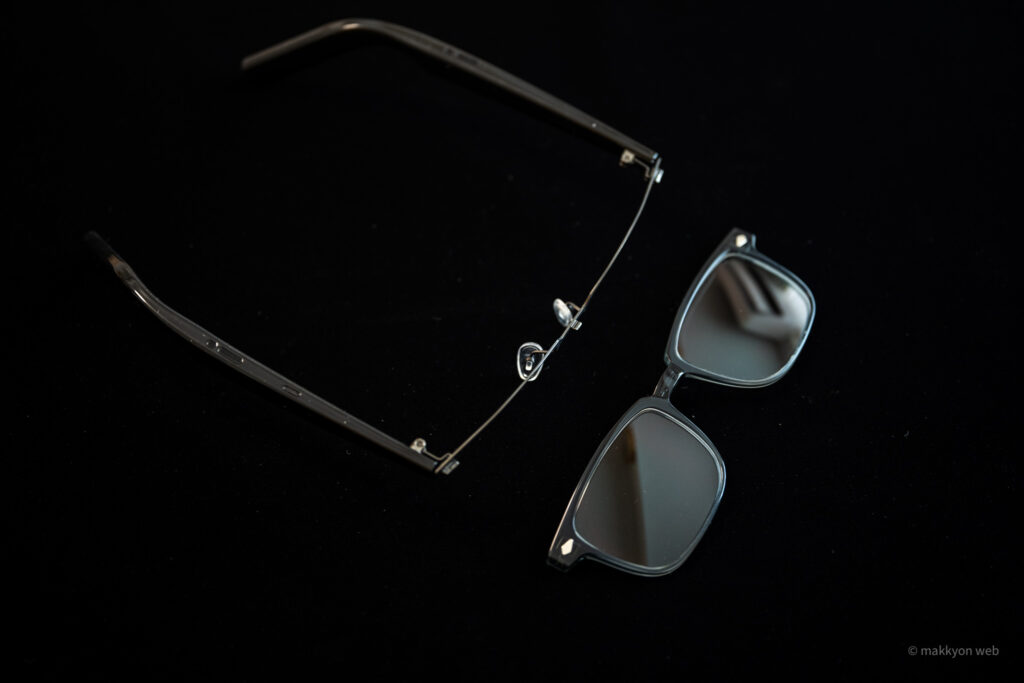 The temple has three joints on the left and right and in the middle.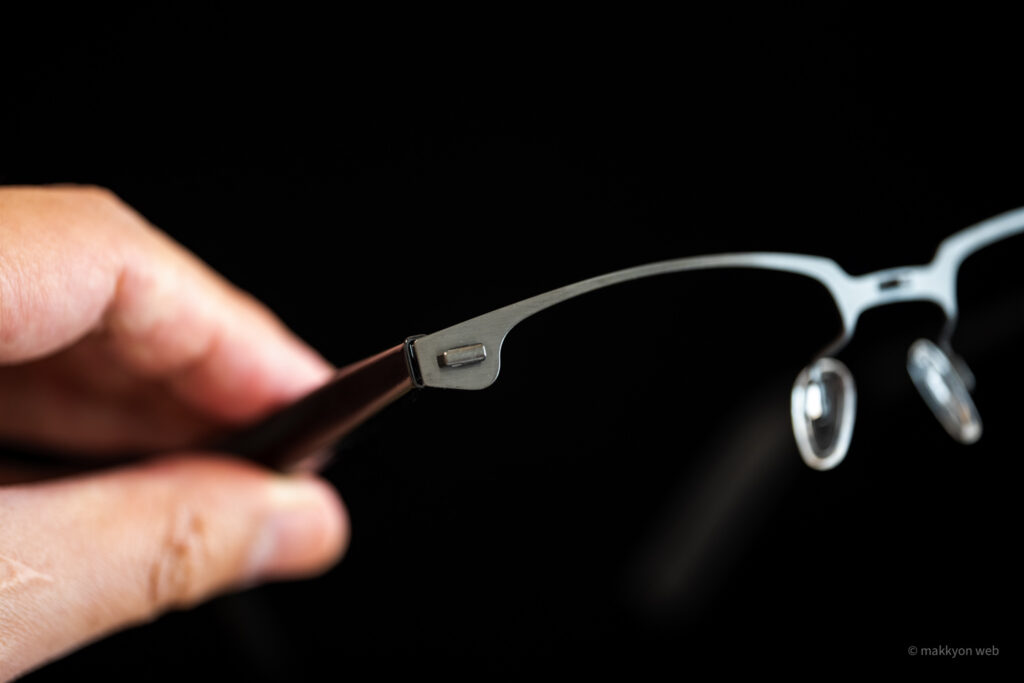 Fix the frame and you're done.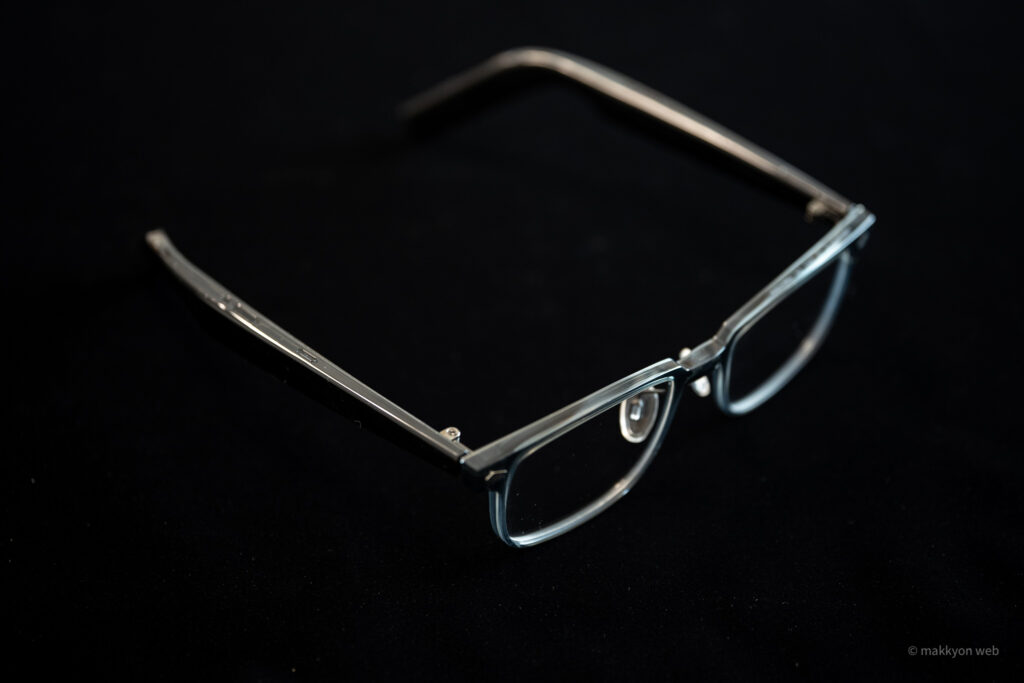 In this way, by separating the temple and the frame, it seems that it can correspond to multiple frames. Here, let's see the difference between the collaboration model "OWNDAYS x HUAWEI Eyewear" and the regular model "HUAWEI Eyewear".
Difference between OWNDAYS collaboration model and HUAWEI model
The following figure summarizes the frames prepared for "OWNDAYS x HUAWEI Eyewear" and "HUAWEI Eyewear" (different from the actual design).

The OWNDAYS collaboration model and the HUAWEI model have different frames and some differences. I prepared a comparison table. (Bold letters are different)
HUAWEI model
OWNDAYS model
design
Wellington (Full Rim /Half rim)
Boston (Full Rim)
Square (full rim)
Wellington (Full Rim)
Color
black
black
gray
Attached case
Case with HUAWEI logo
Case with OWNDAYS logo
Optional option
none
SNAP LENS (sunglasses frame)
Sales outlet
Amazon.co.jp, Rakuten Ichiba, consumer electronics mass retailers, etc.
OWNDAYS store / online shop, PayPay mall, etc.
Besides the difference in design, the distinct difference is the existence of SNAP LENS. This is an optional pair of sunglasses that can be worn over the OWNDAYS collaboration model. There is no functional difference, but please be careful if you want to use it as sunglasses.
"OWNDAYS x HUAWEI Eyewear" is a collaboration model, and the OWNDAYS logo is inside the temple on the left.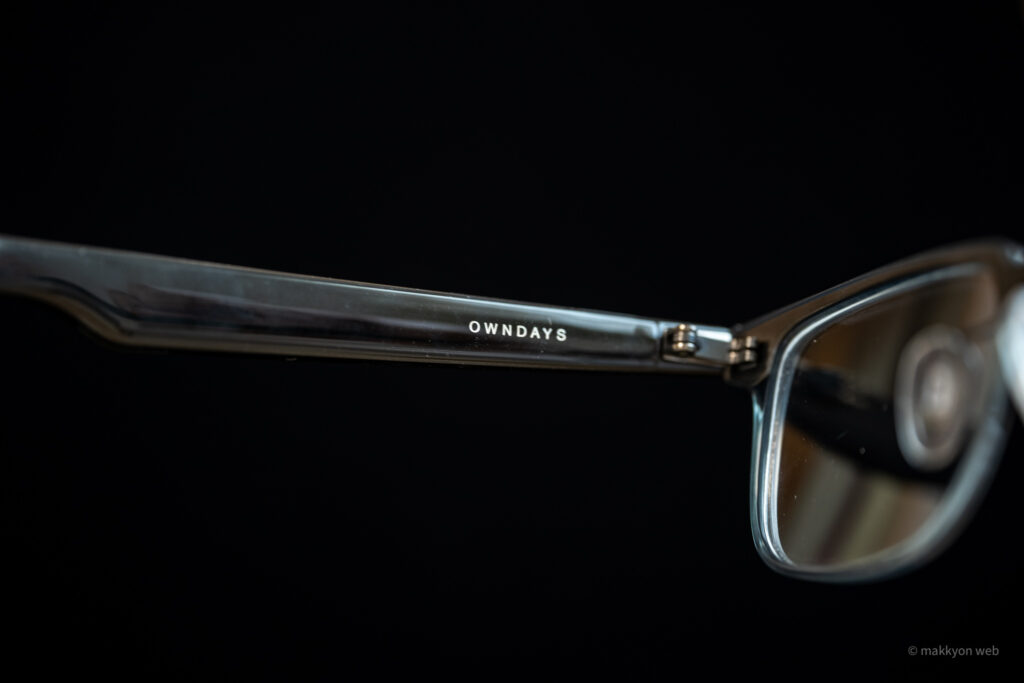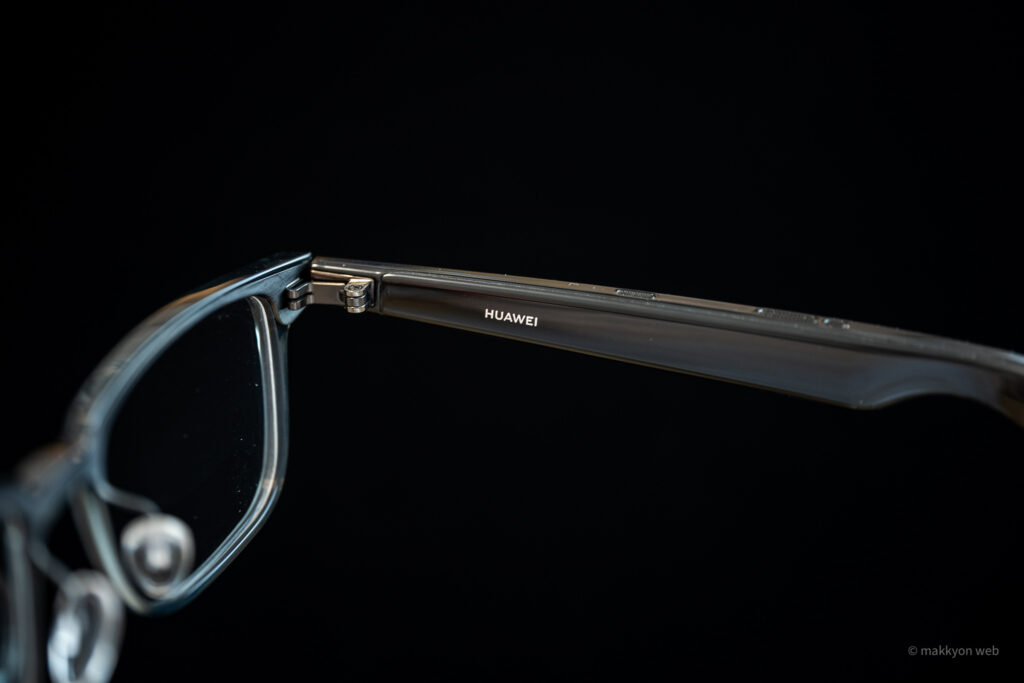 Inside the right temple is the HUAWEI logo.
A tightly packed microphone and speakers that don't seem to stand out!
At first glance, it looks like ordinary glasses, but the slightly thicker temple hides the microphone and speaker at the top and bottom.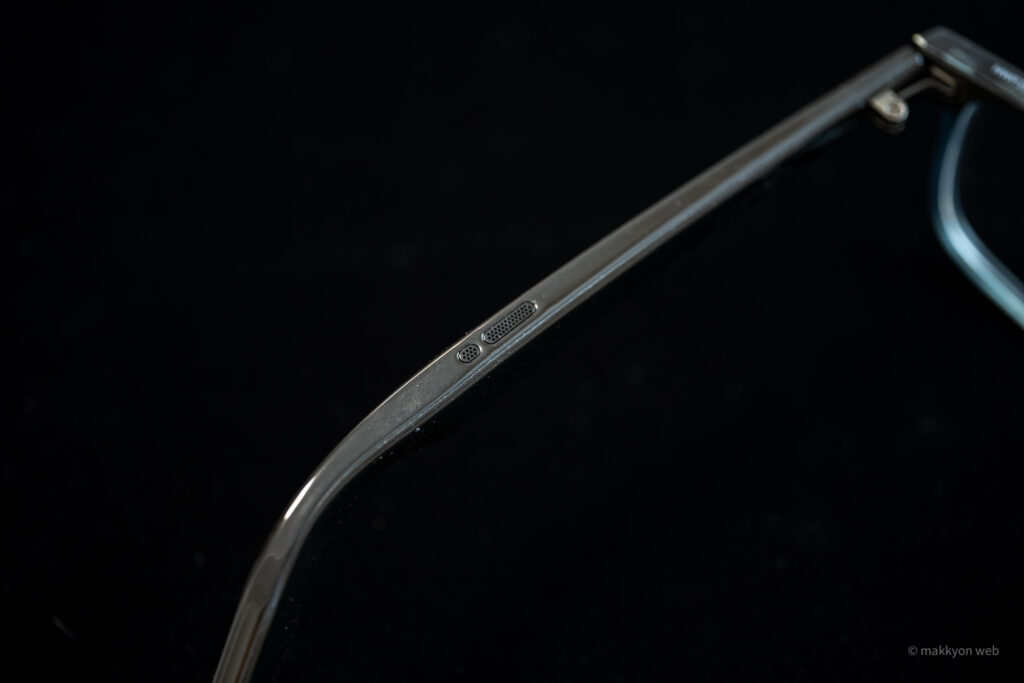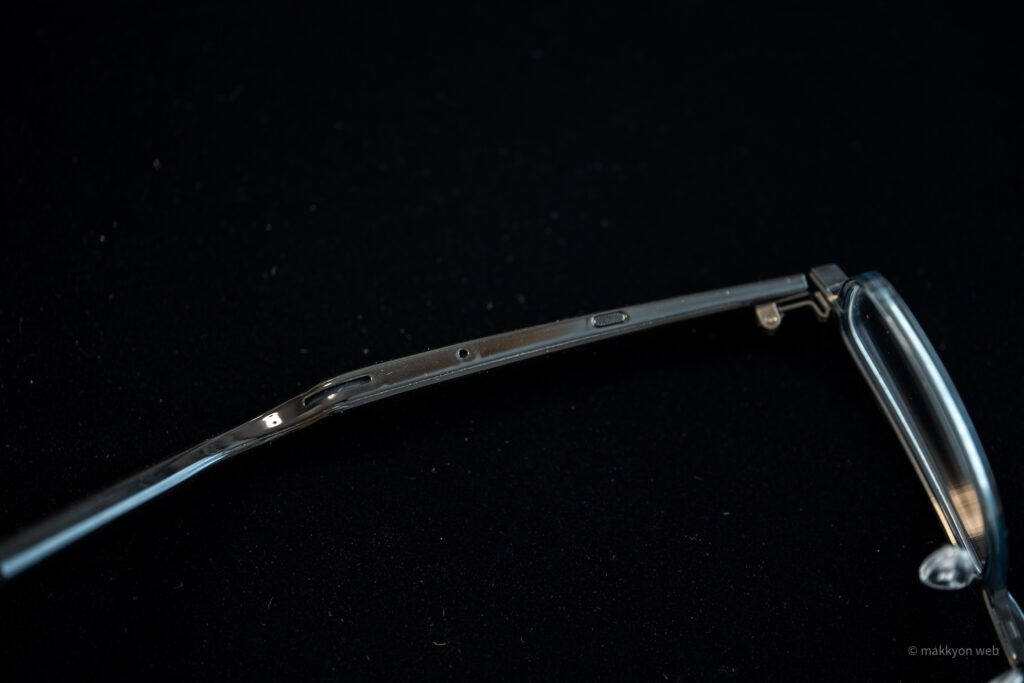 If there are speakers on the top and bottom, it seems that you can hear them around, but this speaker has directivity and you can hardly hear it around you. (However, when you stand next to me, it sounds like something is ringing.)
Difficulty in choosing a frame … But it's okay if you have a big face!
Well, I had a bitter feeling with BOSE and Anker audio glasses, but I was able to wear HUAWEI Eyewear without any problems (Banzai!). It is this hinge that connects the temple and the frame that supports the comfortable fit of HUAWEI Eyewear.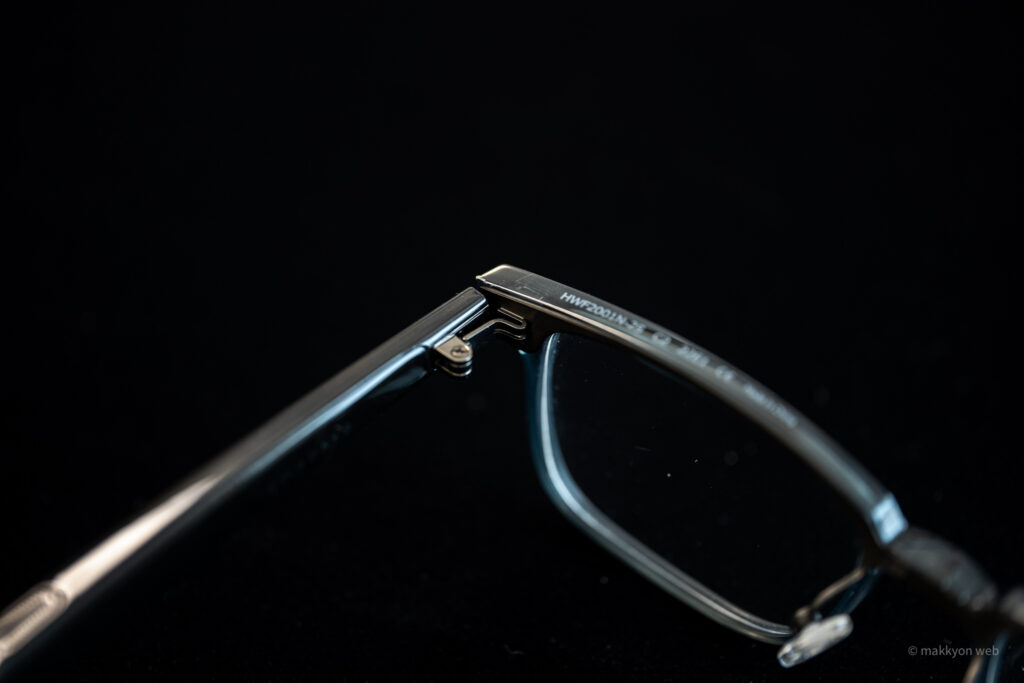 Thanks to this hinge, it can be wider than the width of the eyeglass frame. Even in this state, it is not overtightened, not too loose, and the optimum tightening is done, which seems to lead to a comfortable fit.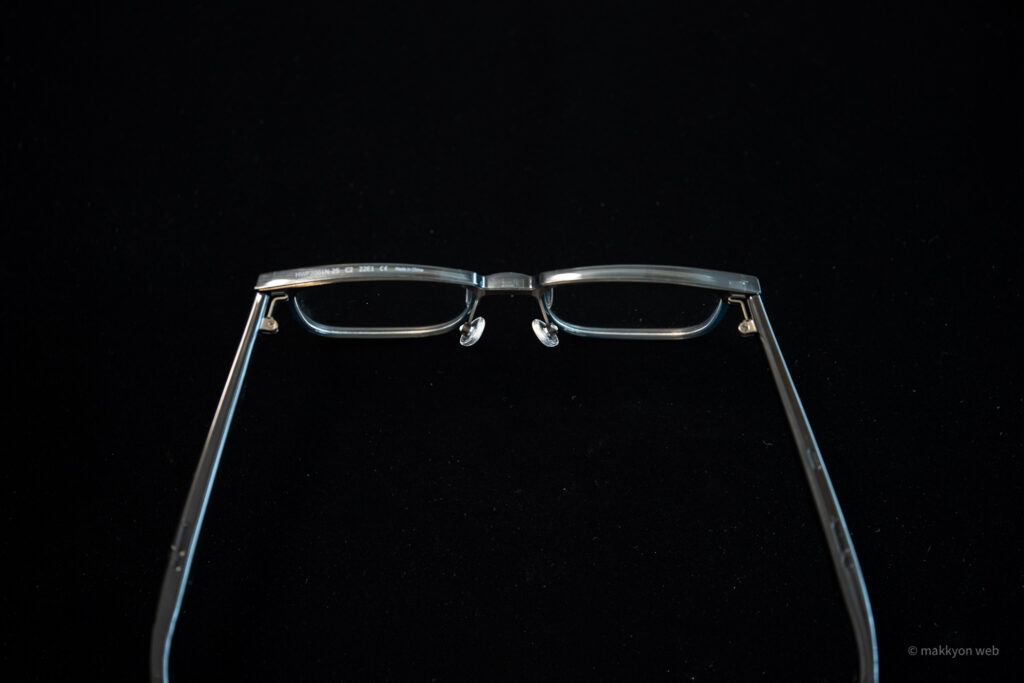 Actually, I will compare it with the eyeglass frame I usually use (left photo). You can see that the width of the frame is the same, but it spreads to the left and right. HUAWEI Eyewear also spreads in the same way, so I was able to wear it without any problems.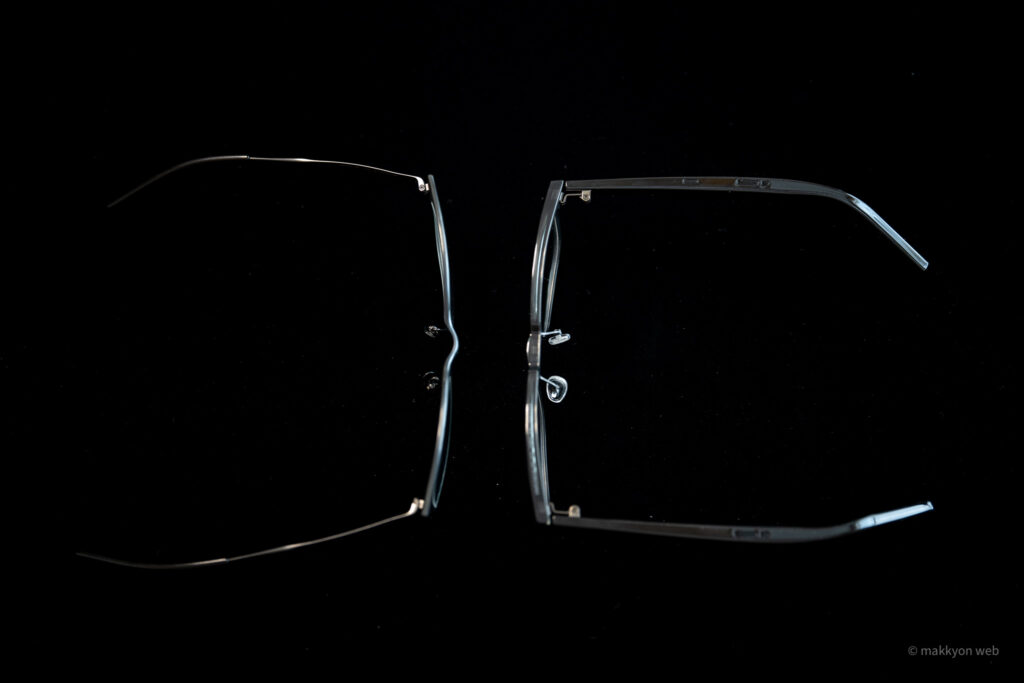 You can wear any of these glasses, right? Those who think that are happy … There are many glasses that cannot do this, and it is difficult to choose glasses ….
HUAWEI Eyewear is charged by a magnet adsorption converter method.
Charging a typical audio glass is not a normal USB connector because of its shape. HUAWEI Eyewear is no exception, with a charging terminal at the end of the temple.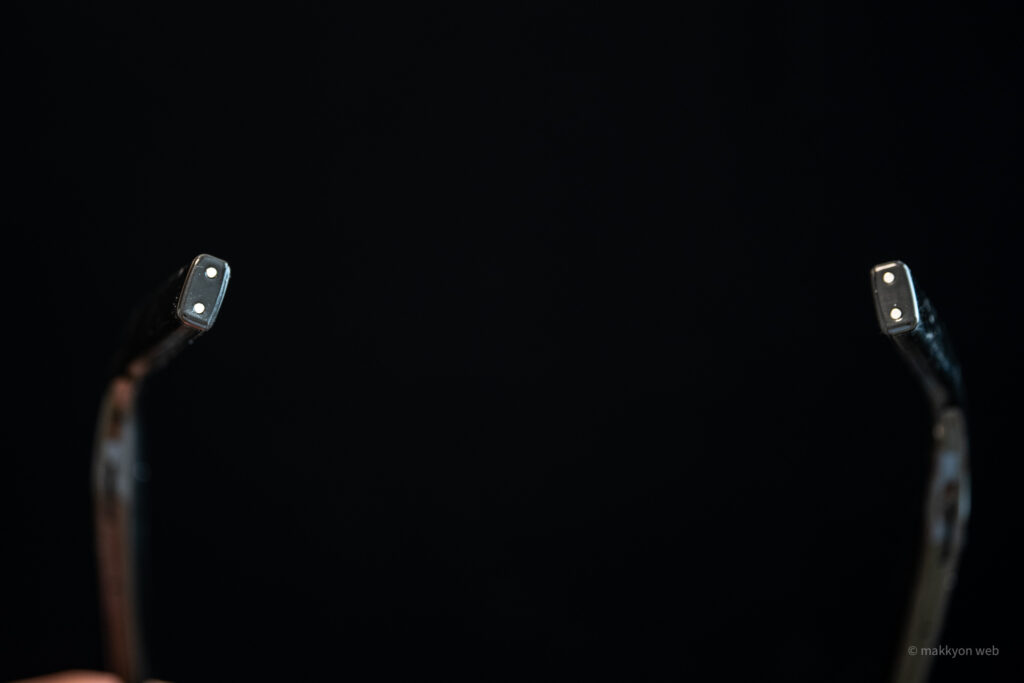 The HUAWEI Eyewear comes with a bifurcated charging converter. When brought close to HUAWEI Eyewear, it will be attracted by a magnet.
The other side of the charging converter is a USB-C female connector.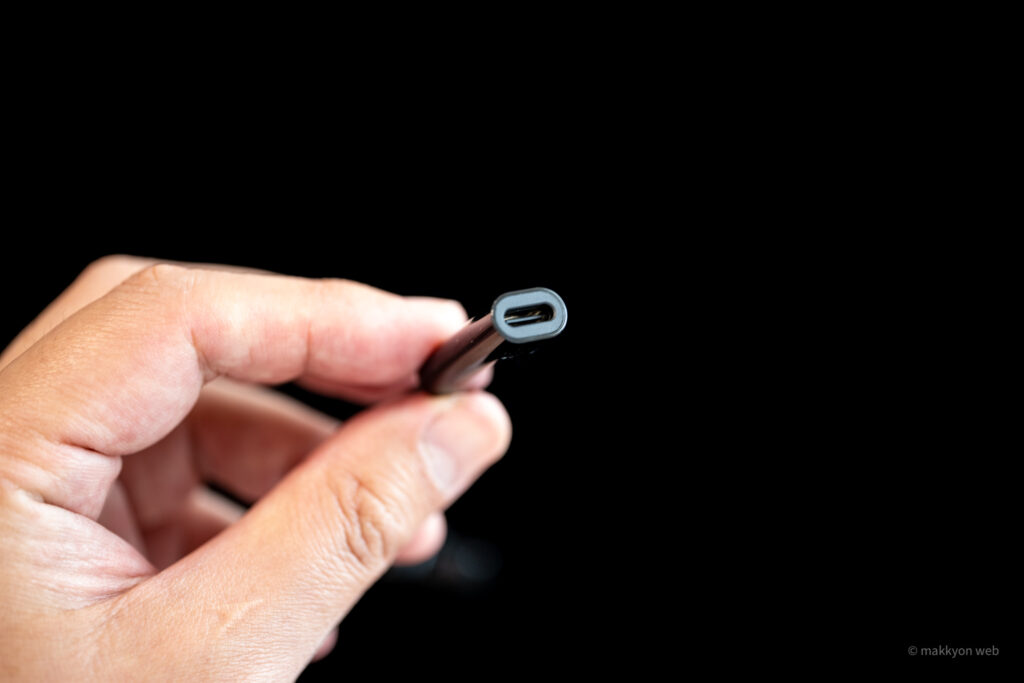 Insert a commercially available USB cable and USB-AC adapter here to charge. You can use a general one like charging a smartphone.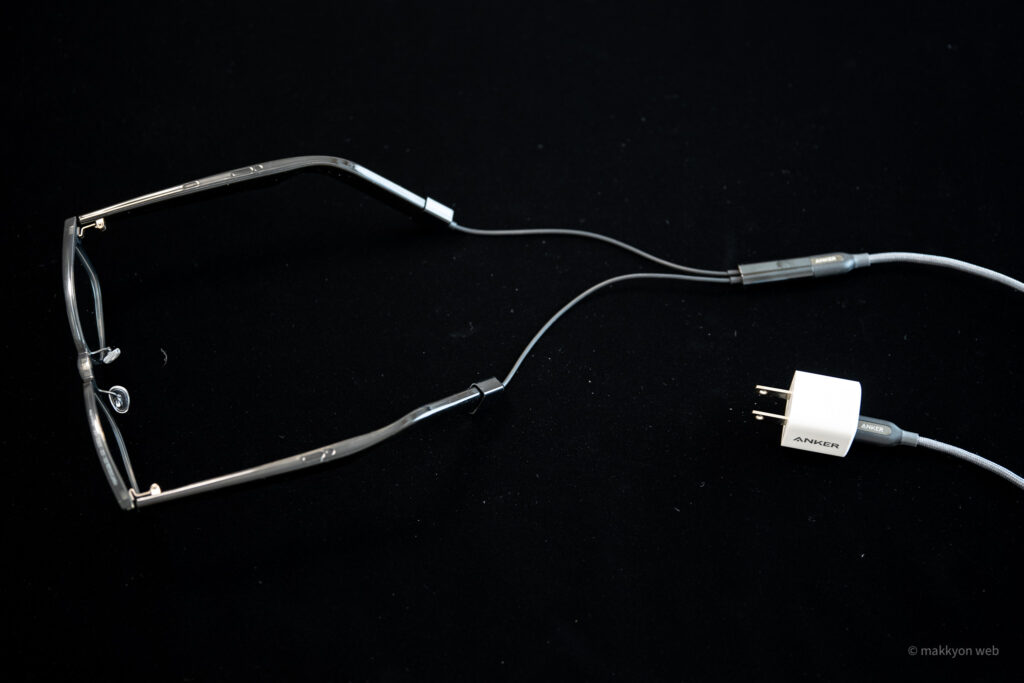 You can check the charging status with the indicator on the converter side. Charging is complete when the LED changes from orange to green.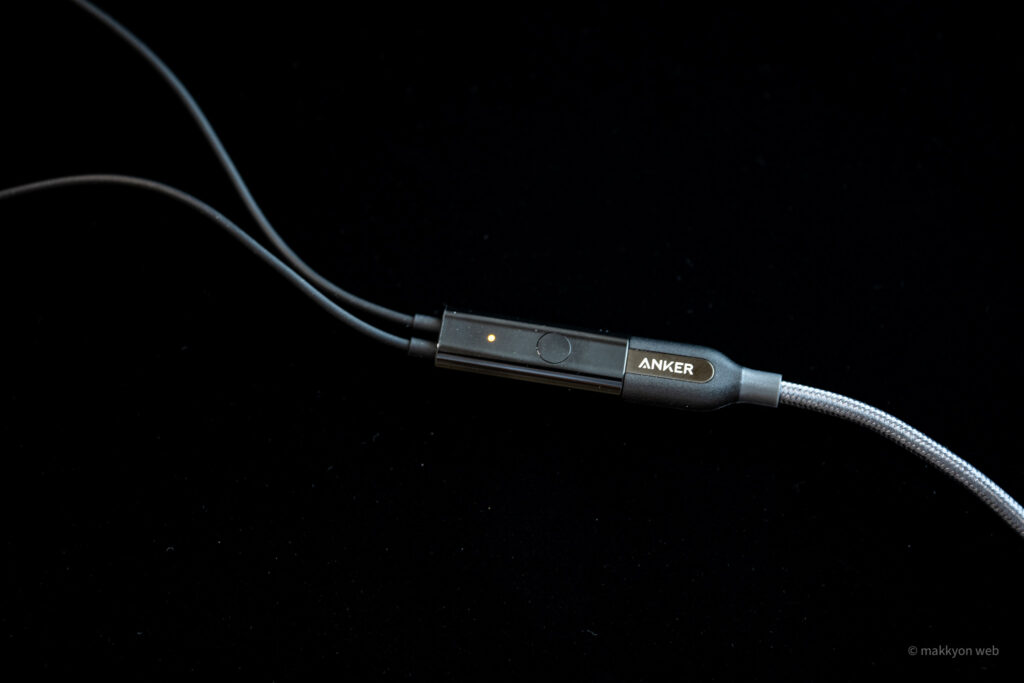 It is unavoidable that the charging cable is dedicated. There is also a product called "HUAWEI X GENTLE MONSTER Eyewear II" in HUAWEI's audio glasses, which can be charged with a special glasses case, but it is bigger and heavier.
How does HUAWEI Eyewear compare to regular eyeglasses?
The glasses I use are I.ENOMOTO and 999.9 (Four Nines). I used to use ic! Berlin and so on. Both are slightly larger frames, yet they are lightweight.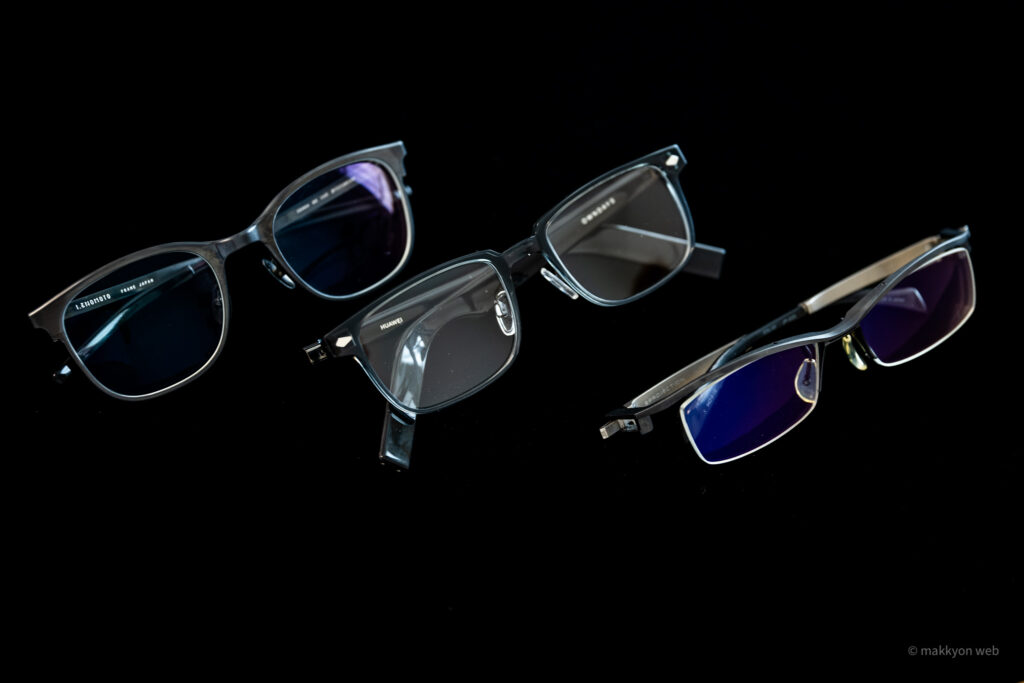 Let's measure how light it is. The frame of I.ENOMOTO currently used in the main is 29.8g including the lens.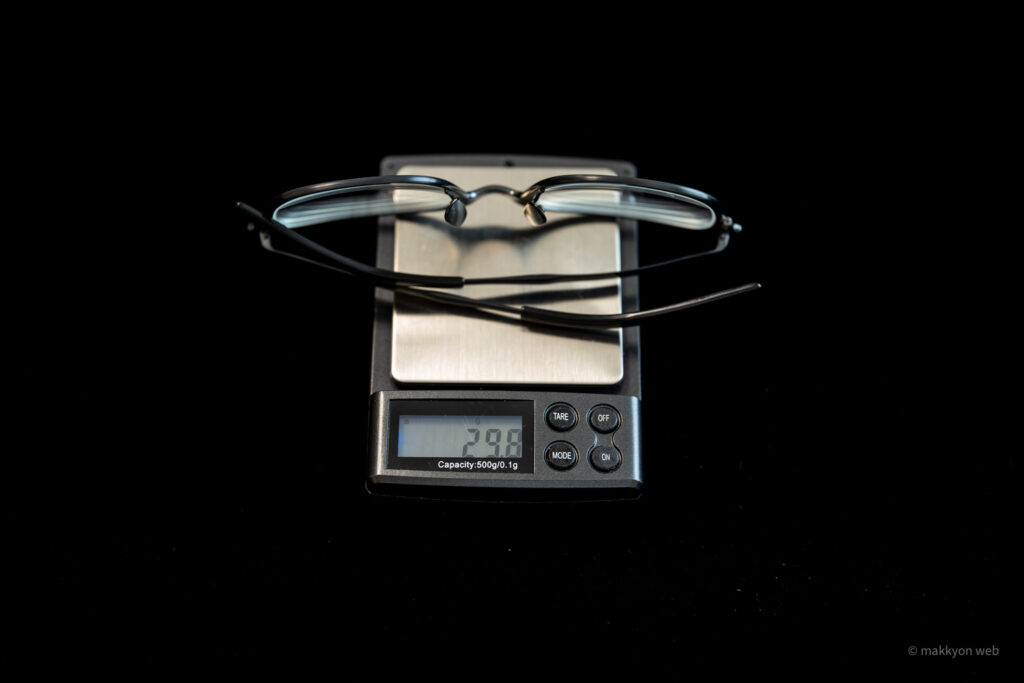 999.9 (Four Nines) is a type without a frame, so it is even lighter at 25.4g.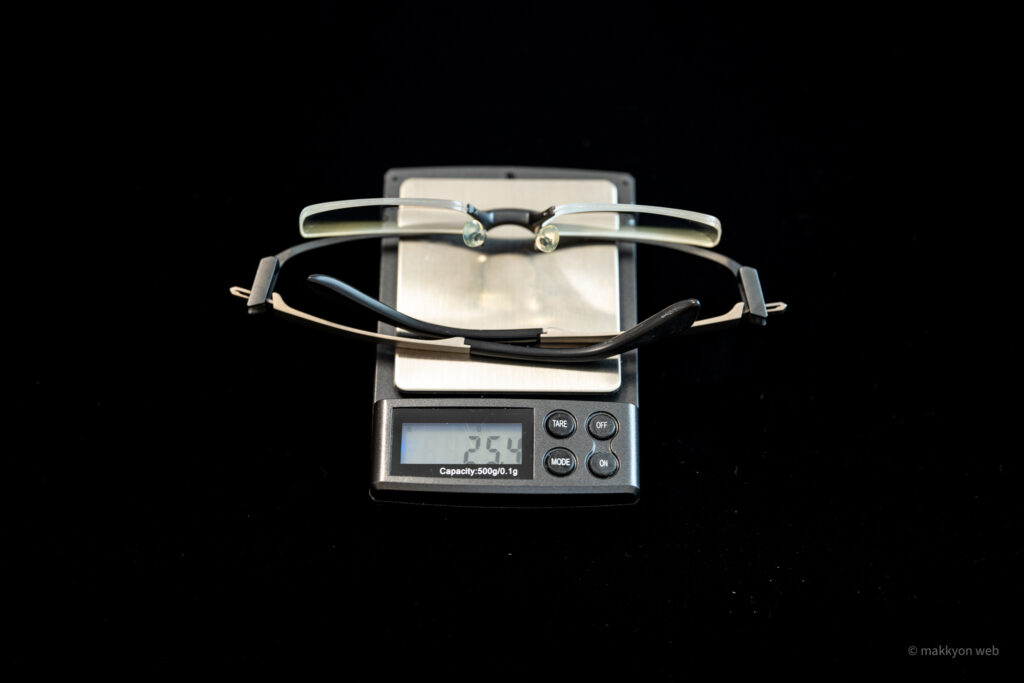 On the other hand, HUAWEI Eyewear is equipped with audio devices in addition to glasses. When I measured it, it was 35.6g. It's only 5g different from the glasses I usually use.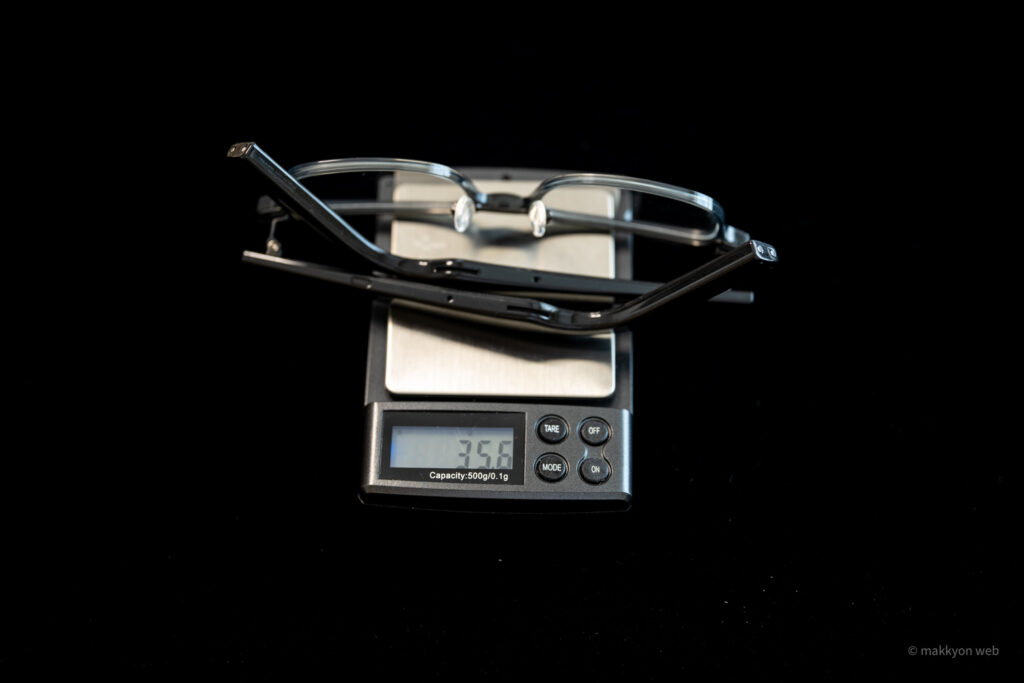 Considering the features of HUAWEI Eyewear, it's lightweight enough.
HUAWEI Eyewear is set and managed by the app
Let's finally use it. First, while charging, press the button on the charging converter and wait for the LED to turn white. Pairing is possible in this state, so let's pair from the Bluetooth settings of your smartphone.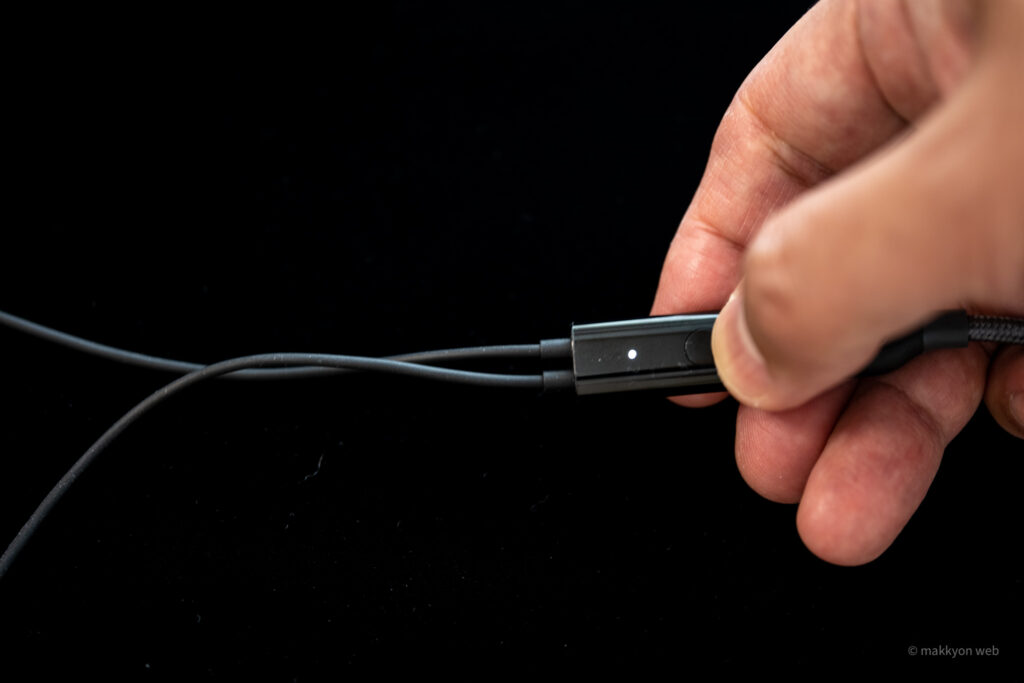 After pairing is complete, download the app. This is the HUAWEI AI Life app. Select HUAWEI Eyewear from "Add Device".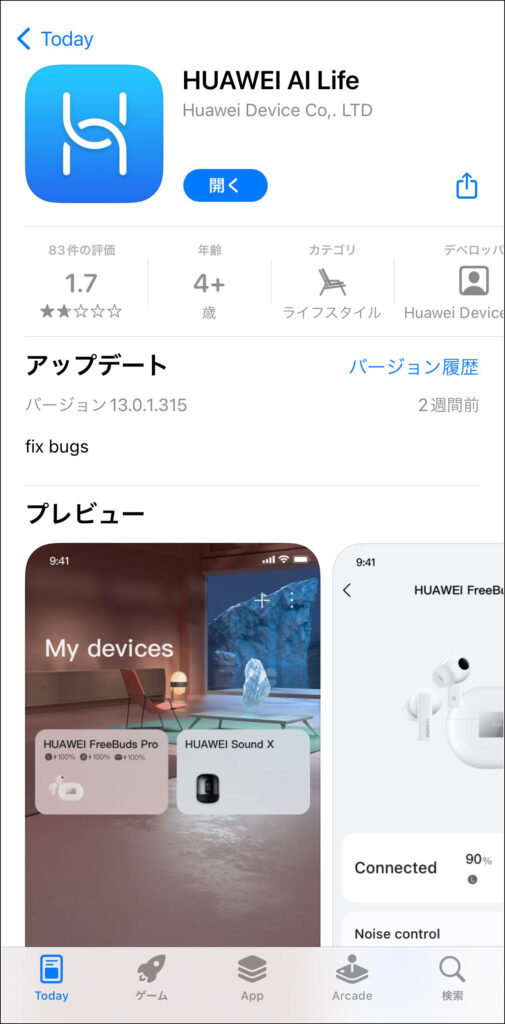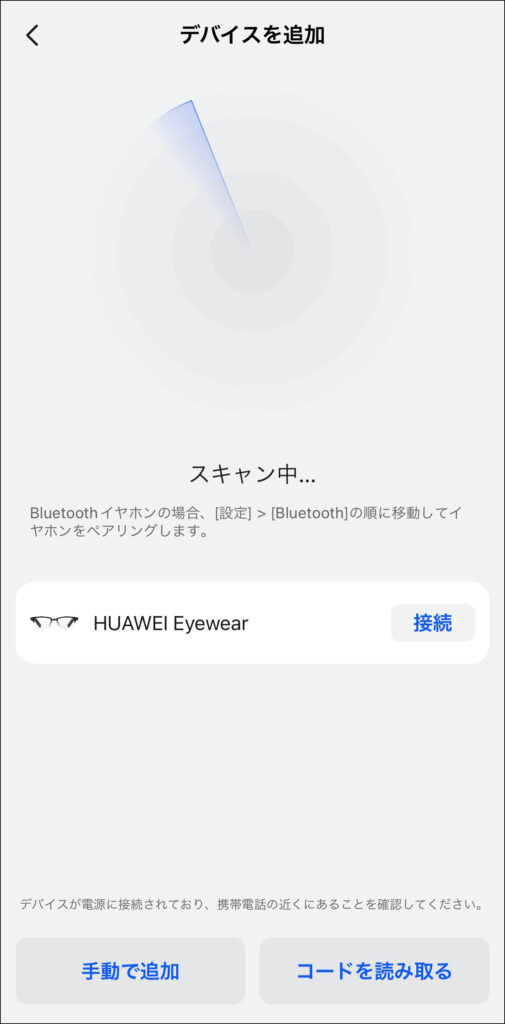 HUAWEI Eyewear has been registered.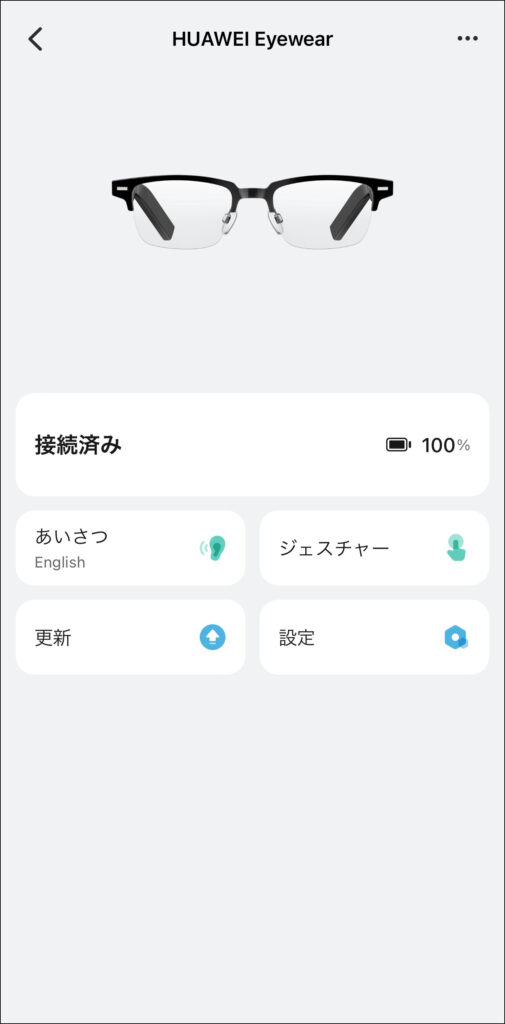 Various settings can be made within the HUAWEI AI Life app. Click here for settings for multi-pairing.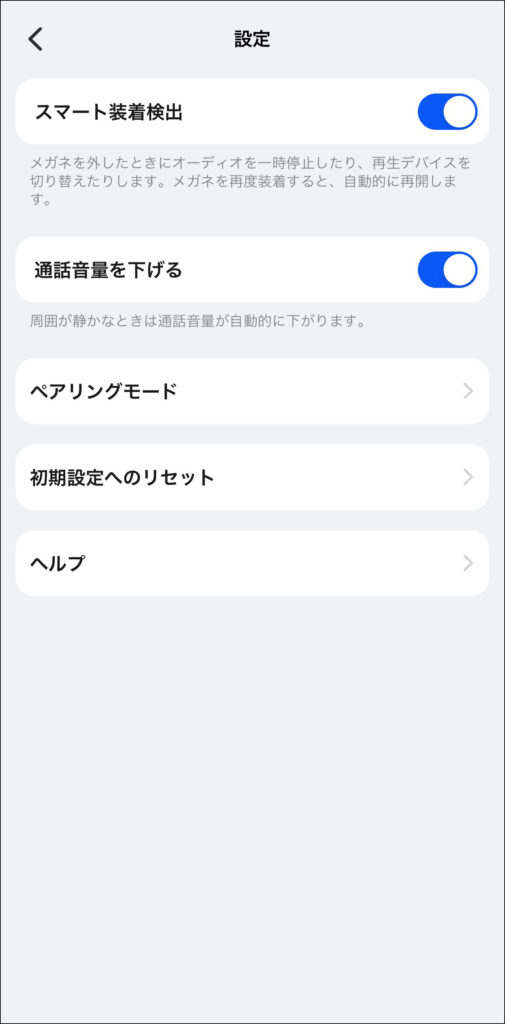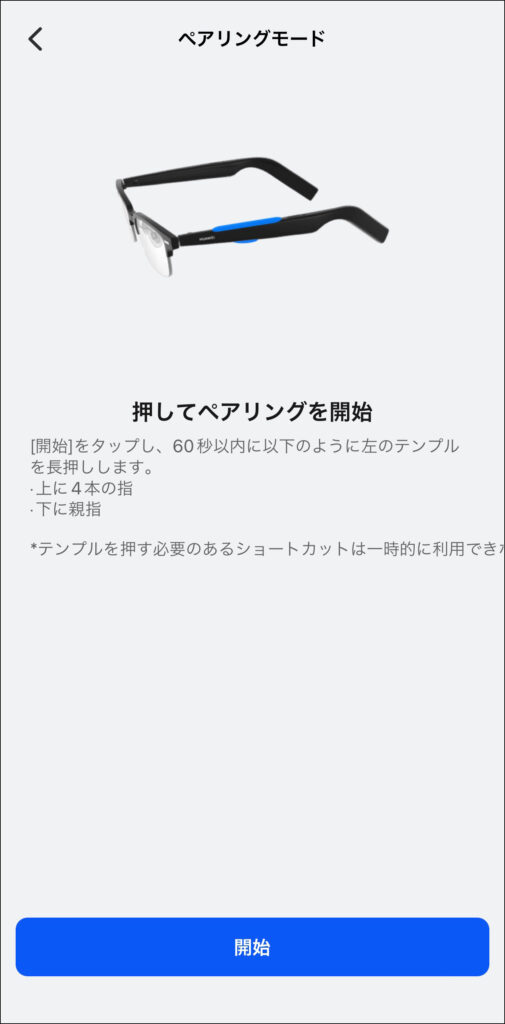 HUAWEI Eyewear is operated by gestures on the temple. There are only three basic operations: "double tap", "long press", and "swipe".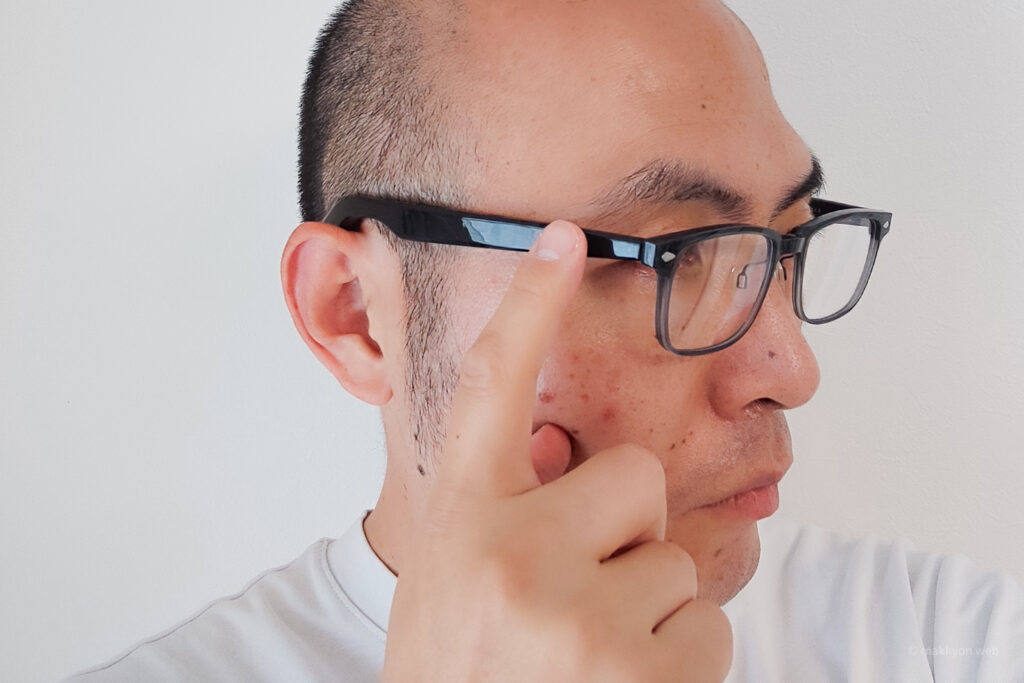 The operation content of this gesture can be changed from within the app.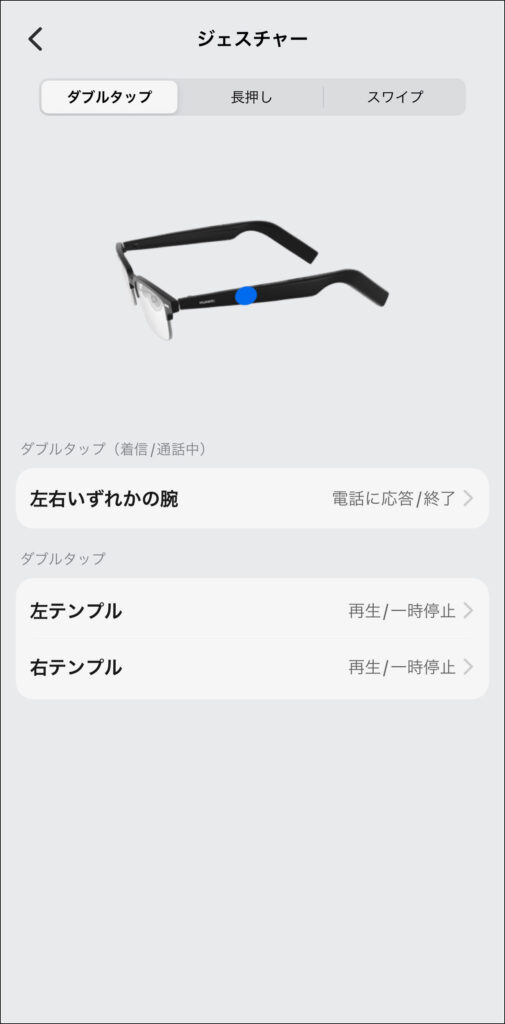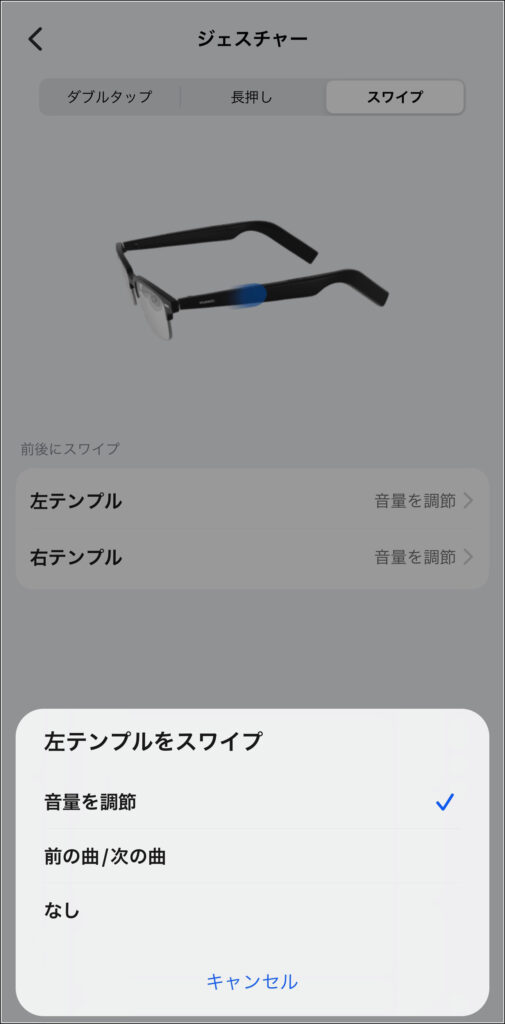 This gesture control is determined by the target location, so there is almost no stress.
"Multi-point support" that maximizes the experience of HUAWEI Eyewear
"Multi-point support" has become a trend in recent completely wireless earphones.
HUAWEI Eyewear also supports that multipoint, and it is possible to stand by from two devices at the same time. I use multipoint on my Mac and iPhone combination. It provides seamless integration when you are listening to music on your iPhone and attending a web conference on your Mac.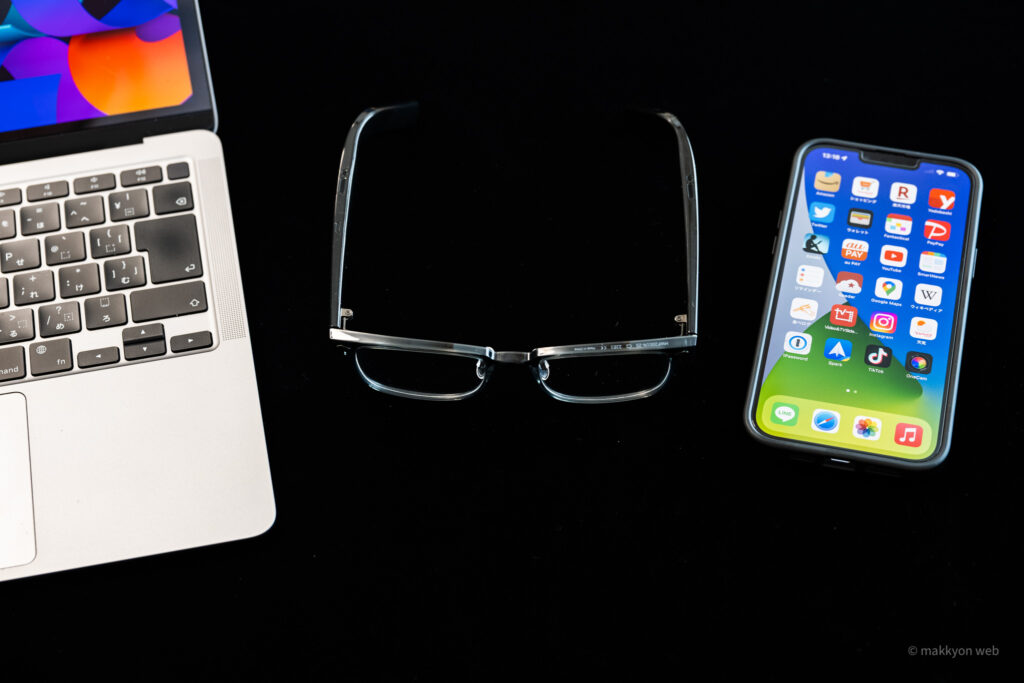 The great thing about HUAWEI Eyewear is the speed with which this multipoint can be switched. It switches quickly and surely, so you can move on to the next operation without any discomfort.
The sound quality of HUAWEI Eyewear is beyond imagination!Sounds surprisingly natural
The speakers installed in HUAWEI Eyewear are directional semi-open speakers. It is not bone conduction. Since the sound is skipped in the intended direction, it is hard to hear around and it reaches the person firmly.
The bass is a little weak, but the resolution of the treble is wonderfully beautiful, and it has sufficient performance for music. (Dynamic type). You can hear music through your glasses, and as you get used to it, you get the illusion that you don't know where the music is coming from. It sounds so natural.
HUAWEI Eyewear microphone can also be used for web conferencing
And what I would like to recommend with a loud voice is the microphone performance. You can experience the mysterious experience that the microphone is working even though you are just wearing glasses. I actually used it for a few days at a company web conference, but when I broke it later, it sounded normal.
It's too great to be able to use the microphone and speakers as they are, even though I'm just wearing glasses.
HUAWEI Eyewear is the pinnacle of listening audio devices
Recently, "listening while listening" devices that allow you to listen to the surrounding sounds while listening to music have become popular. In addition to capturing external sound from AirPods Pro, bone conduction earphones that do not block your ears, shoulder speakers, and earphones with holes such as Sony's LinkBuds have also appeared.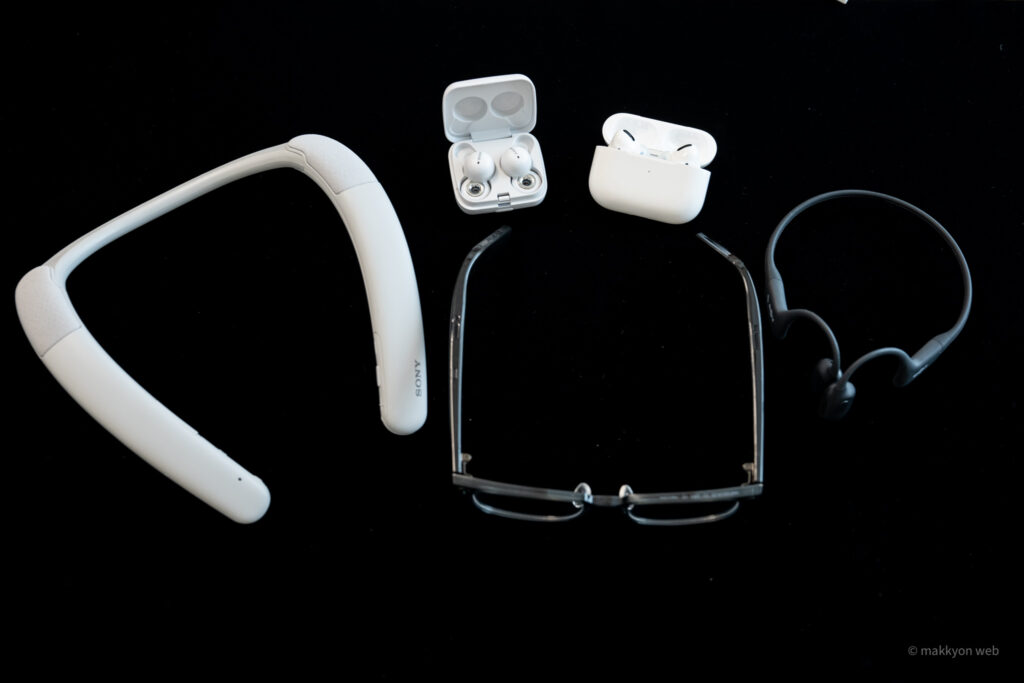 Even in such a situation, HUAWEI Eyewear can only be used as glasses, but the listening experience is the best.
It's as if the sound comes from a place where nothing is attached … If you get used to it too much, you will instantly get the illusion of "Where is it ringing?"
Convenient to detect wearing HUAWEI Eyewear
"Wearing detection" is a familiar function of completely wireless earphones. This function is also installed in HUAWEI Eyewear, and if you remove HUAWEI Eyewear during music playback, it will stop, and if you put it back on, it will start playing.
If the temperature is too high, it will stop functioning …?
By the way, HUAWEI Eyewear is designed to be forcibly terminated when the temperature of the main body rises above 35 degrees. In the scorching midsummer of Japan, the temperature can exceed 35 degrees Celsius, so the temperature of the main body tends to rise. If you kill it, you will have to restart it using the included charging converter. This is inconvenient.
However, HUAWEI has improved this point with a software update. We have updated the main unit to suppress the temperature rise on June 25, so let's update the main unit software first after purchasing.
Waterproof performance is IPX4
HUAWEI Eyewear has IPX4 waterproof performance. The performance is that sweat is okay. Because it's glasses, you don't need excessive waterproof and dustproof performance.
I recommend not using it outside
The sound of HUAWEI Eyewear is great, but when you go out, it loses to the surrounding sounds. I can't hear it at all (of course, if I turn up the volume, I can hear it somehow). There is no problem if you walk in a quiet residential area.
HUAWEI Eyewear was too convenient, so I actually bought it
So, while reviewing it, I always thought, "If this is enough, I can use it regularly and it's the best …", so I couldn't control it and bought it.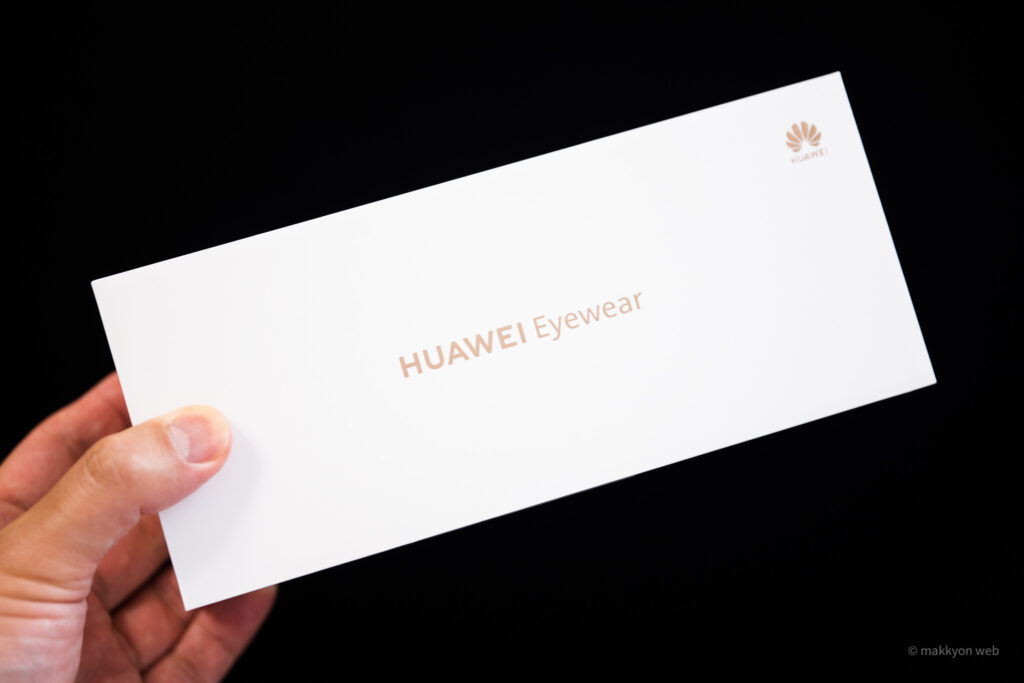 I borrowed it for review, but I decided to buy it on the way … What a clever marketing …
I bought a HUAWEI model. It is slightly different from the OWNDAYS model that we have reviewed so far.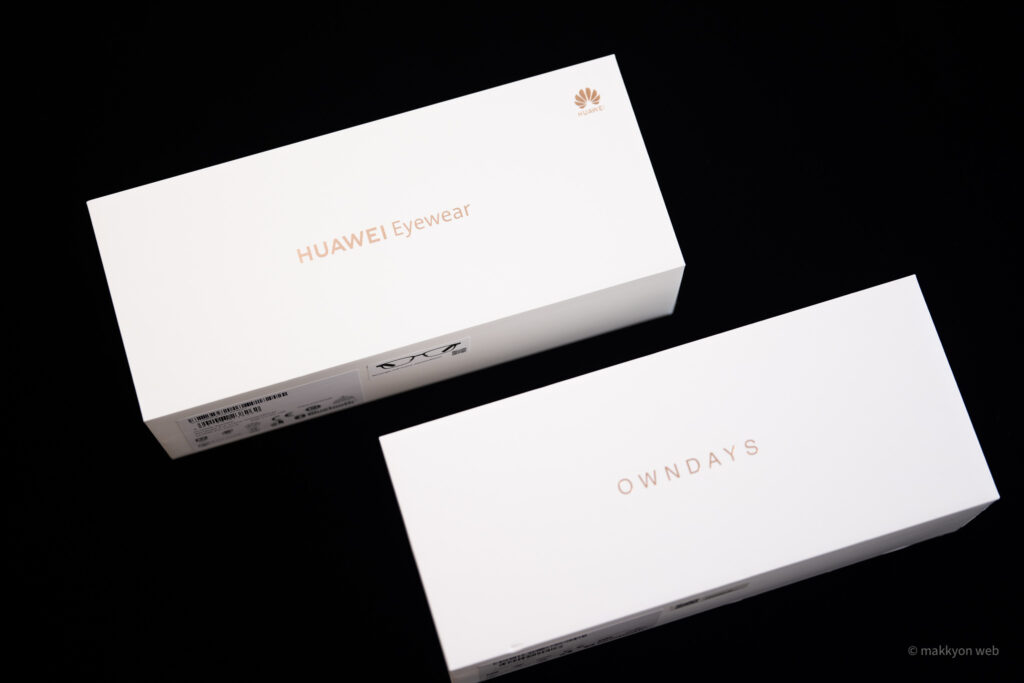 Protective case The bag has the HUAWEI logo.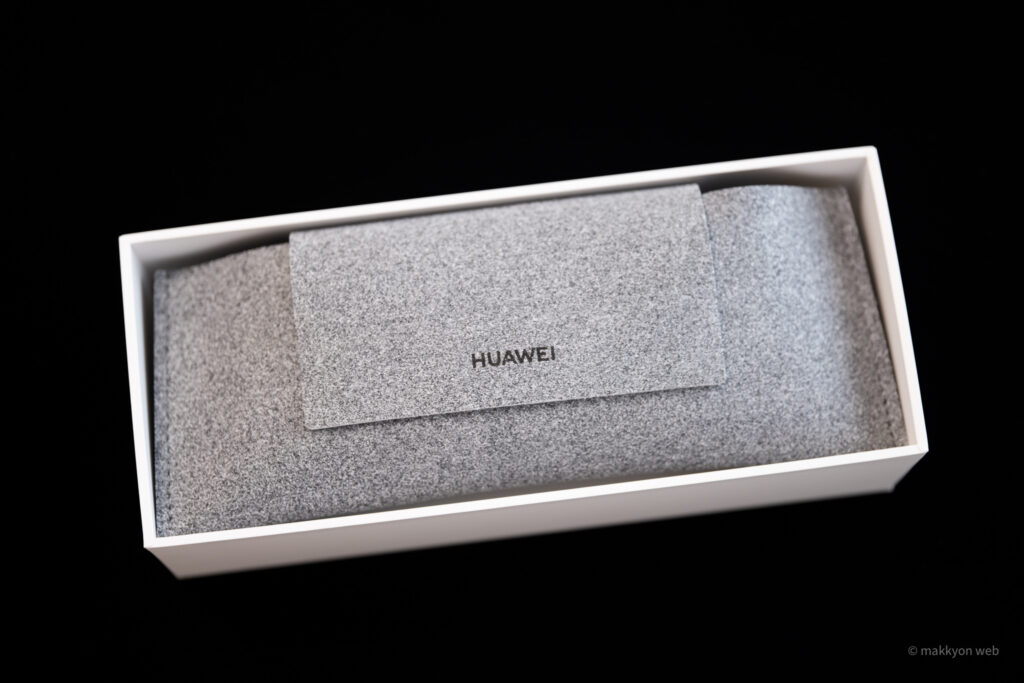 The accessories are the same as the OWNDAYS model. The frame was assembled from the beginning.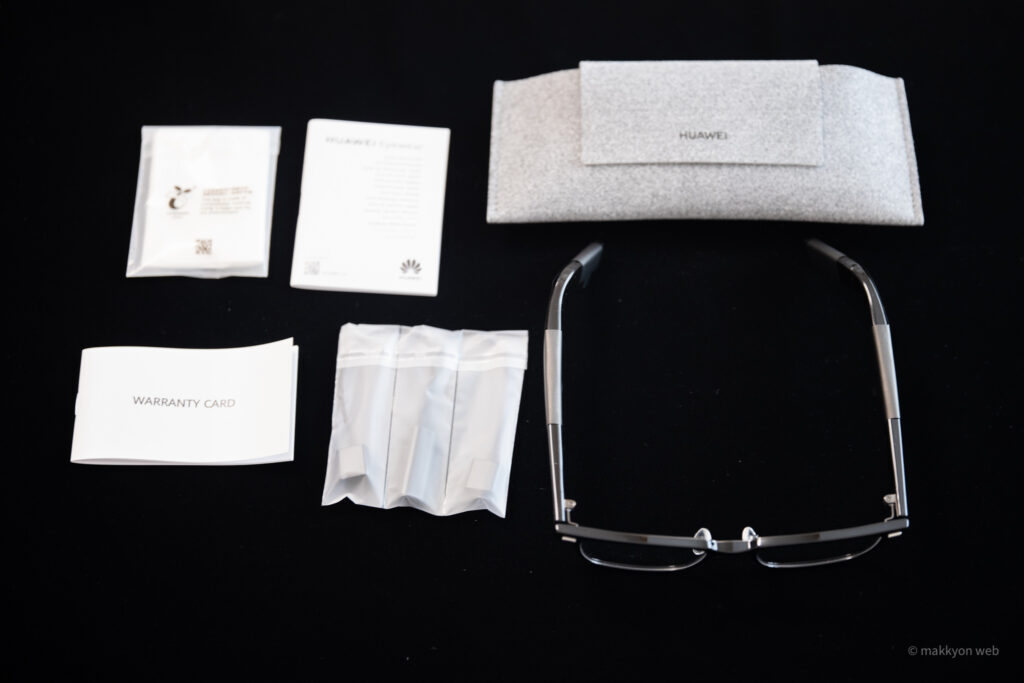 This time I bought a Wellington type full rim.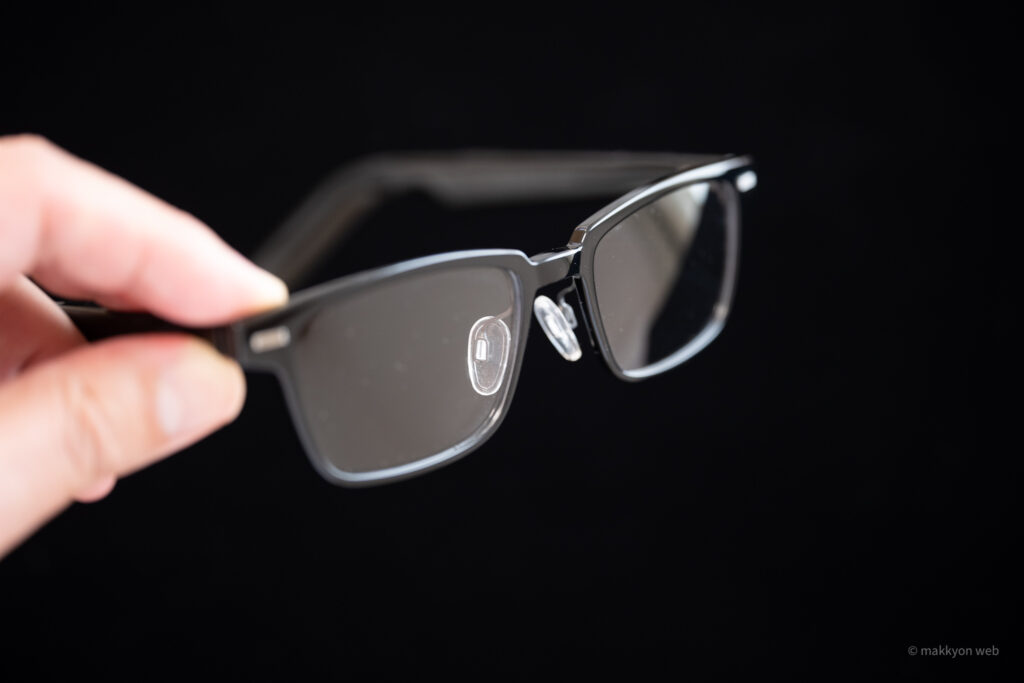 Unlike the OWNDAYS collaboration model, the logo is facing outwards.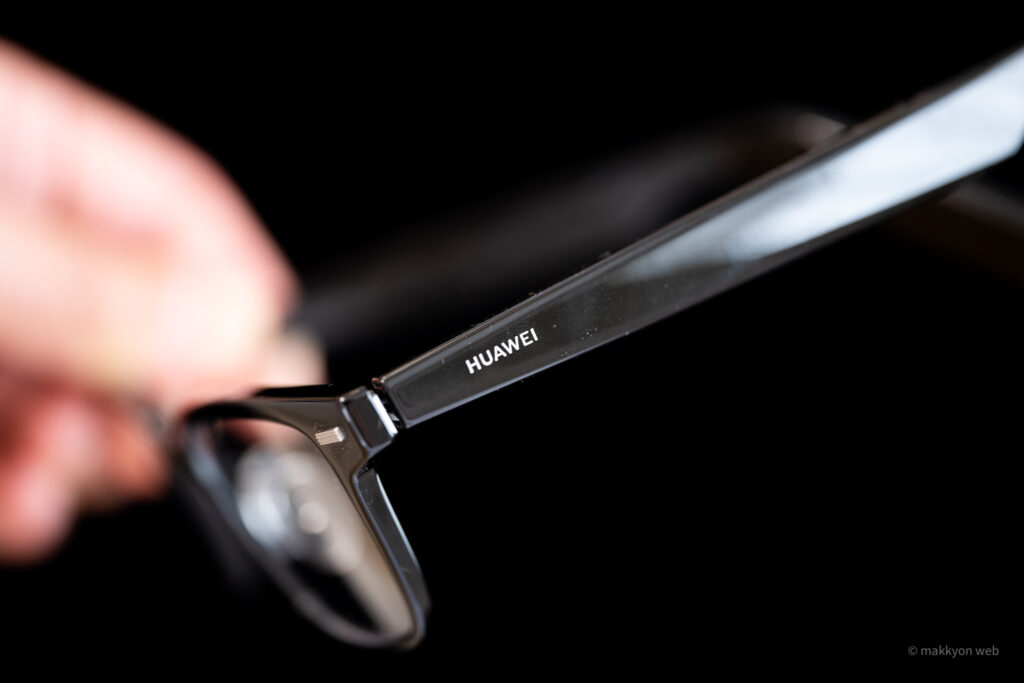 The HUAWEI logo is on the left and right. I like the OWNDAYS model better in this regard. I don't want the character elements of the eyeglass frame to go out.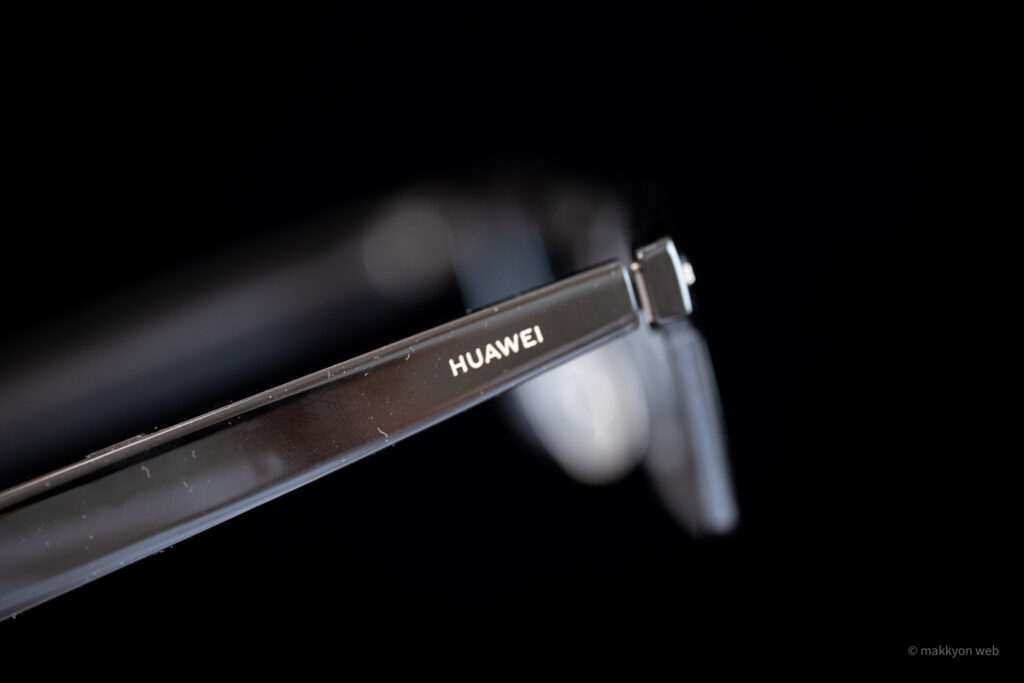 By the way, the reason I chose the HUAWEI model instead of the OWNDAYS collaboration model is because of this edge. The HUAWEI model (left photo) is square, but the OWNDAYS collaboration model is diamond-shaped. I preferred the HUAWEI model.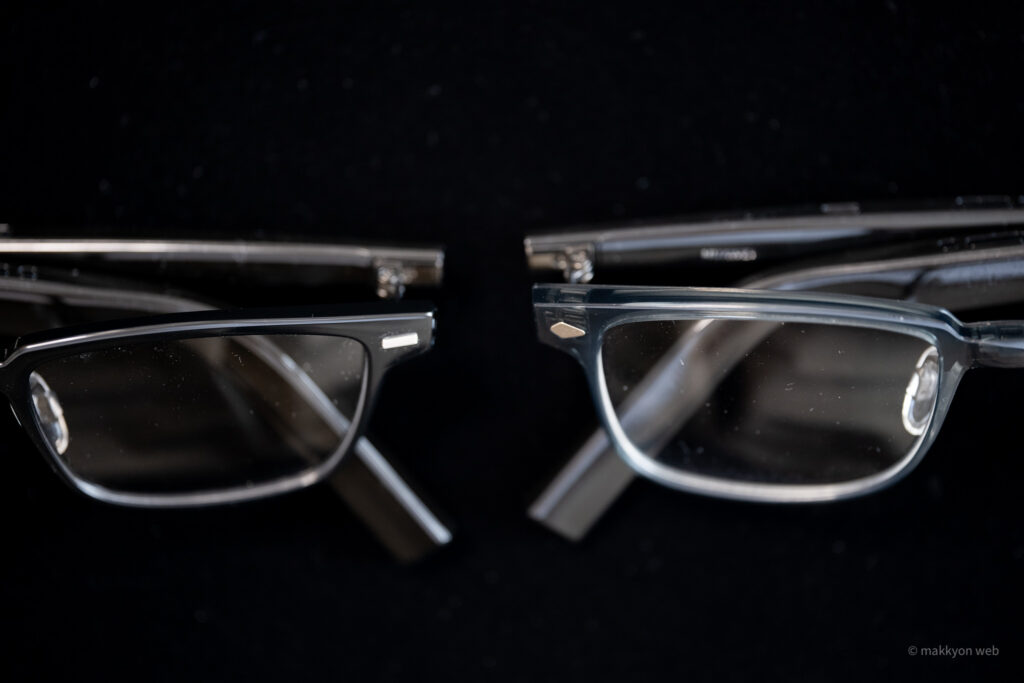 And since I bought it as my own property, I decided to put in a prescription lens.
OWNDAYS 10% OFF coupon is also available at Rakuten Ichiba
HUAWEI Eyewear is a fairly expensive product, but if you put in a prescription lens, it will cost more. I want to buy lenses as cheaply as possible.
For HUAWEI models, a 10% OFF coupon is available for OWNDAYS. As of July 2022, there are two ways to get this 10% OFF coupon.HUAWEI Official Rakuten Ichiba StoreYou can either post a review at or get it at the Yodobashi Camera store.
I bought it at HUAWEI official Rakuten Ichiba store, wrote a review and got a coupon.
I put a lens in the OWNDAYS store
I went to the nearest OWNDAYS store. What to bring is HUAWEI Eyewear, glasses (or frequency information) that you usually use, and a 10% OFF coupon.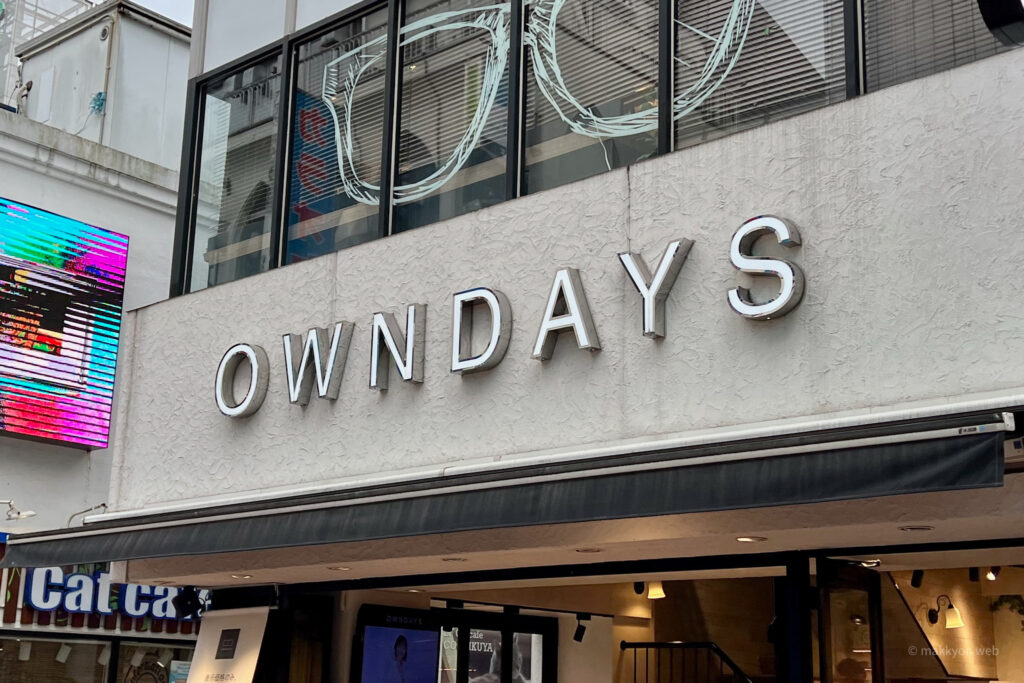 Enter the store and ask the clerk "I want to put in a lens". I was asked "Do you have a frame?", So I will put out Eyewear and accept it.
Hand over the paper with the power information and select the lens. This time, I asked for an ordinary stock lens without putting in a blue light cut or ultra-thin lens. Go to checkout as it is. In addition to PayPay, it seems that you can pay with a QR code.
5 minutes from entering the store so far.
I will get a reception slip and go out once. The time on the reception slip was written 30 minutes later. It is early.
If I was drinking iced coffee at the nearby Saint Marc Coffee, I received a notification on LINE. 23 minutes from the time I came to the store … before I finished drinking iced coffee …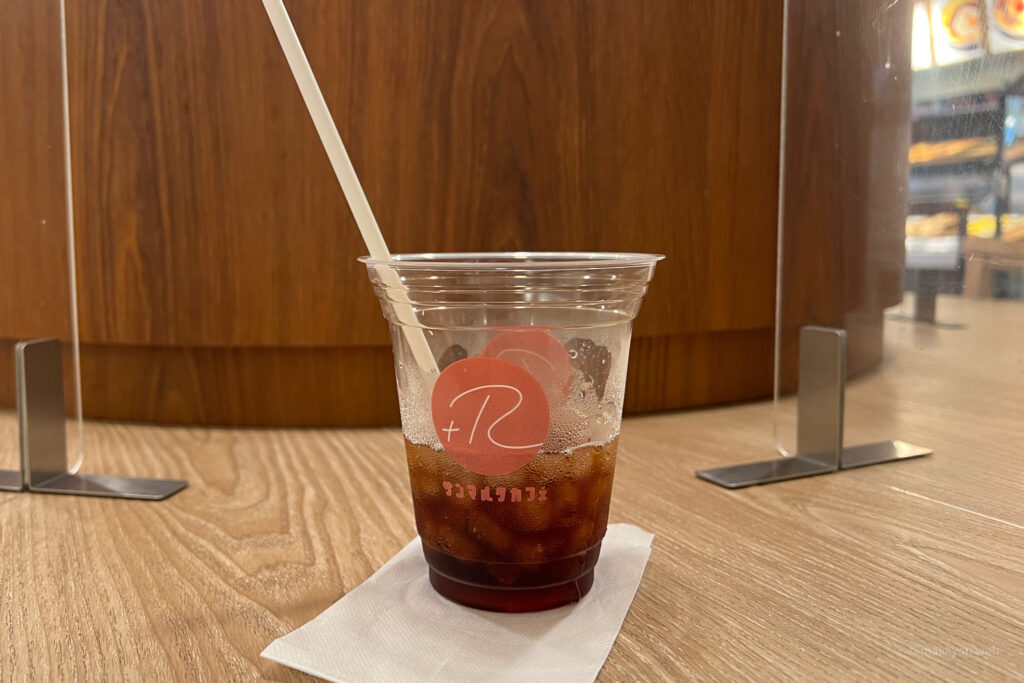 I just put on HUAWEI Eyewear and went home, but I was impressed by the music playing even though the world looked normal. I'm glad I bought it.
When I use it all day with telework …?
I used it all day long when I got a prescription lens. How long does the battery last when used in telework? Let's follow the situation of one day.
It will start at 9:30, so I will start wearing HUAWEI Eyewear from here.
Web conference for about 2 hours in the morning. There are also some opportunities to speak.
While working, shed the radiko.
I go out for lunch as it is, but I don't use it because it's hard to hear outside.
There was a web conference for about 2 hours in the afternoon.
After 17:00, when I checked the battery status from the app, it was 21%.
When I was playing music from there, it fell before 18:00.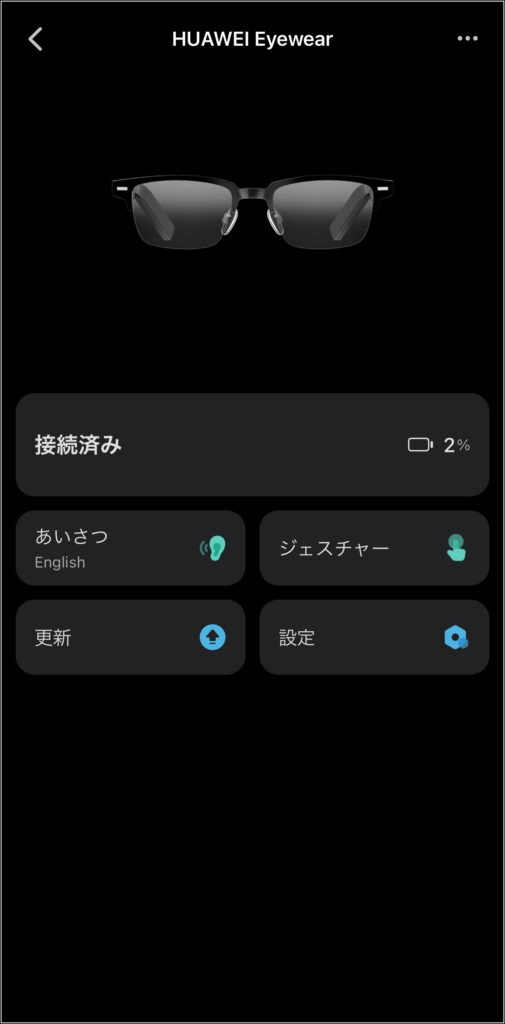 I tried using it for a few days, but when I used it without worrying about the time, I heard a low battery sound in the evening, and I felt like I wouldn't have it until the end of work. If you use it for the full day, it may be better to charge it at lunch time.
In addition, the specifications of the product site say "6 hours of music playback and 4.5 hours of continuous talk", so I felt that it was close to the experience.
Summary of HUAWEI Eyewear
Performance and usability are the best. And above all, it's easy to put on. HUAWEI who made such easy-to-wear glasses is the best. Of course I recommend it! If you're considering audio glasses, you'll be the first choice.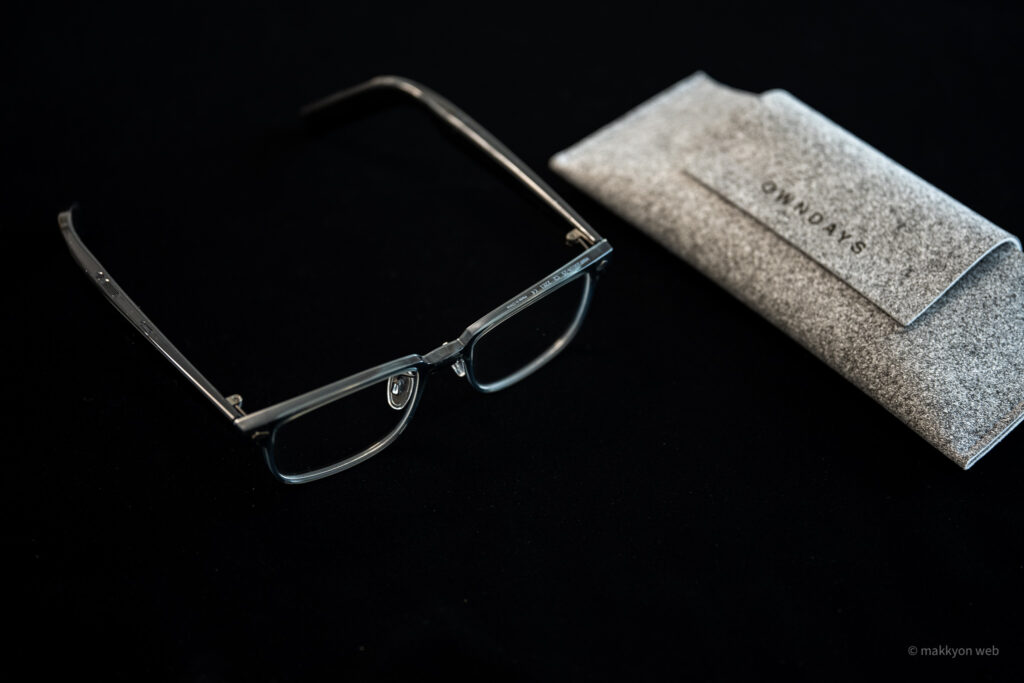 I'm wondering where to buy HUAWEI Eyewear, but when I looked at it, I found that it was Amazon.co.jp for the price, HUAWEI official Rakuten market store for points and coupons, and Yahoo! Shopping (PayPay mall) for the OWNDAYS model. * It seems that a lens exchange ticket will be included…