Flick input is common and familiar on the iPhone, but it is still more efficient to have an external keyboard for inputting long sentences. When I went out for a while, I looked for a keyboard that was sized to be thrown into a bag.
MOBO Folding Keyboard "MOBO Keyboard 2"
I bought the MOBO Keyboard 2 folding keyboard from MOBO (an original brand of Archisite Co., Ltd.). A package with a vivid blue and yellow color scheme.
There are black and white color variations, and I bought white this time.
The appealing point of this product is that it has a Japanese JIS layout. The Enter key is big and easy to press.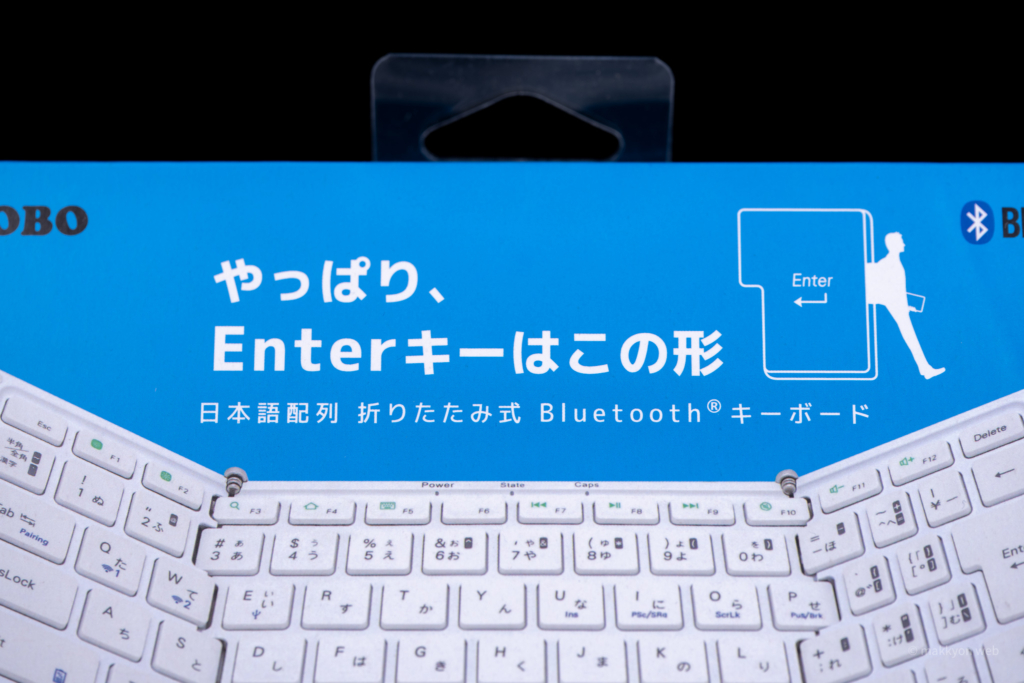 The contents are the MOBO Keyboard 2 main unit, a special cover, a USB cable, and an instruction manual.
By the way, the inner box from which the MOBO Keyboard 2 was taken out had a simple usage written on it. This alone is easy enough to understand.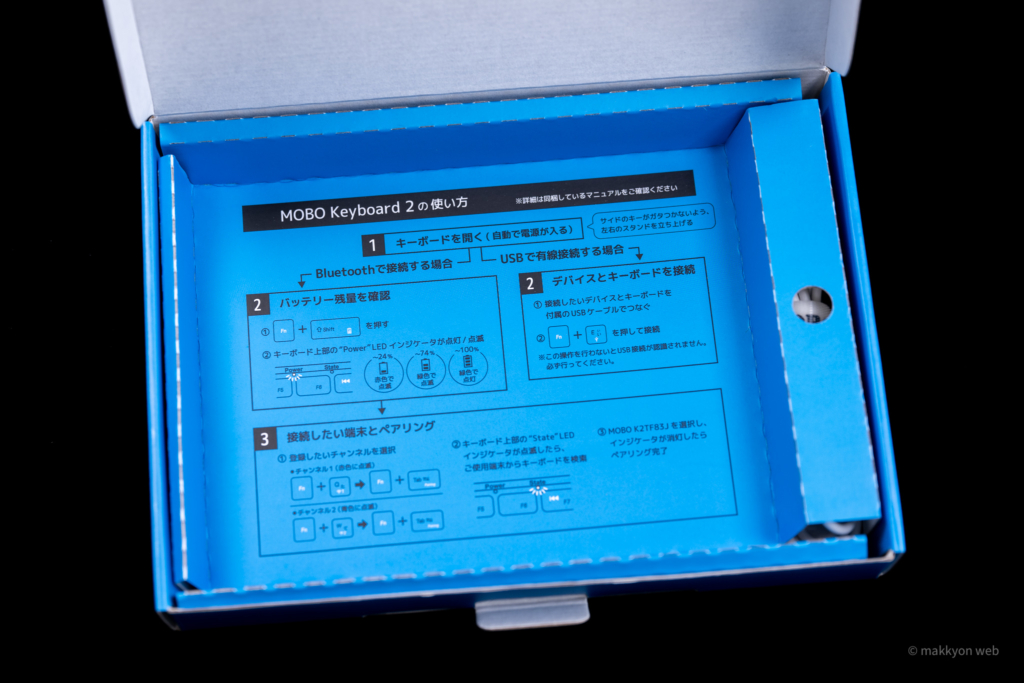 This is the MOBO Keyboard 2 that fits in the special cover. It's pure white, so it may get a little dirty.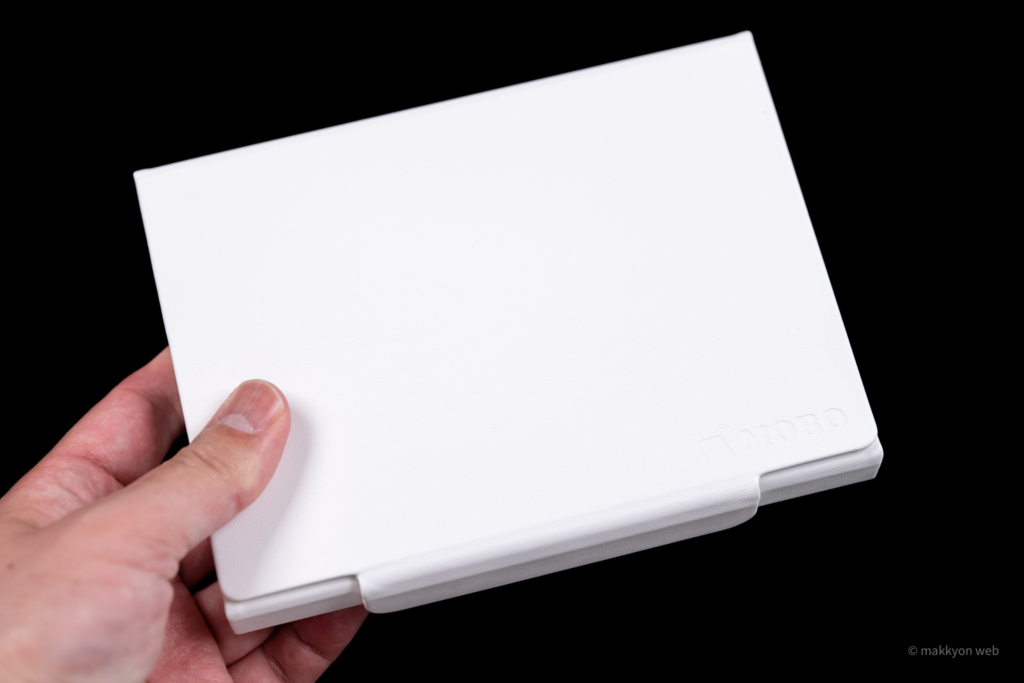 The MOBO logo is embossed on the bottom right.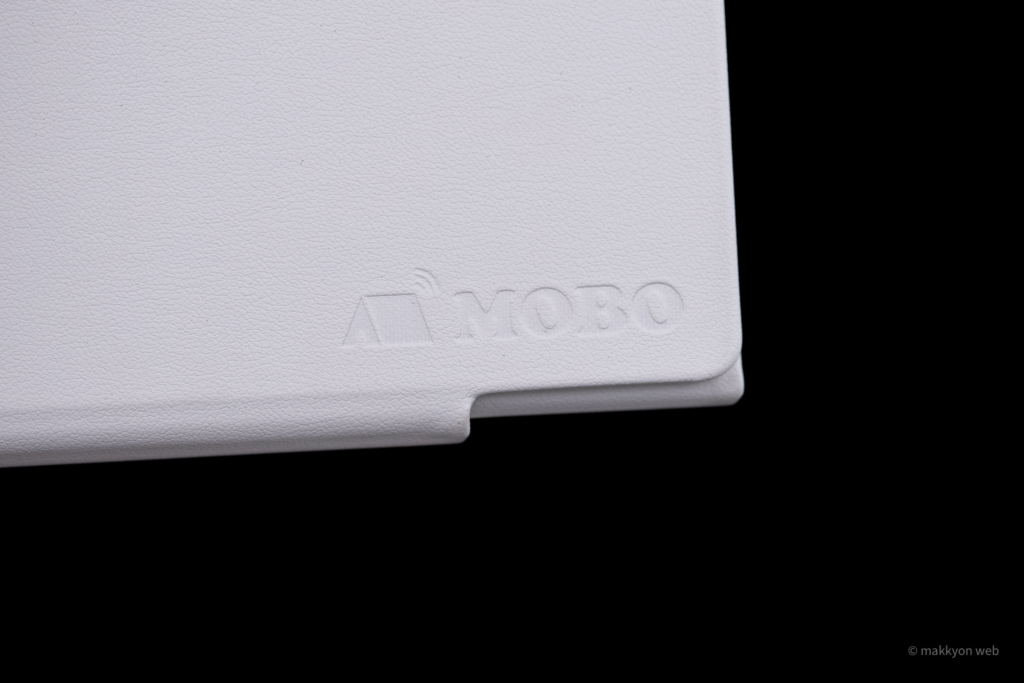 The cover is folded in three and is fastened with a magnet. When you open it, MOBO Keyboard 2 will appear.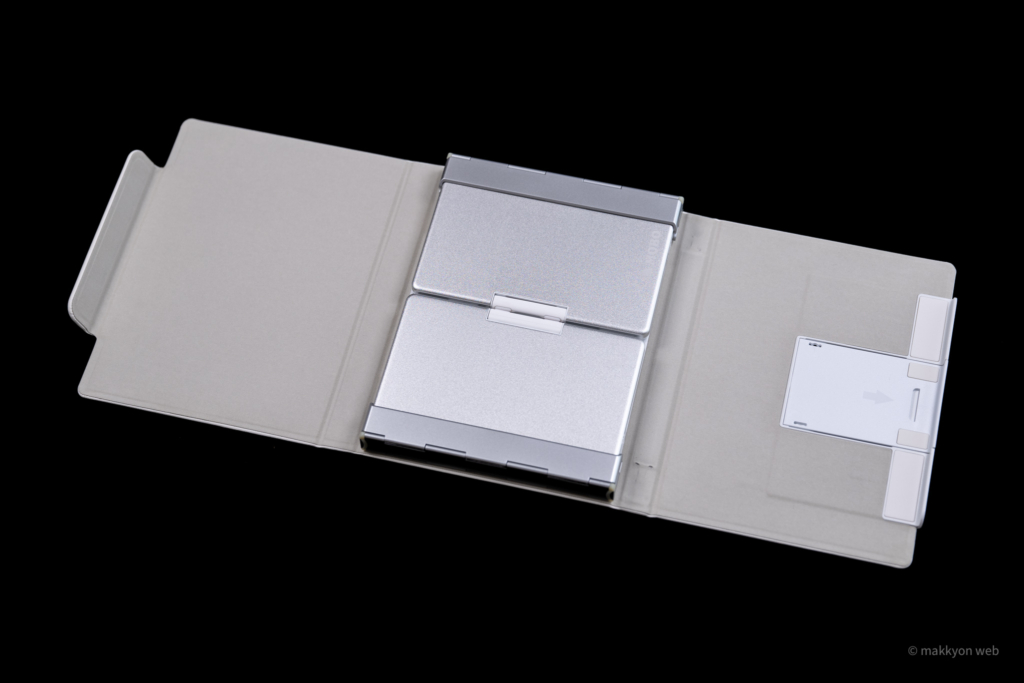 Before reviewing MOBO Keyboard 2, let's take a look at the special cover.
Dedicated cover that can be used as a stand for smartphones and tablets
By folding the special cover to make a triangle, it turns into a simple stand on which you can stand your smartphone or tablet.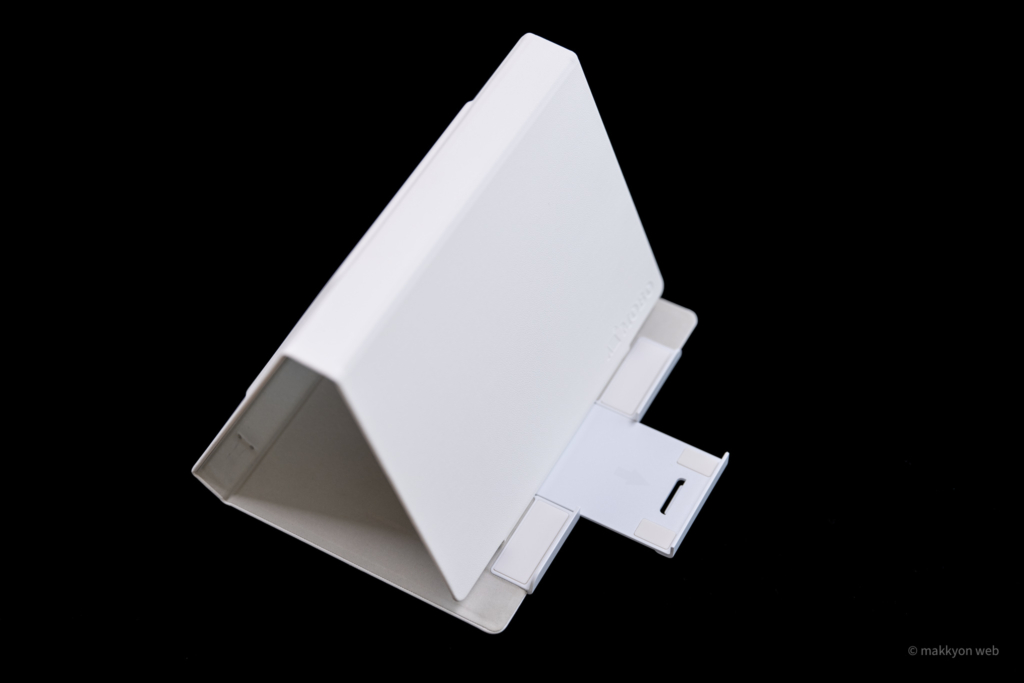 Even a smartphone with a large screen like the iPhone 13 Pro Max has a sufficient sense of stability.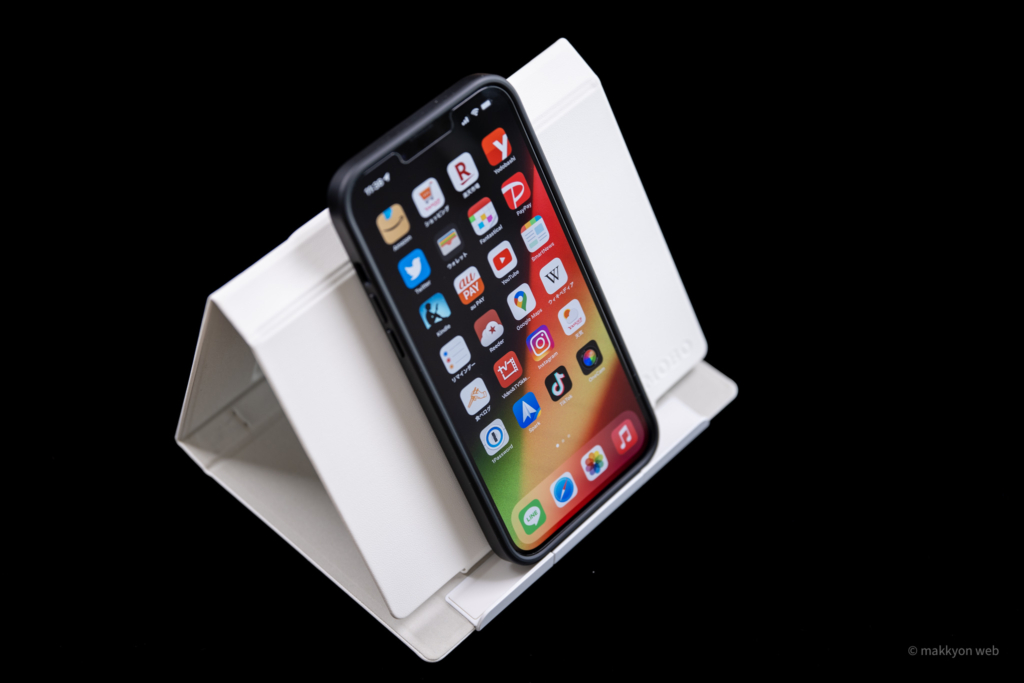 Even the largest iPad Pro 12.9-inch tablet could afford it.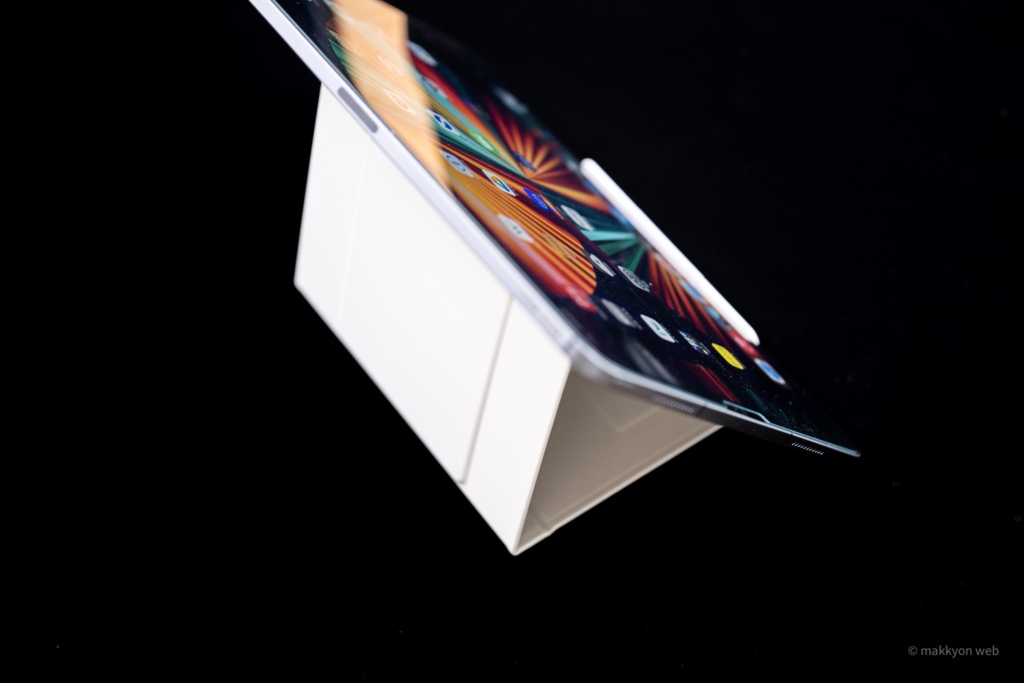 Let's take a look at the MOBO Keyboard 2 main unit.
Folding keyboard with excellent stability even when folded in three
This is the MOBO Keyboard 2 main unit. I bought a white collar, but the outside is silver. It can be opened from the center with double doors.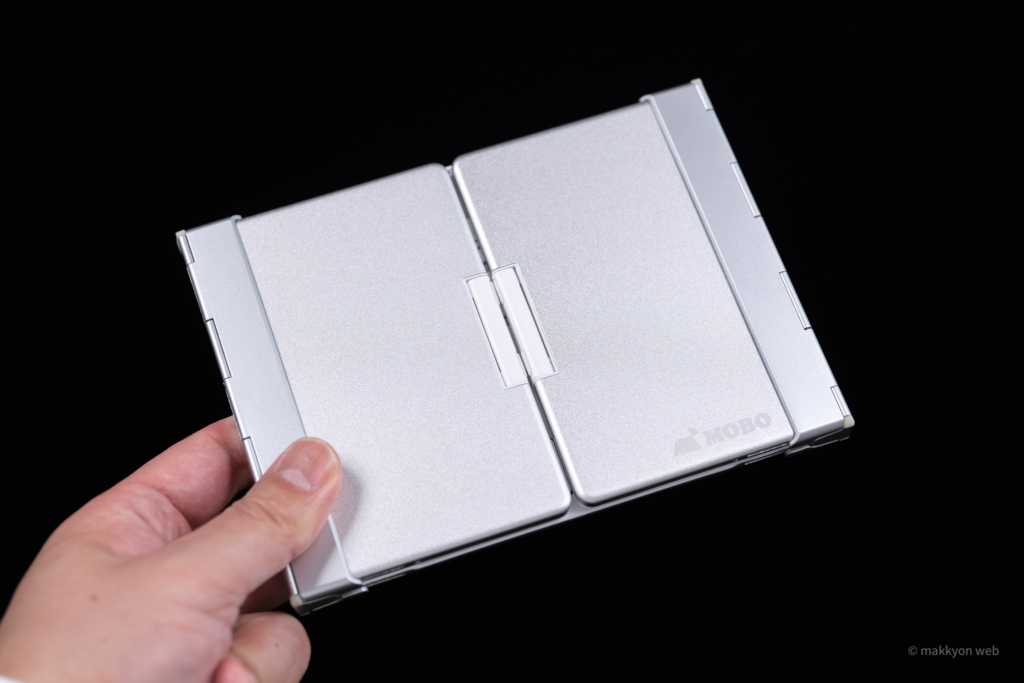 By the way, the charging terminal is on the top and is a USB-C port. There are still Micro USB keyboards on the market, but will USB-C finally become widespread?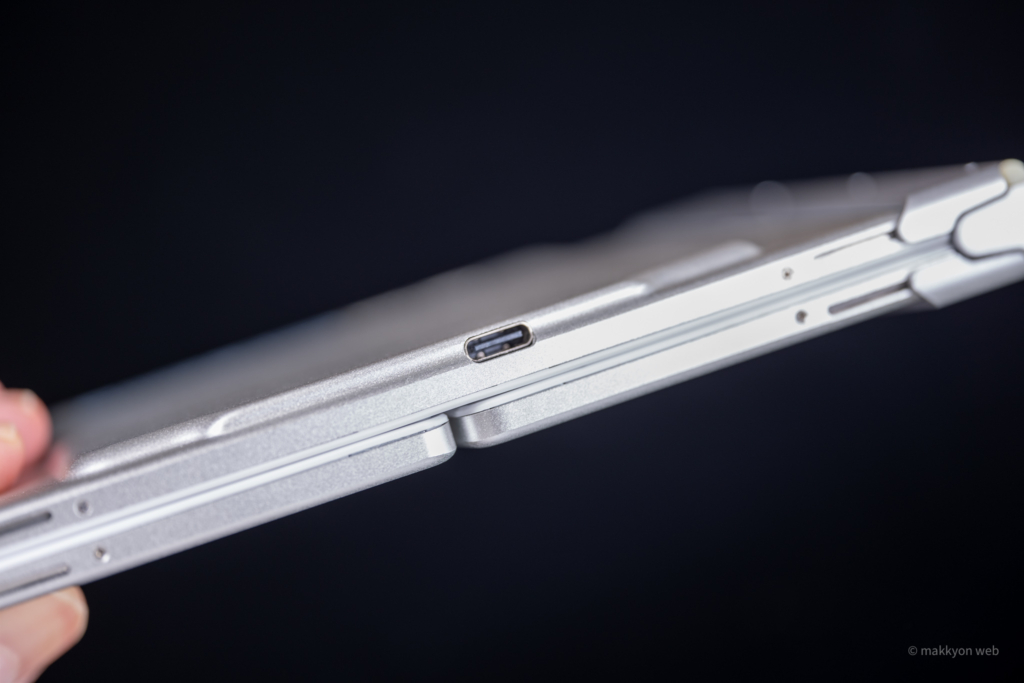 I expanded MOBO Keyboard 2. At a glance, you can see that the key is large. Let's compare it with the Magic Keyboard later.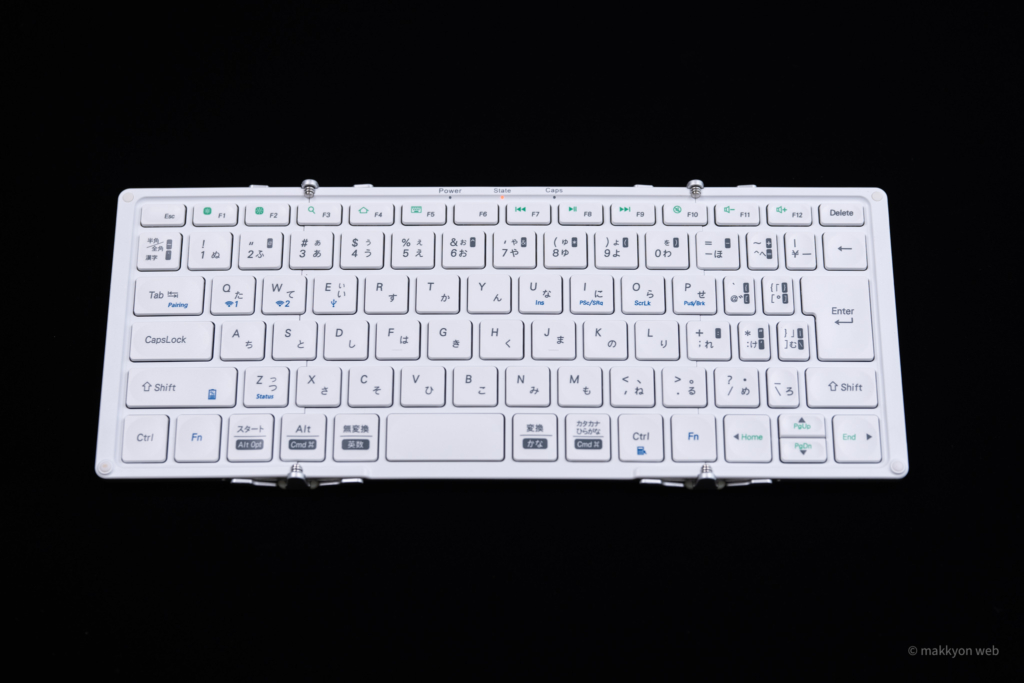 The two hinges when unfolding the MOBO Keyboard 2 are supported by metal parts.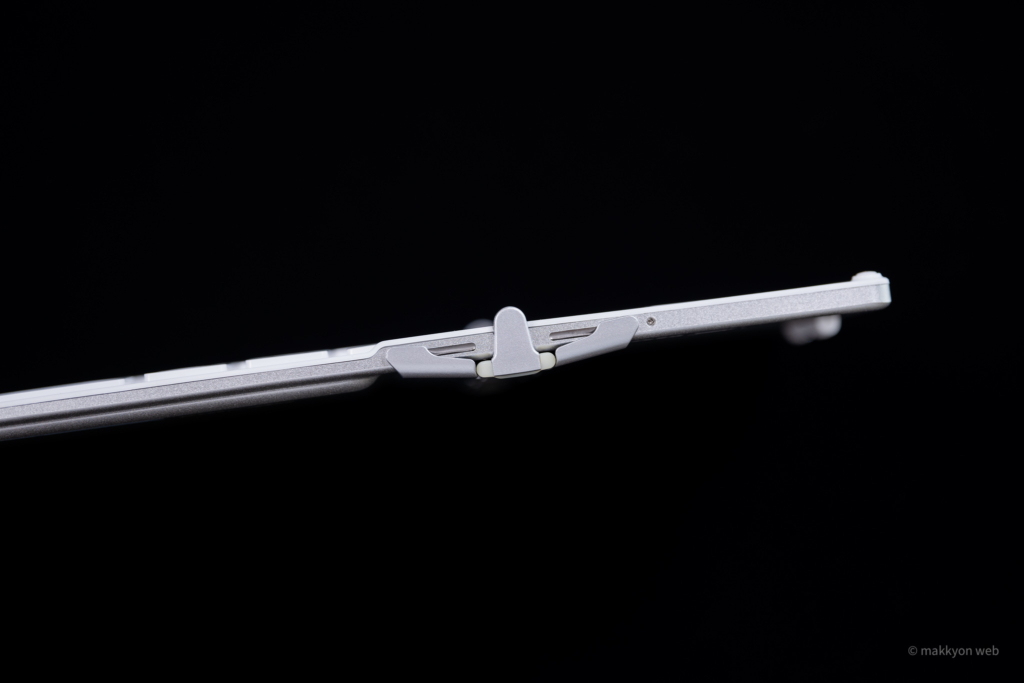 This hinge lifts the entire keyboard, but you can prevent it from bending at both ends by raising the side knobs.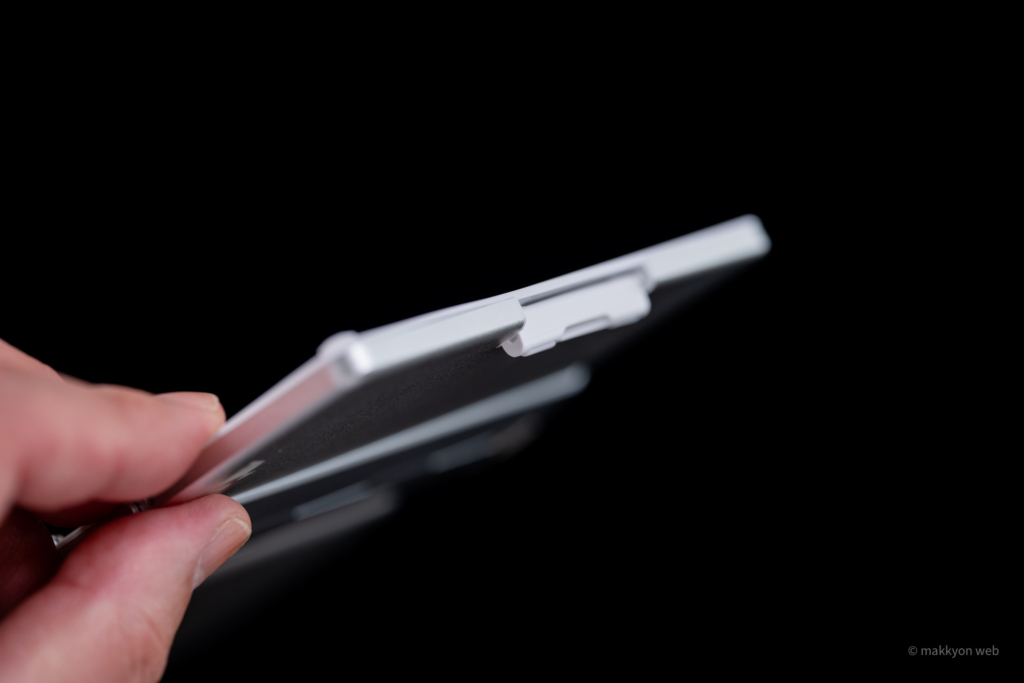 There is a gimmick for folding, but it is designed so that it does not interfere with the typing experience.
Is MOBO Keyboard 2 a rival Magic Keyboard?
Magic Keyboard is a genuine Apple wireless keyboard, and because of its thinness and light weight, it can also be used for mobile applications. I put the Magic Keyboard in a special case and use it in combination with the iPad Pro.
Genuine Apple Keyboard for iPad, Third Choice The genuine Apple keyboard for the iPad Pro 12.9-inch is the Smart Keyboard Folio, which doubles as a case, or the Magic Keyboard.
Let's compare this Magic Keyboard (top photo) and MOBO Keyboard 2 (bottom photo). The MOBO Keyboard 2 is slightly wider, but the width is almost the same when compared with the actual keyboard layout.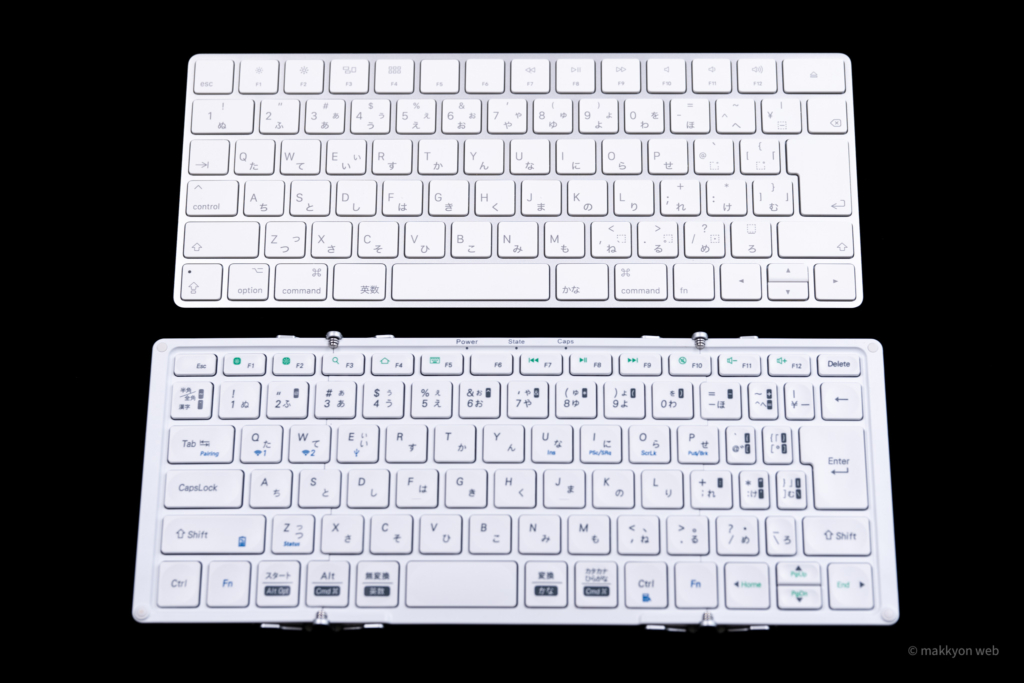 The key pitch of the main keys seems to be almost the same.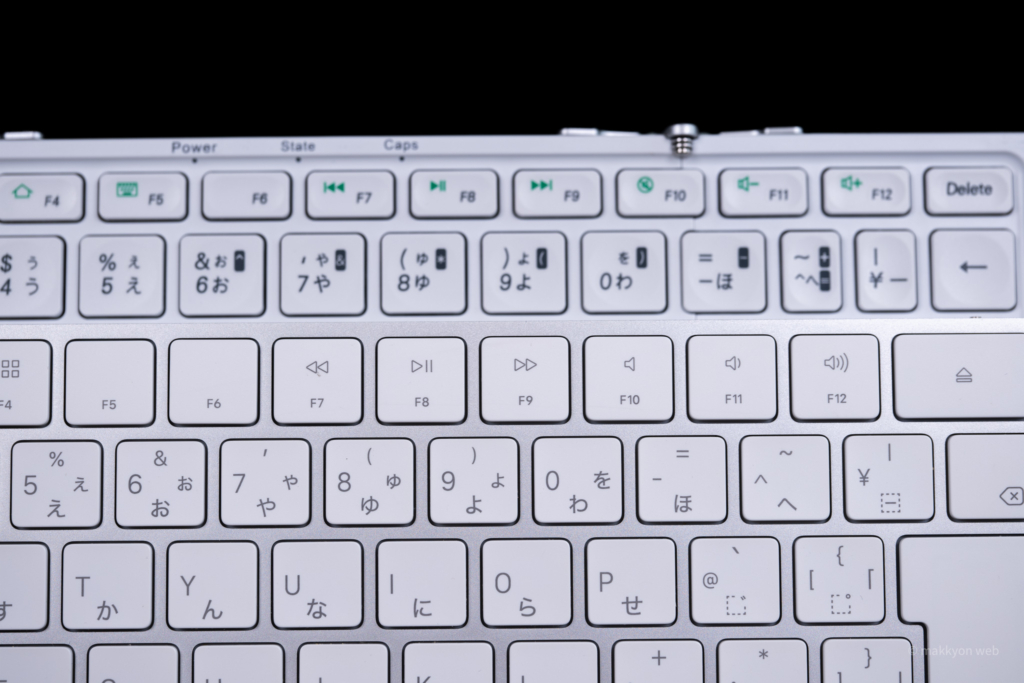 The shape of the cursor keys is the same.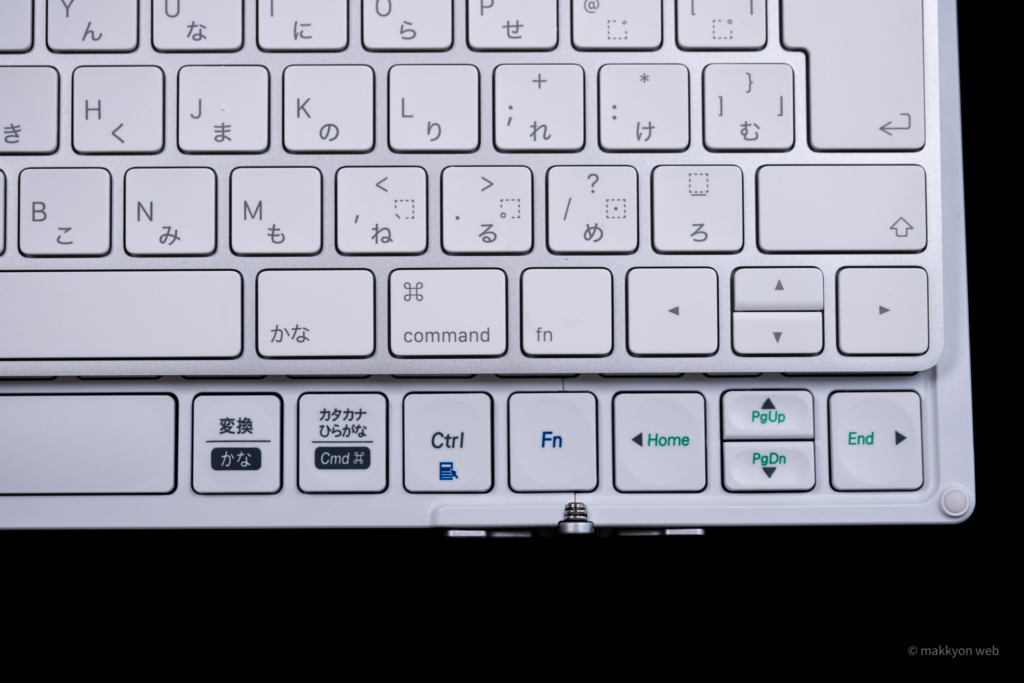 However, not all keys are equally easy to press, and the end keys are clogged and cramped.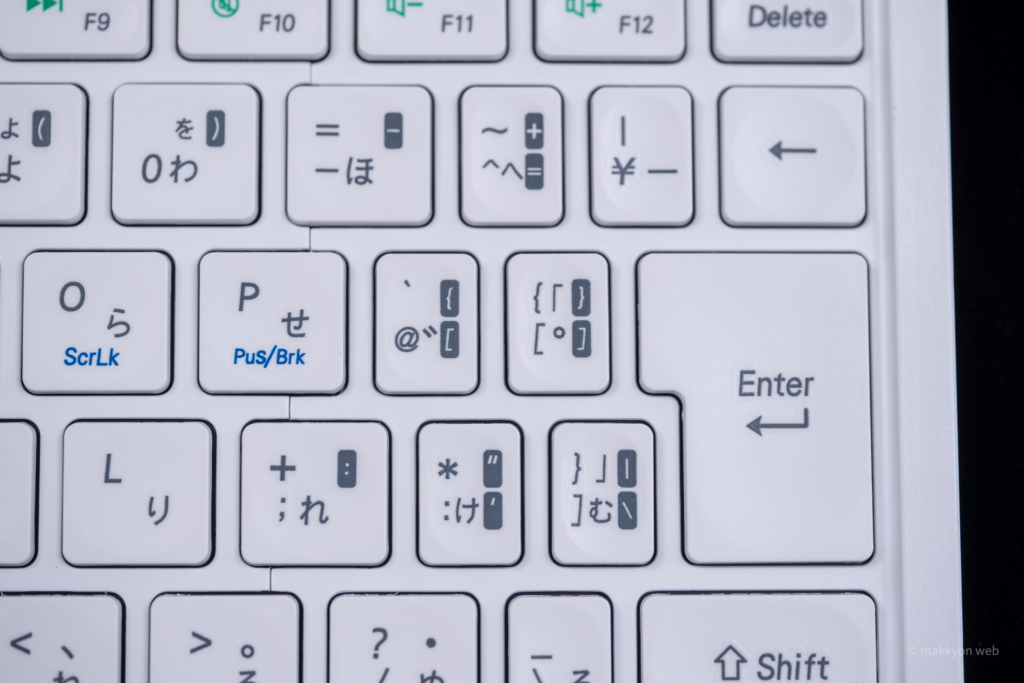 Since MOBO Keyboard 2 uses the Japanese JIS layout, there are "alphanumerical" and "kana" keys for switching between Japanese and English. Besides the big Enter key, there are other reasons to choose the JIS layout on the folding keyboard.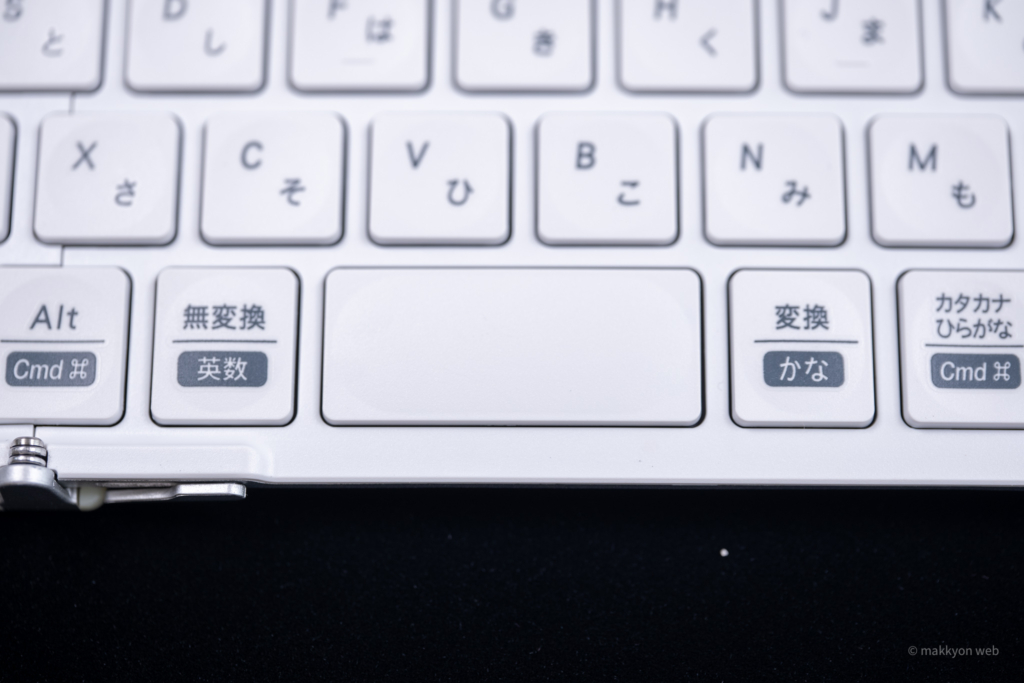 Since it can be used on Windows, there are also prints such as Alt key and non-conversion key. Let's operate by looking at the print for Mac / iOS.
Also, unlike the Magic Keyboard, the key itself has a shallow dent, making it easier to type so that your fingers stick to it. (The photo is darkened to make it easier to see)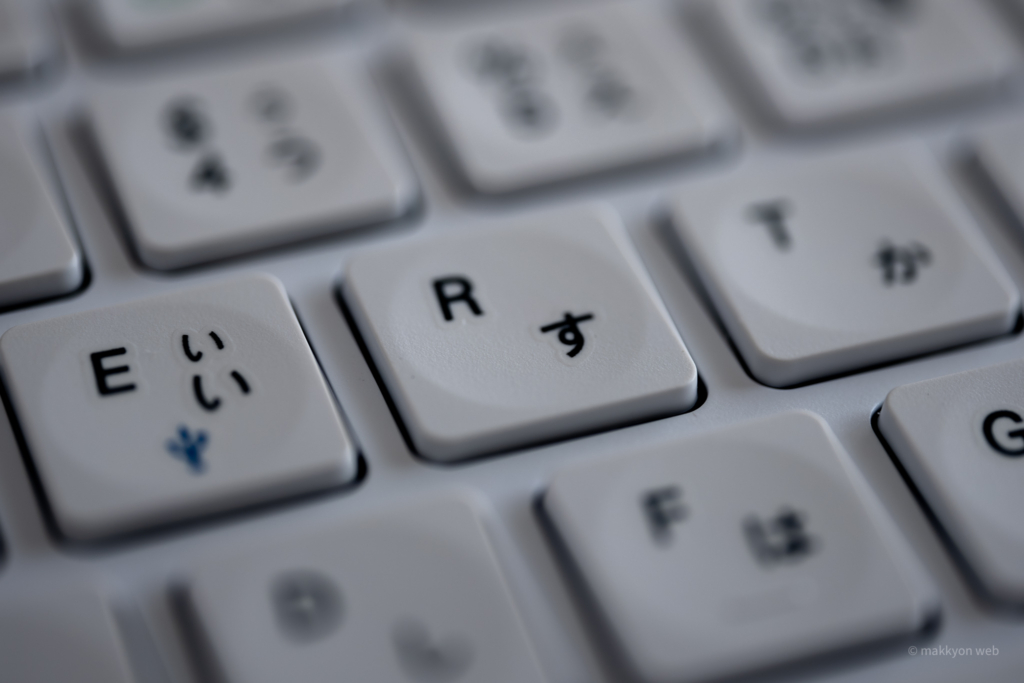 How about the weight? MOBO Keyboard 2 is as light as 283.2g, but …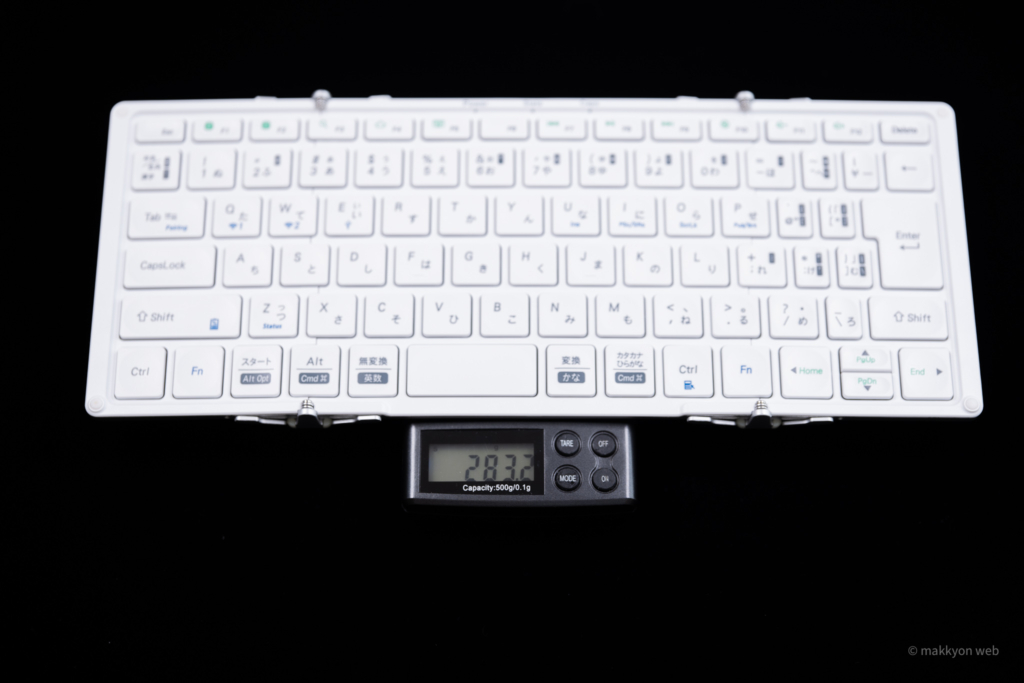 The Magic Keyboard weighed even lighter, 225.2g. Since the Magic Keyboard does not have a folding mechanism, it is lighter than that.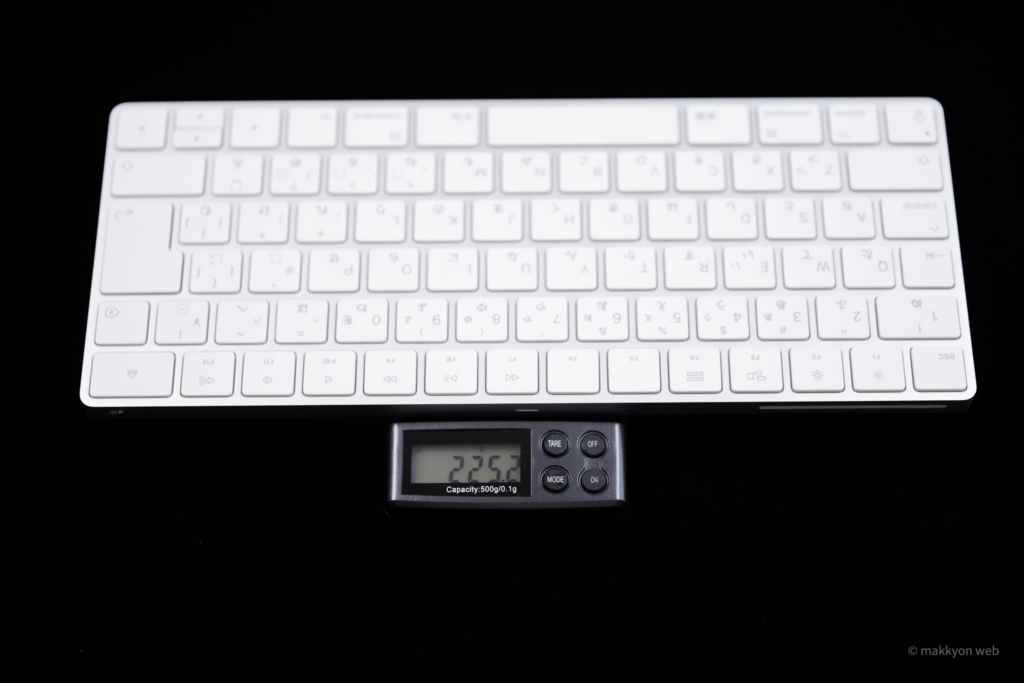 So what's the advantage over the Magic Keyboard is that it's foldable. Since the footprint is reduced in the first place, it is easy to put it in a small bag. It is also big that the cover doubles as a stand.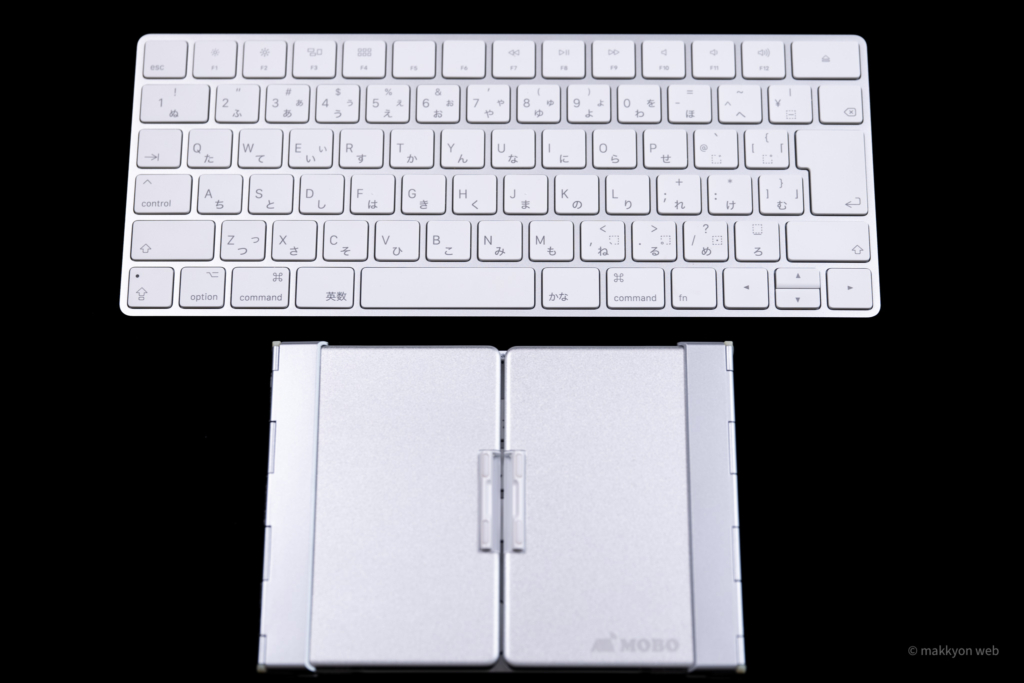 Also, the Magic Keyboard is expensive in the first place …
How does it compare to Logitech's mobile keyboard?
In addition to the Magic Keyboard, Logitech's K380 (pictured above) and KX700 are other portable keyboards. Let's compare it with K380 here. The width of K380 is more compact.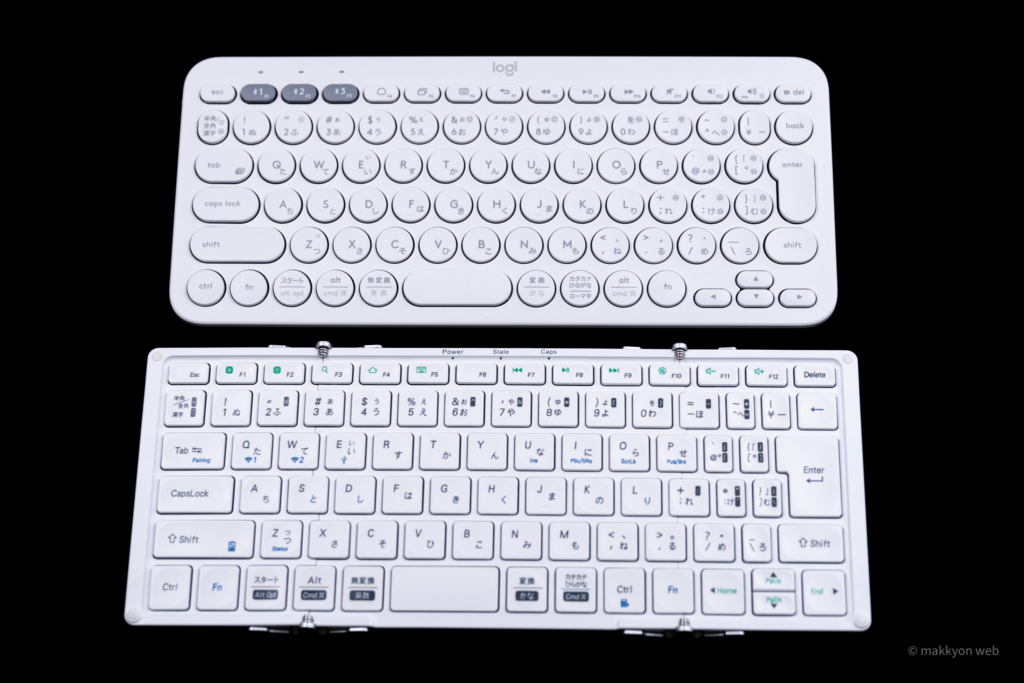 However, the K380 weighs 418.2g, which is more than 100g heavier than the MOBO Keyboard 2. If you compare them with each other, you will feel a sense of squeaky feeling.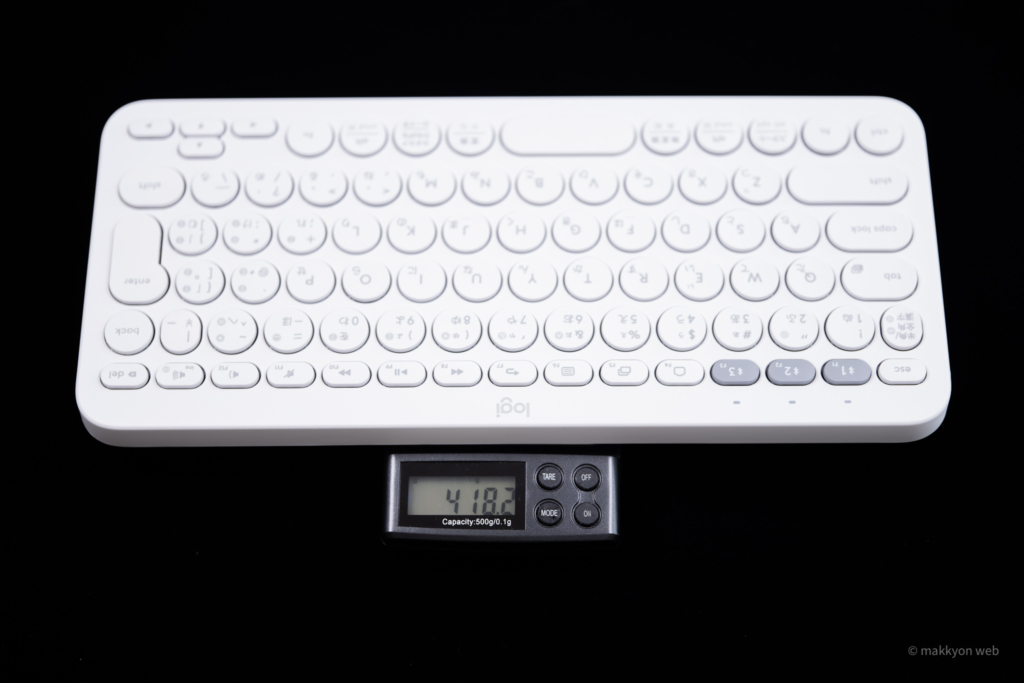 However, the K380 is set at a fairly low price, so if you want to carry it around and use it easily because it can be broken, it seems to be a good option.
MOBO Keyboard 2 can be connected via USB in addition to two Bluetooth connections
Like other companies' Bluetooth keyboards, MOBO Keyboard 2 can be paired with multiple devices. However, the number is up to two. Instead, a wired connection via USB is possible.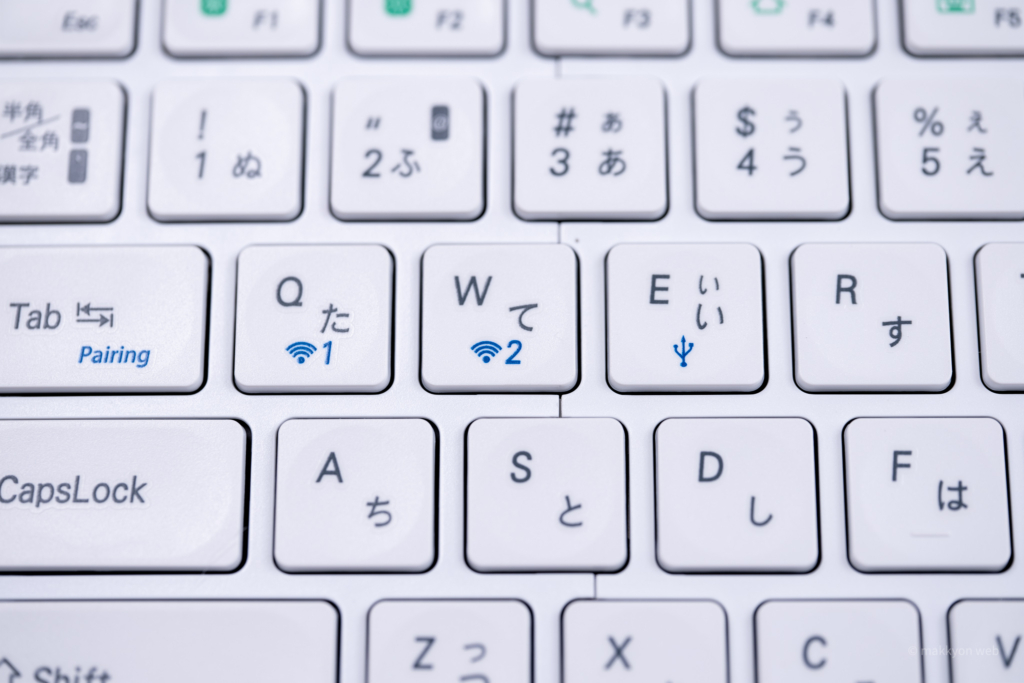 I connected it to my iPad Pro with a USB-C to USB-C cable, but it was properly recognized as a USB keyboard.Of course on Mac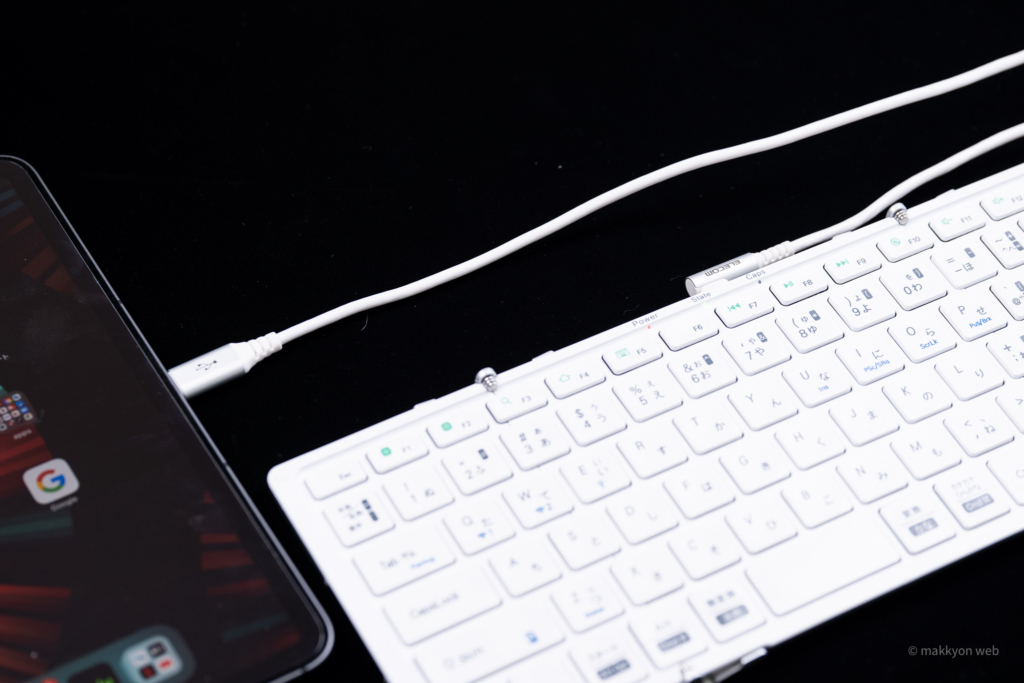 After connecting with a USB cable, it can be recognized by the combination of Fn key + "E" key. (It is not recognized just by inserting the USB cable)
A compact foldable keyboard that you want to carry with your iPhone
MOBO Keyboard 2 is used in combination with iPhone. By adopting the JIS layout, it is easier to switch between kana and alphanumericals, and the stress of using an external keyboard on the iPhone has been reduced by one.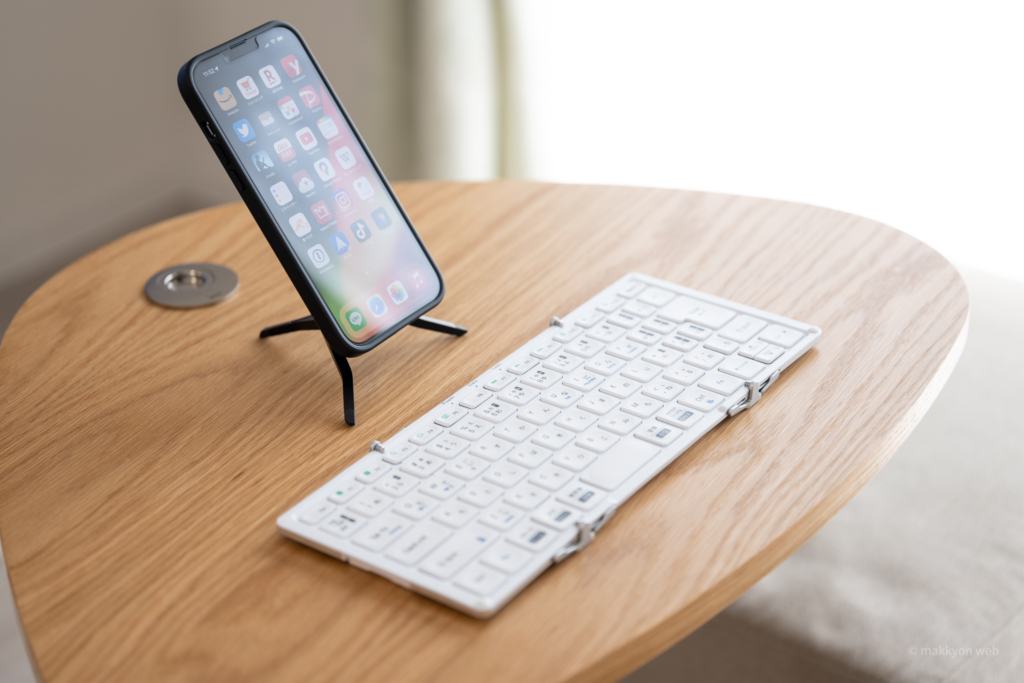 The iPhone stand uses a Peak Design MagSafe compatible tripod. The MOBO Keyboard 2 case and stand is a bit big to use on your iPhone.
What is the optimal solution for a tripod or stand that you can carry with your iPhone? When I take pictures and videos with my iPhone, I often come across situations where I want to use a stand or tripod. Selfie stick with tripod and MagSaf.
The MOBO Keyboard 2 is a small paperback book size, so it's easy to carry with your iPhone.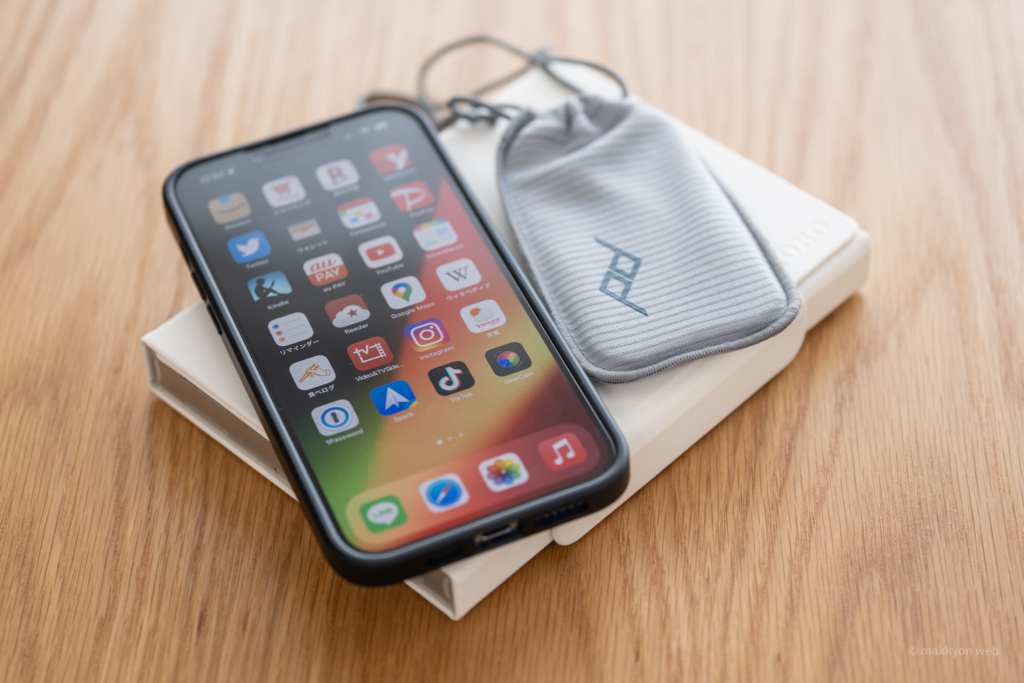 If you throw it in your bag and keep it on hand, you can easily take it out and use it even at a cafe while you are out.
Summary of MOBO Keyboard 2
Folding keyboards have existed for a long time, but the charging terminal is USB-C, the connection is Bluetooth 5.1, and the internal specifications are the latest. There are few new elements, but that is proof that it has always been perfect.
MOBO Keyboard 2 seems to play an active role in the future.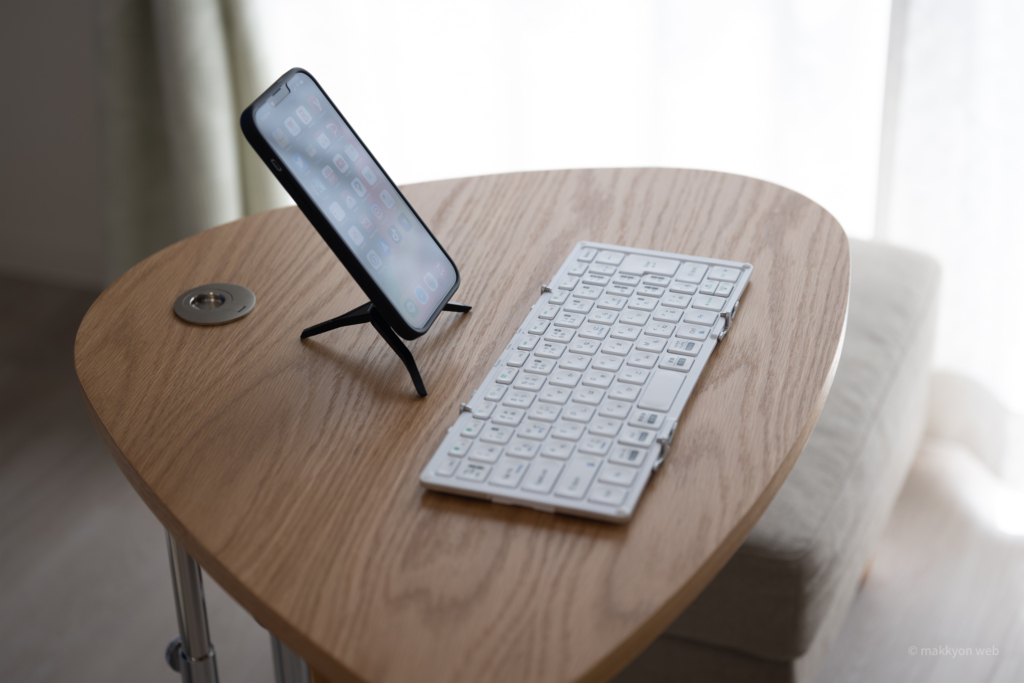 Many MOBO products are easy to use, so please check other products as well.