The stand-related items are especially useful, and you don't have to pinch them tightly like a vise, and you don't have to hook them to balance them. A Belkin 3-in-1 charger is placed beside the bed to charge the iPhone and Apple Watch while sleeping.
MagSafe peripherals other than genuine Apple are finally on sale! MagSafe wireless charging announced with the iPhone 12 series. At first, genuine Apple products were the main products, but there are also products from other companies …
For carrying around, a foldable mophie stand is always available in the bag. It is convenient to keep your iPhone upright in a cafe or coworking space.
Does the MagSafe stand need a charging function? No need? MagSafe is convenient, isn't it? Not only can the charging position be fixed, but it can also be mounted on a wall, mounted next to the display, or stood on a tripod …
Isn't this enough? You might think that. However, there is another "I want a MagSafe stand". It's a "height adjustable" MagSafe stand. I want to use it flexibly, such as aligning it with the same line of sight as the display for Mac, or raising the line of sight when watching videos on the table.
Review VIJIM HP002 Magnetic iPhone Stand
This time, I bought VIJIM's HP002 Magnetic iPhone Stand. You can buy it on Amazon. This is the package of VIJIM HP002 Magnetic iPhone Stand.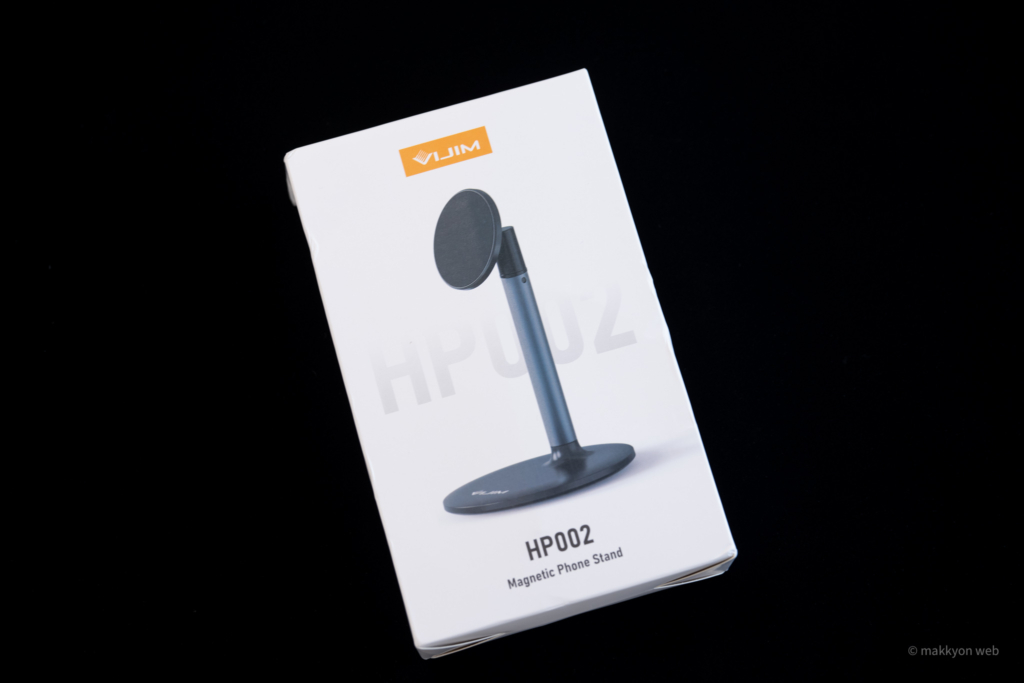 Each part of HP002 is stored separately in the box. It is an assembly type.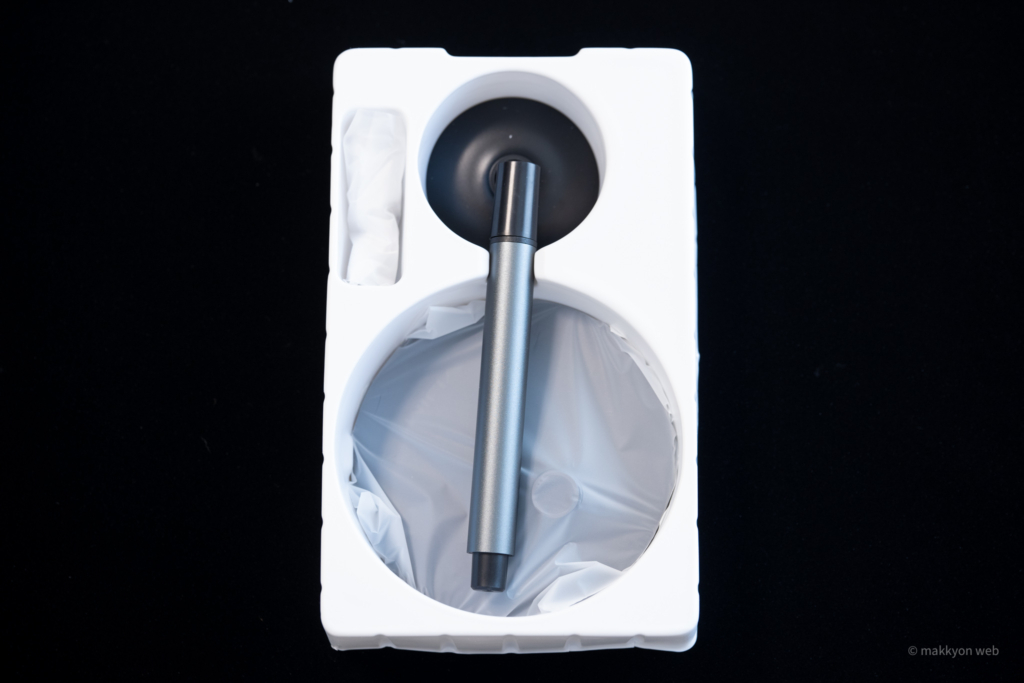 The base and support of the stand, screws and M4 wrench, and magnet ring are included in the set.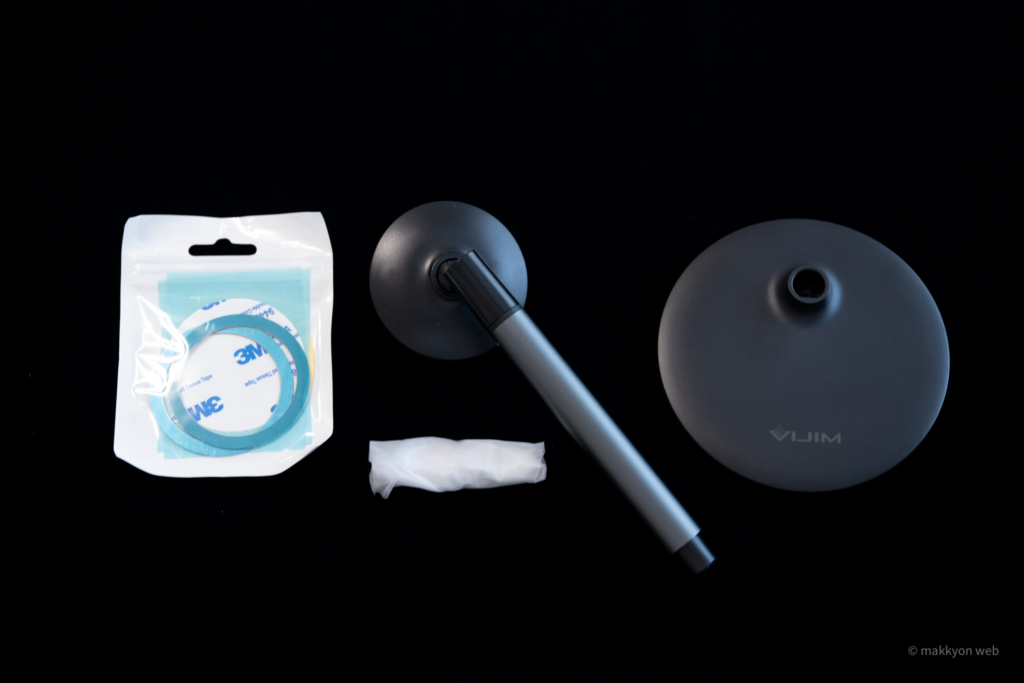 The magnet ring is attached to a smartphone that does not have MagSafe. This time it is not necessary because it is used with iPhone 13 Pro Max.
Assembling is stabbed and tightened, that's it.
Let's assemble it. In conclusion, it's super easy. First, insert the support into the hole in the base.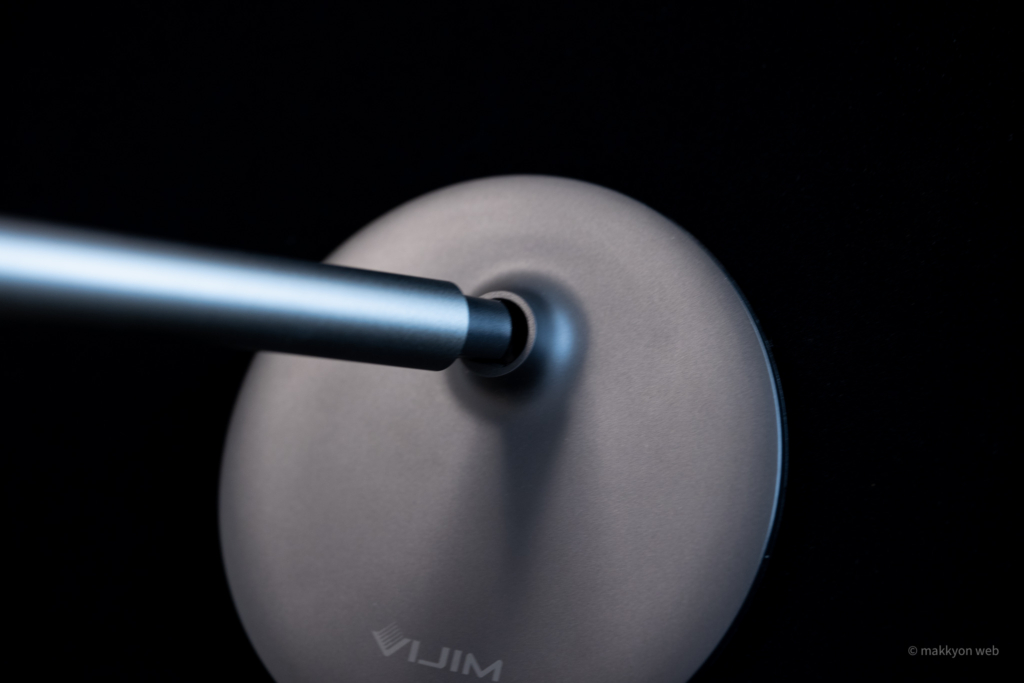 Next, just insert the attached screws from the bottom of the base and tighten with an M4 wrench.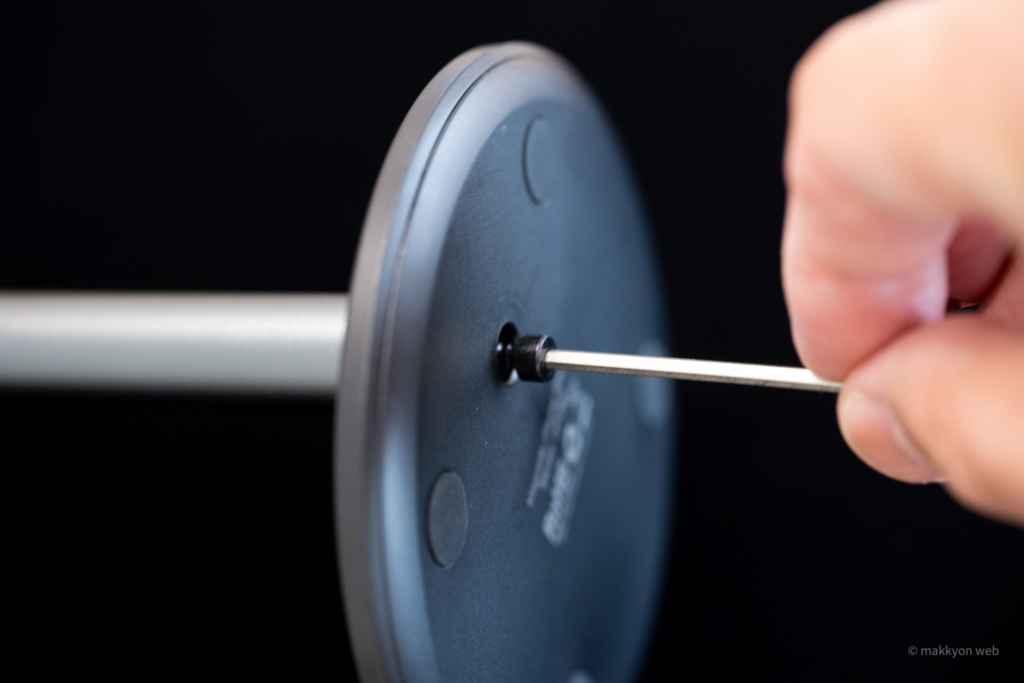 The stand is heavy and has non-slip corners to prevent it from slipping even when placed on a table. This sense of stability is important because you may touch it while standing on the stand.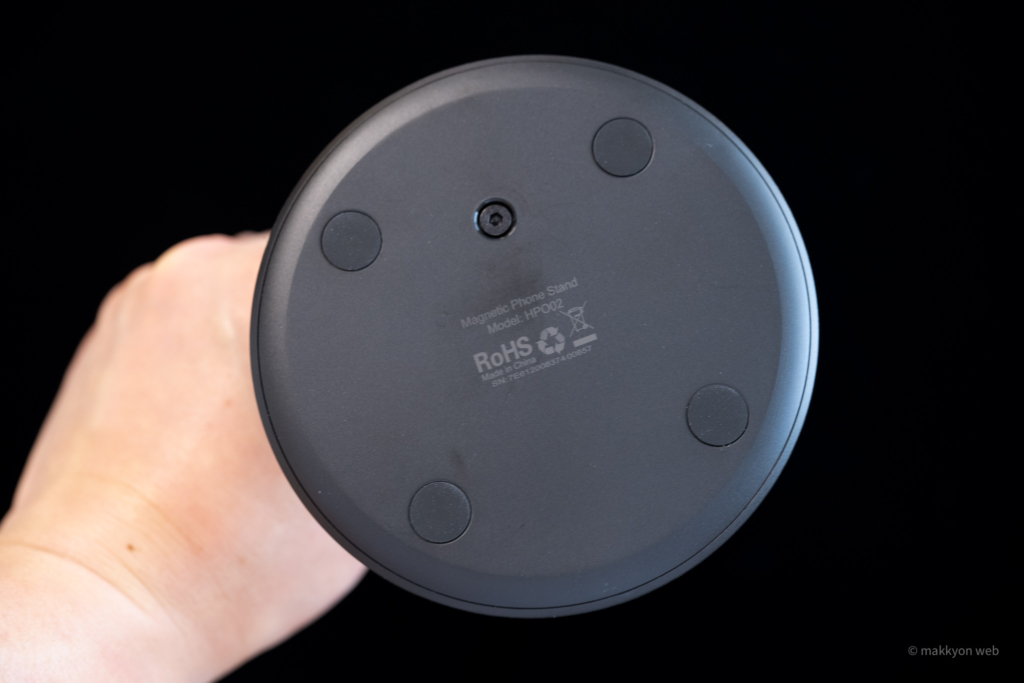 The MagSafe plate is secured with a ball joint. The angle can be decided freely. The accuracy of this joint is good, and it stops at the position you want to tilt.
The point of this stand is that the height can be adjusted. According to the information on the package, it can be adjusted in widths from 160-225mm. (The photo is stretched)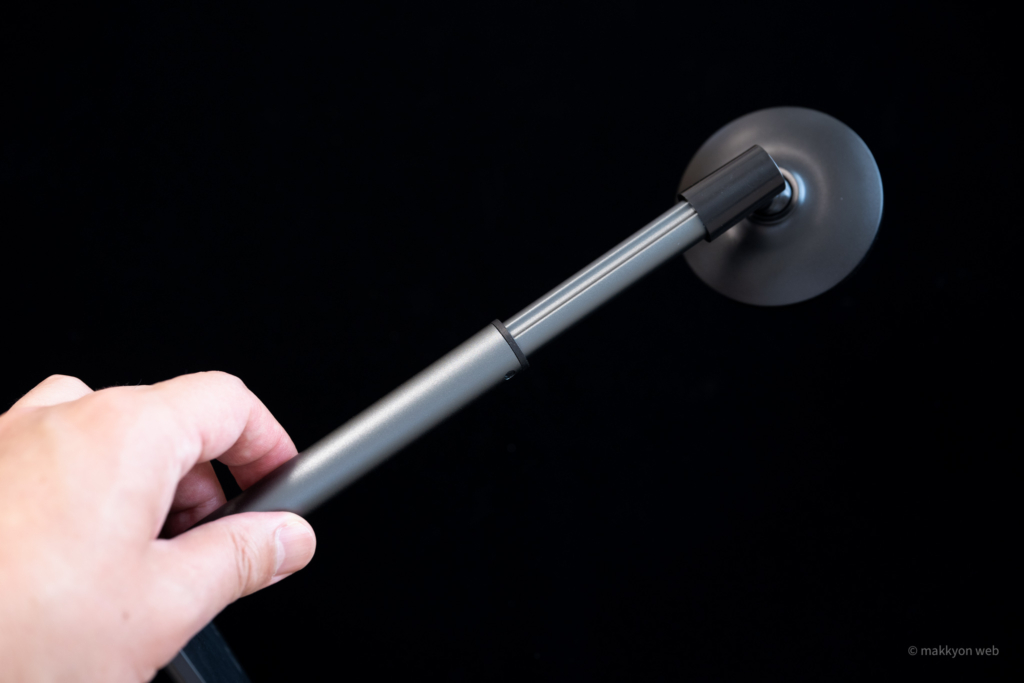 As you may have noticed so far, this stand does not have a charging function. It will be used as a simple stand.
Stable enough for iPhone 13 Pro Max
I tried to adsorb iPhone 13 Pro Max. It is a heavyweight smartphone that weighs nearly 300g including the case, but it can be fixed without any problems.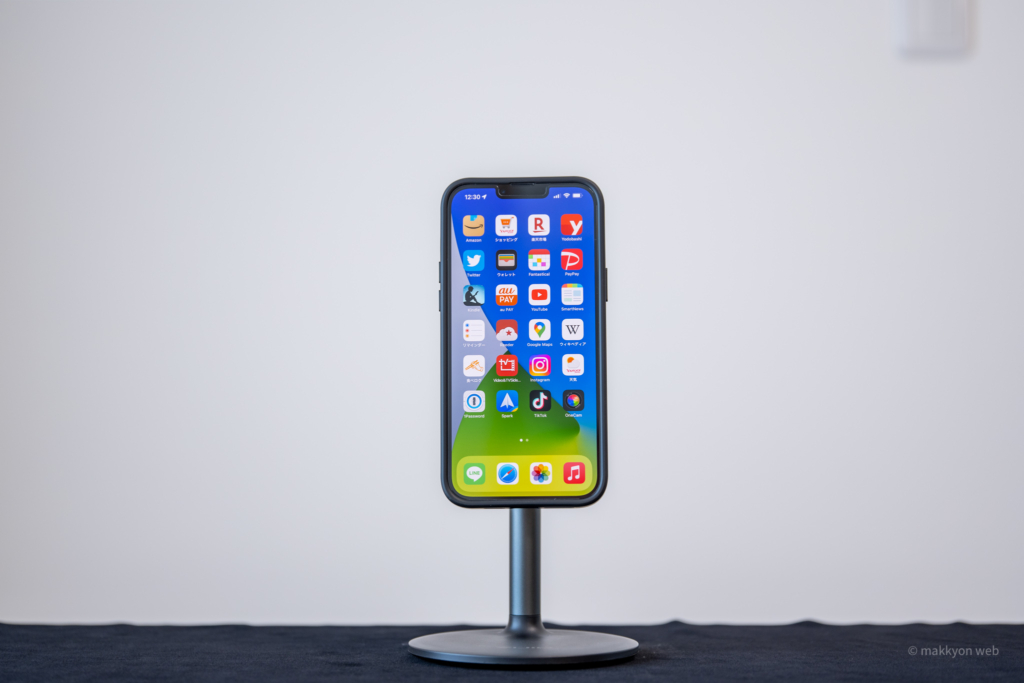 By further extending the support, a height of + 65 mm can be obtained.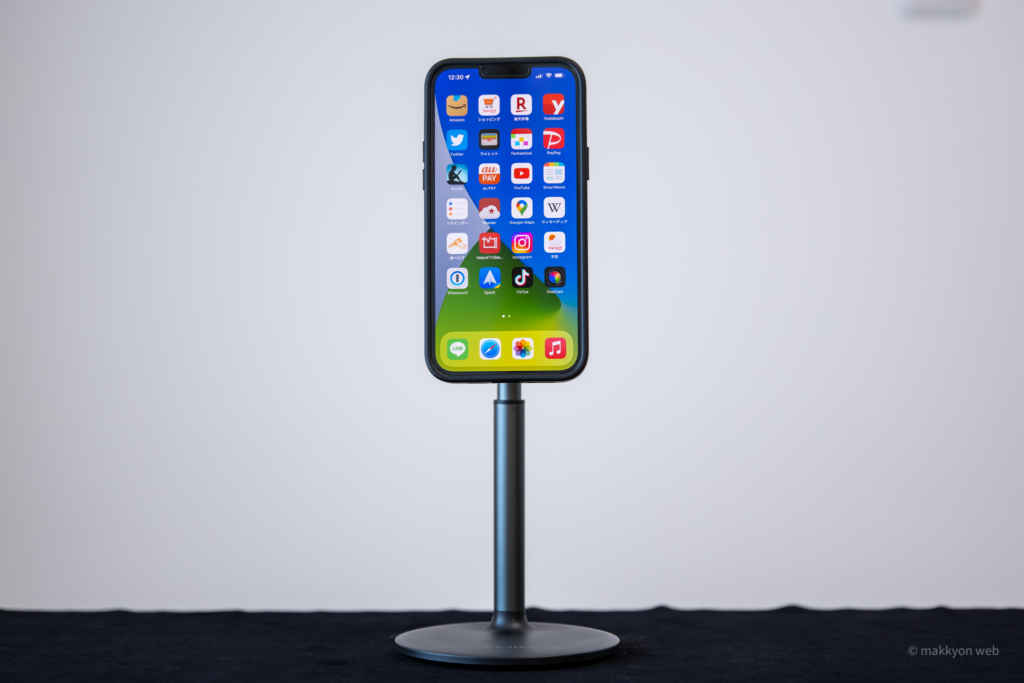 In addition, the range of motion of the ball joint is wide, and it can be fixed at an angle that looks down.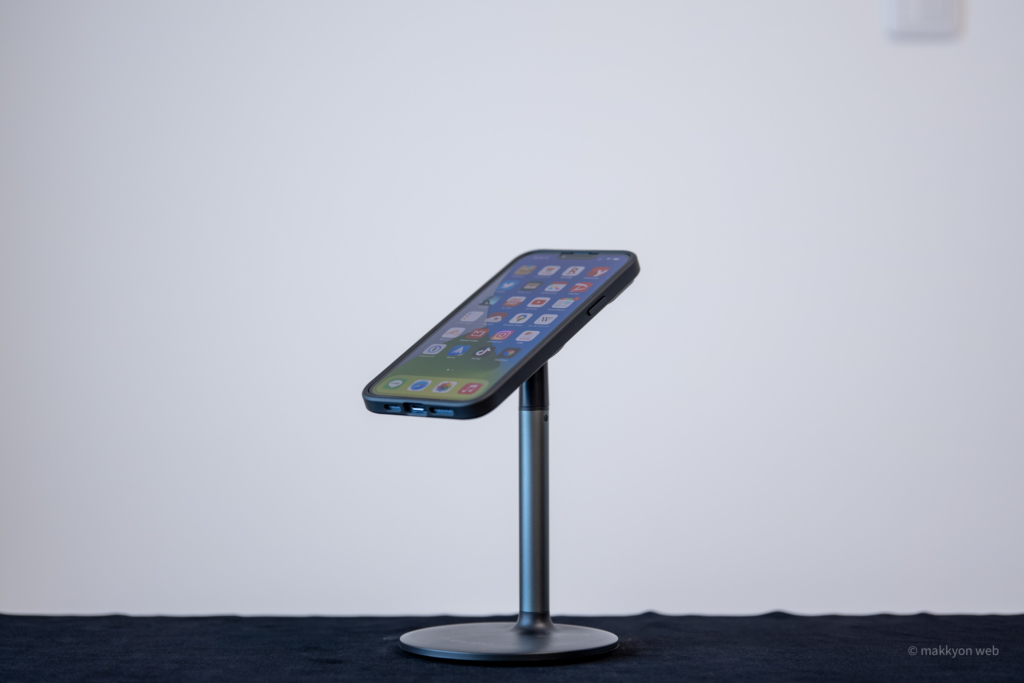 Seen from the side.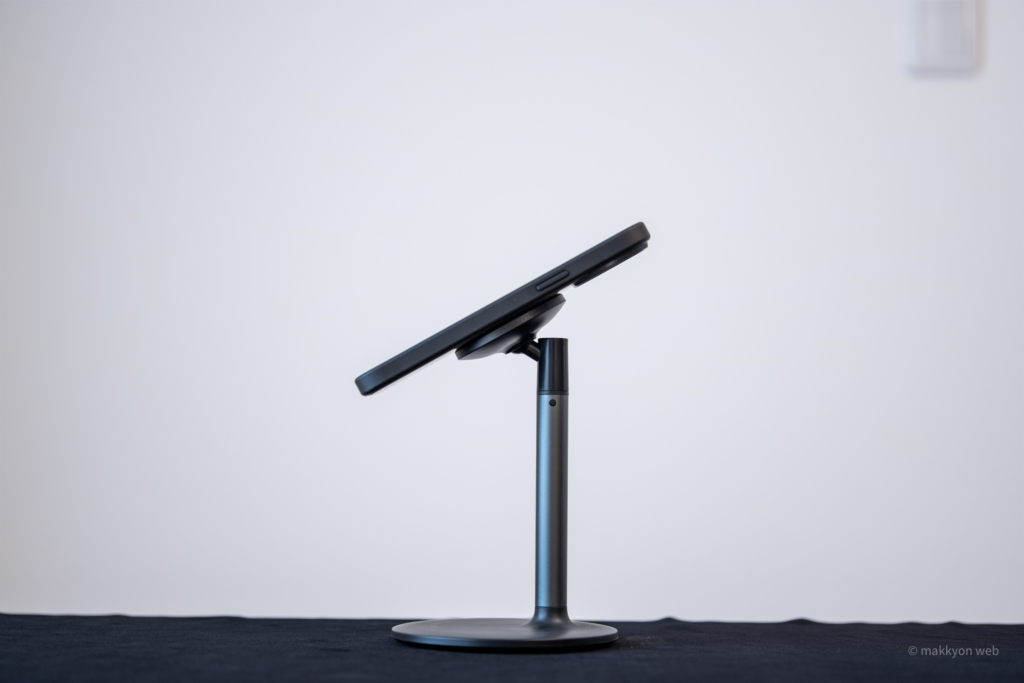 You can also turn it sideways while adsorbing it with MagSafe. It comes in handy when watching videos. By raising your eyes, your neck will not get tired even if you watch the video for a long time.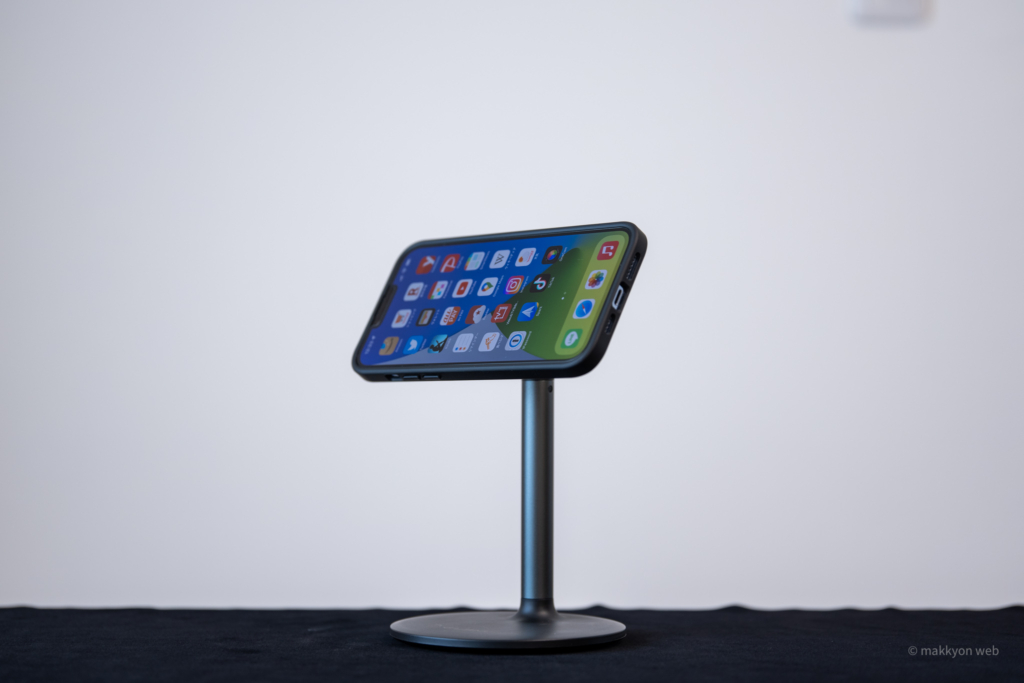 Since it is simply finished without cables, it is easy to carry indoors.
Compare with other MagSafe stands
Compare it with other MagSafe stands. The center is the main stand, the left is Anker's PowerWave Magnetic 2-in-1 Stand, and the right is the stand that combines JOBY's MagSafe mount and tripod.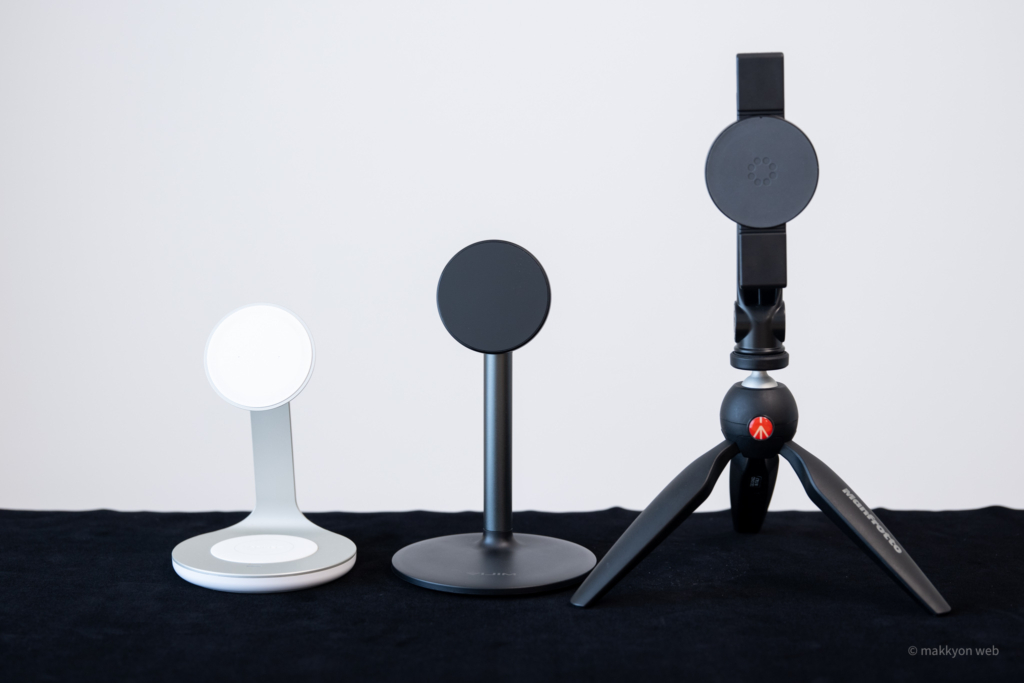 Extend this stand to reach the height of JOBY's mount + tripod.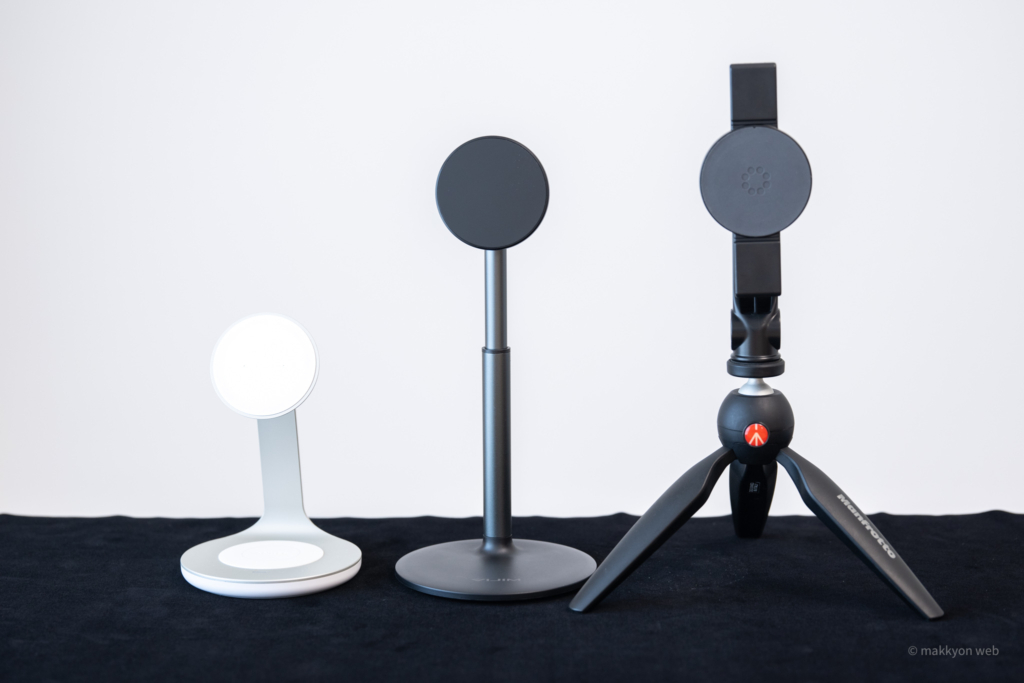 With a footprint similar to that of Anker's stand, it could be extended to the same height as a mini tripod. (JOBY's mount + tripod is tall and easy to adjust the angle, but the legs take up space, so it's a combination to choose where to use)
Is it impossible while charging?Try to verify
Well, this stand is a simple and smart stand that does not have a charging function, but you may still want to charge it. Just in case, I will also verify it with Apple's MagSafe charger.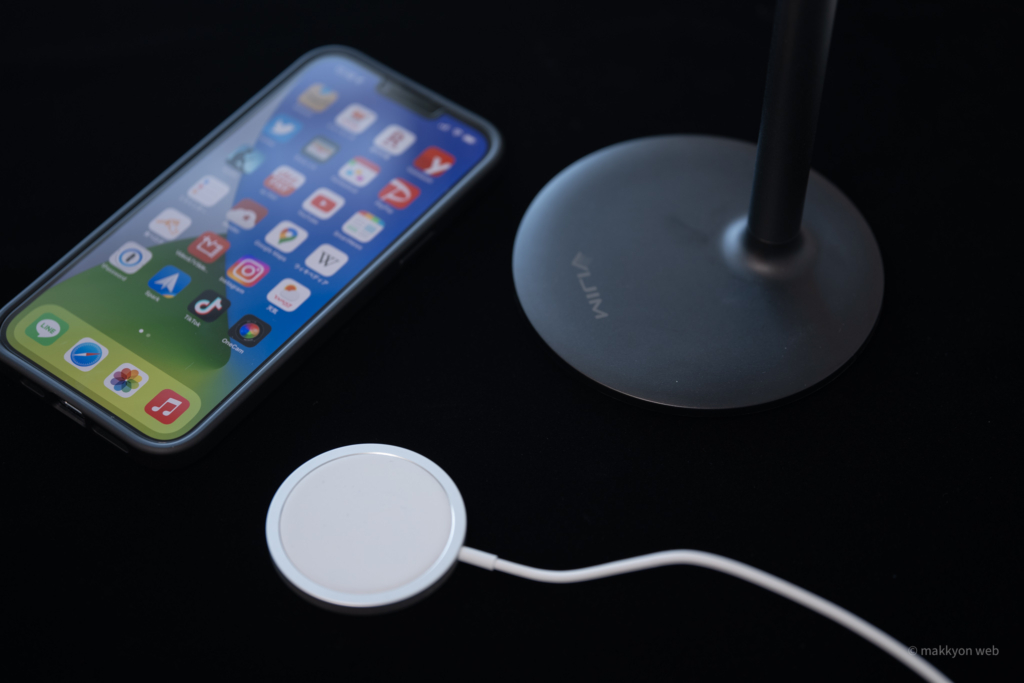 What are the major changes in the iPhone 12 generation? Every year, it is said that new iPhone models will be released, "What has changed?" From this time, a new MagSafe charger has appeared, and it corresponds to this …
Let's attach the iPhone to this stand while sticking it to the MagSafe charger. The magnet reacts, but it doesn't align with the center and slips off.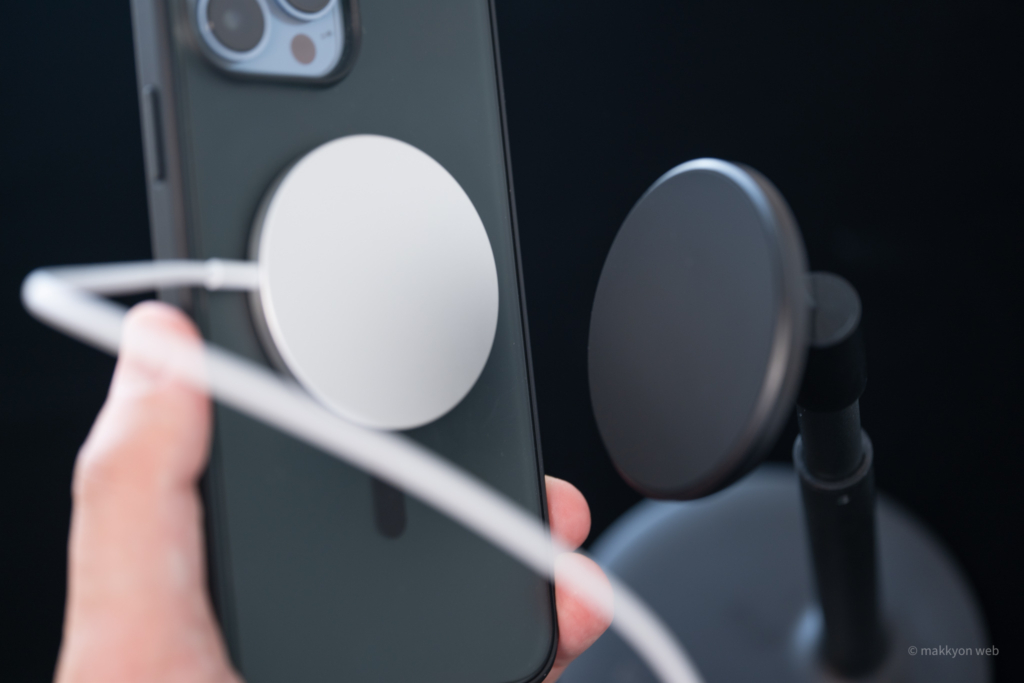 I tried several times, but there are no points that can be fixed,MagSafe charger cannot be used togetherwas.
summary
Simple and smart, yet height adjustable. This is the ideal iPhone stand you've been looking for! There will be products with a similar concept in the future, but at the moment it is the only recommended MagSafe stand!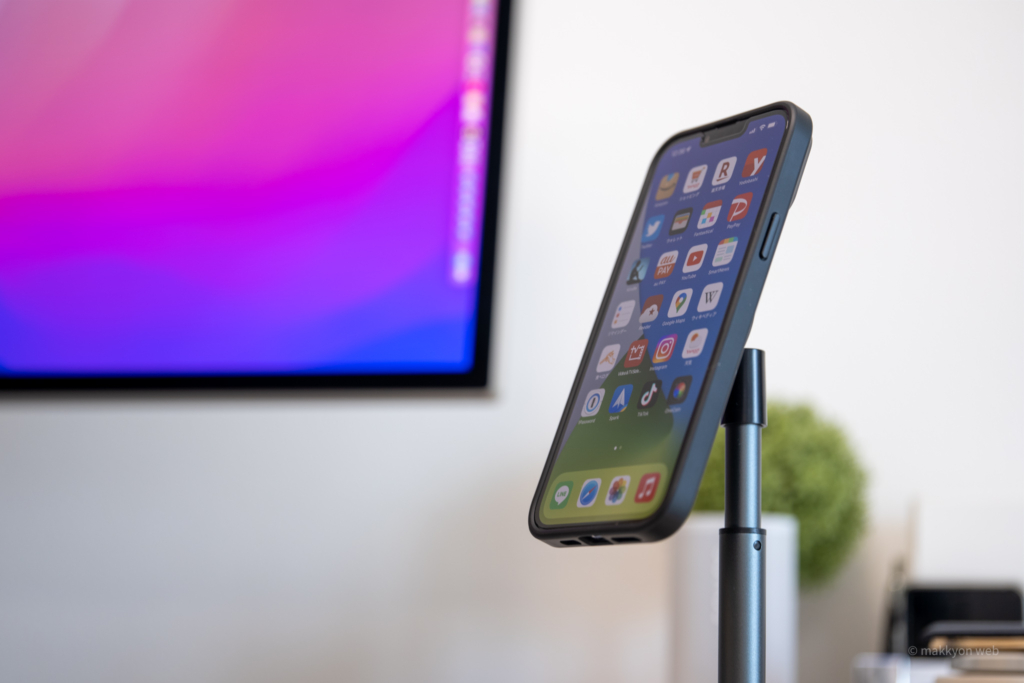 VIJIM HP002 Magnetic iPhone Stand can be purchased from Amazon.