The world's first OLED TV was Sony's XEL-1 in 2007, wasn't it? It was an 11-inch, super-expensive product that cost 200,000 yen, but it was as thin as 3 mm, with a rich contrast that LCD TVs couldn't match, and the awesomeness of next-generation displays.
Sony is the world's first* 1OLED TV "XEL-1" will be released. "XEL-1" proposes a new TV shape with 11V type and the thinnest part of about 3mm. In addition, the in-house developed organic EL panel "organic panel" realizes excellent performance in all of contrast ratio, peak brightness, color reproducibility, and video performance.* 2Equipped with, to express beautiful images that you have never experienced.

World's first organic EL TV released
Fifteen years have passed since the introduction of the XEL-1, organic EL (hereinafter referred to as OLED) TVs have become commonplace (although the price is more premier than LCDs of the same size), and smartphones used on a daily basis use OLED. It is not uncommon for all iPhone models to be OLED except SE.
However, there are still markets where OLEDs are not common. It is a "display for PC". OLED PC displays are only sold by LG for professionals, and even notebook PCs are used by ASUS in some models. Both are several times more expensive than liquid crystal displays.
Meanwhile, there are manufacturers that have released OLED panel mobile displays in the mobile display market. It is a Chinese display maker "INNOCN" founded in 2014. Since Amazon sells displays for PCs, many people may have seen the letters INNOCN.
Review INNOCN 15.6-inch OLED Display 15K1F
This time, we will review "15K1F", which is 15.6 inches in size and has full HD resolution, among INNOCN's mobile display products.
It's too thin! Will OLED be a new trend in mobile displays? ??
The package is a simple craft package. Let's open it.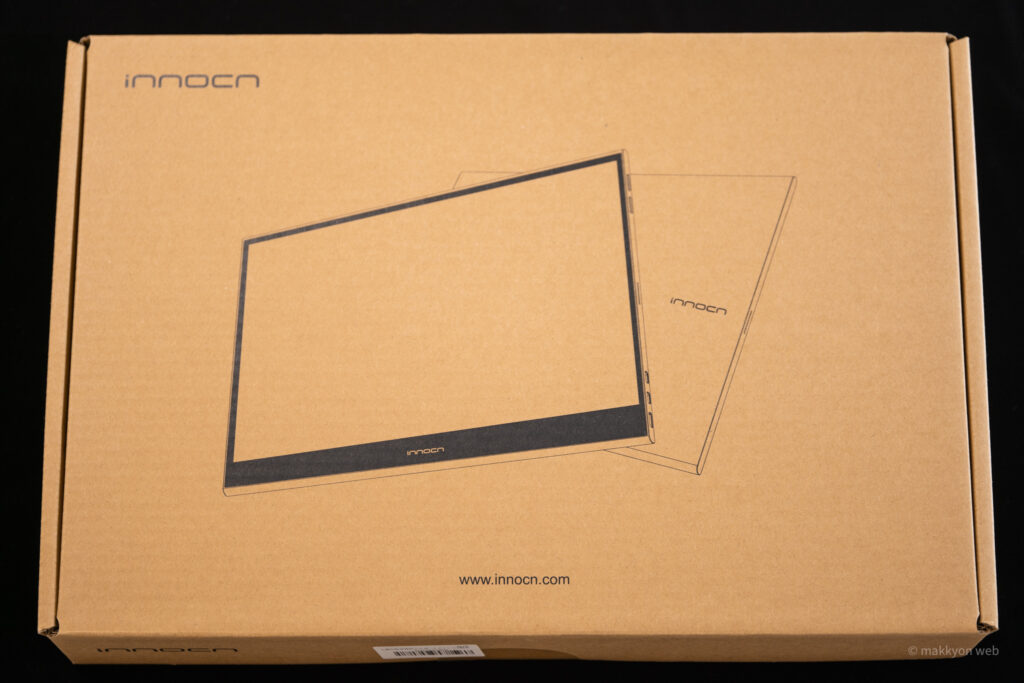 This is the main body of INNOCN 15K1F. The front is flat and has no irregularities. The front and back are flat, and it's a simple plate.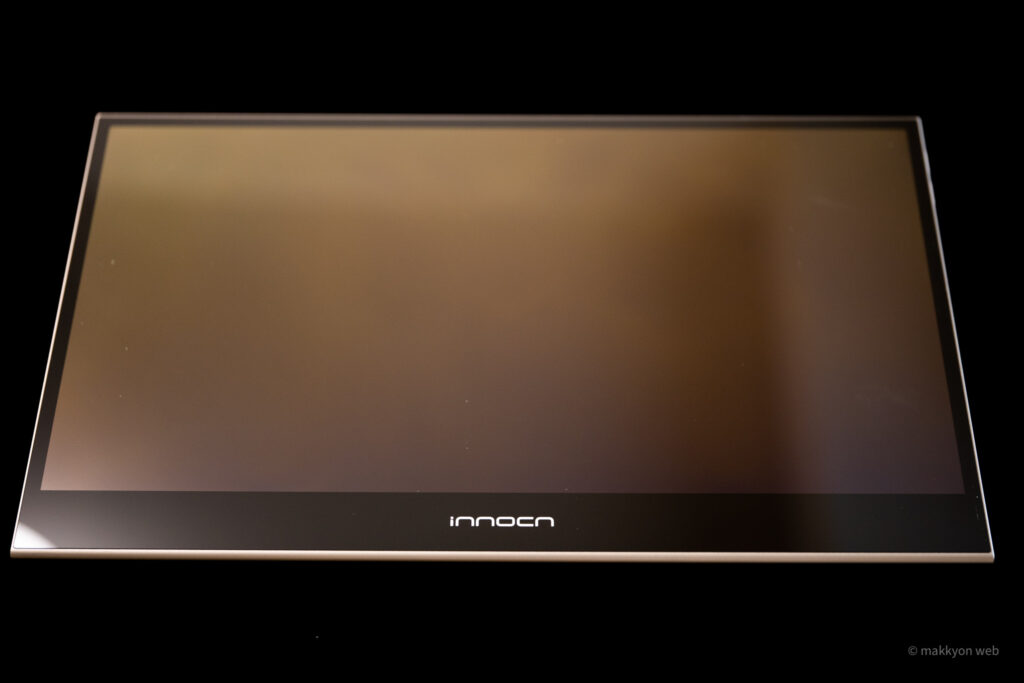 Accessories include a stand / case, HDMI to MicroHDMI cable, USB-C cable (for power supply), USB-C cable (for video / power supply), and USB-AC adapter.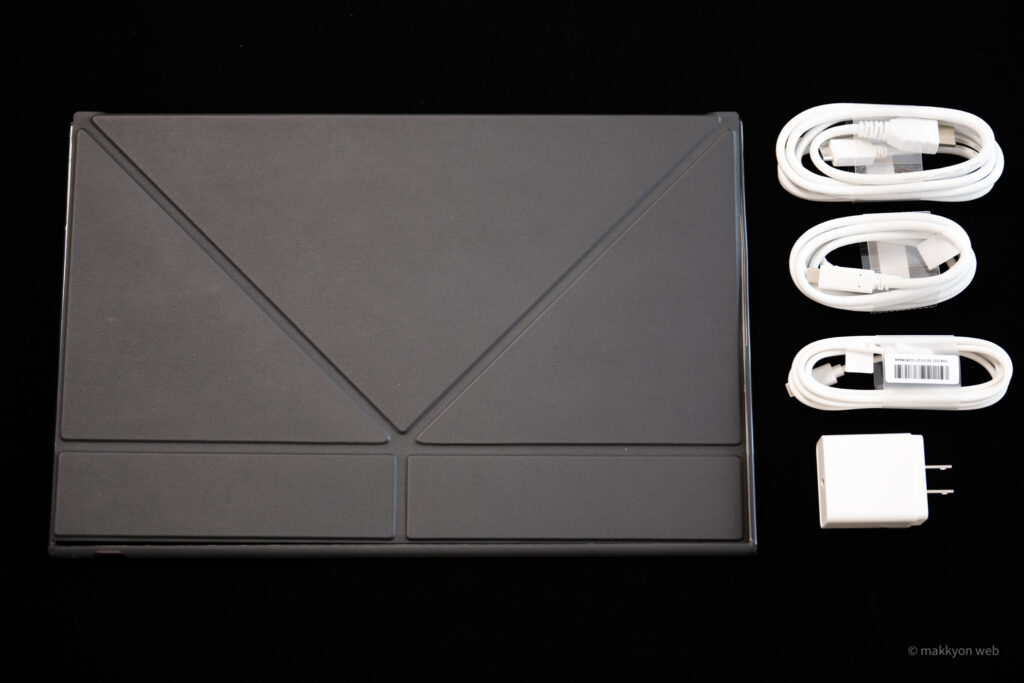 Two USB-C cables are included, but each has a different role. The thick and long connector is for video input / output and power supply. The thin and short one is for power supply.
A factory calibration report was included with the quick start guide (right photo). With just one calibration sheet, your expectations for quality will increase.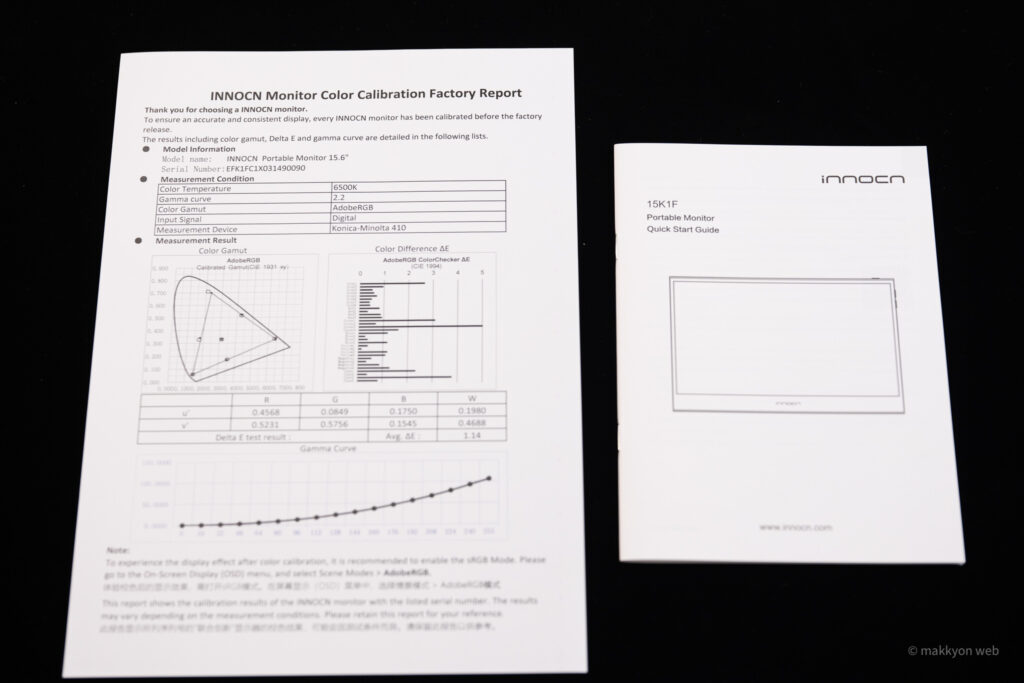 The USB-AC adapter is slightly larger. Since the plug is directly attached, it cannot be folded.
The output of the included USB-AC adapter is up to 30W, which is high for a mobile display.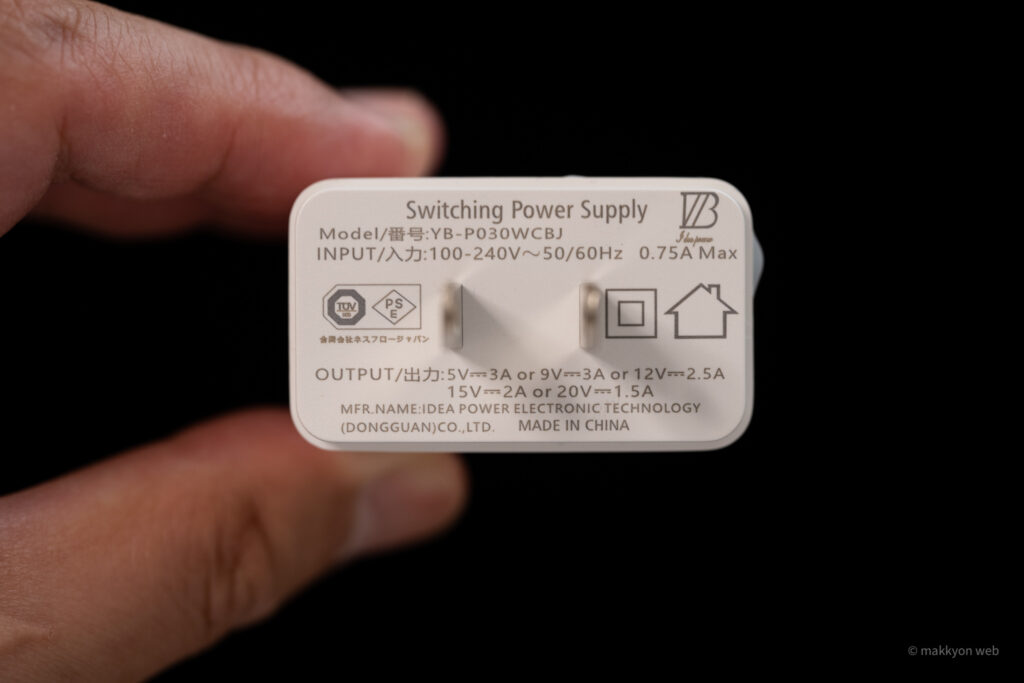 Is the INNOCN 15K1F case like an iPad? ??
Next, let's take a look at the attached case. Most mobile display cases are like book covers, but the case that comes with the 15K1F is like an iPad with an integrated lid and case.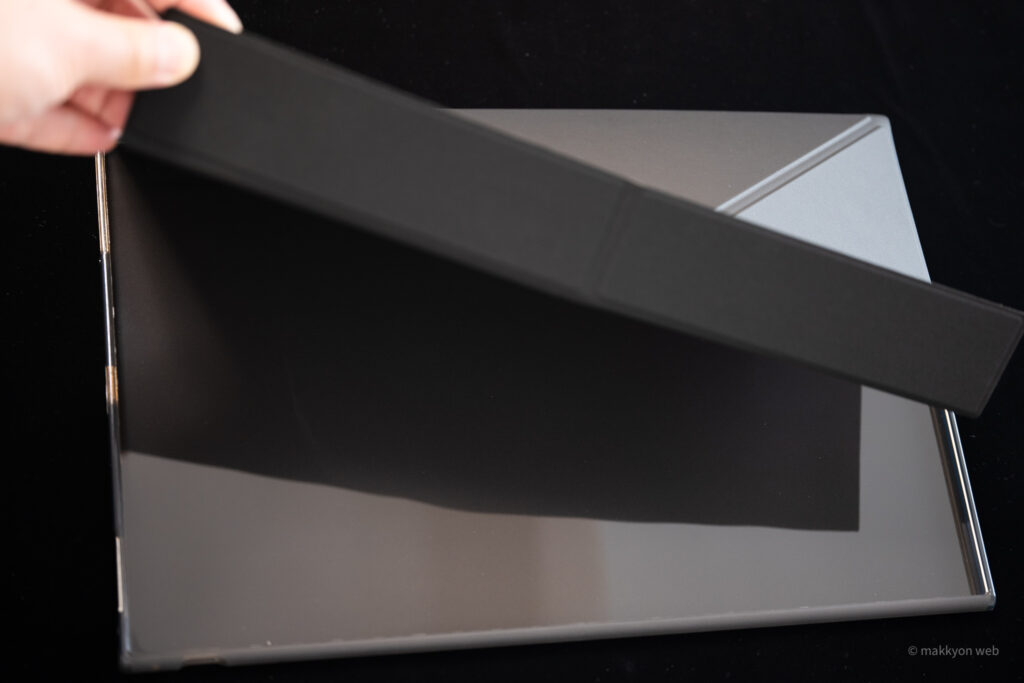 The bottom is a polycarbonate case that covers the entire display, and the top is a foldable lid.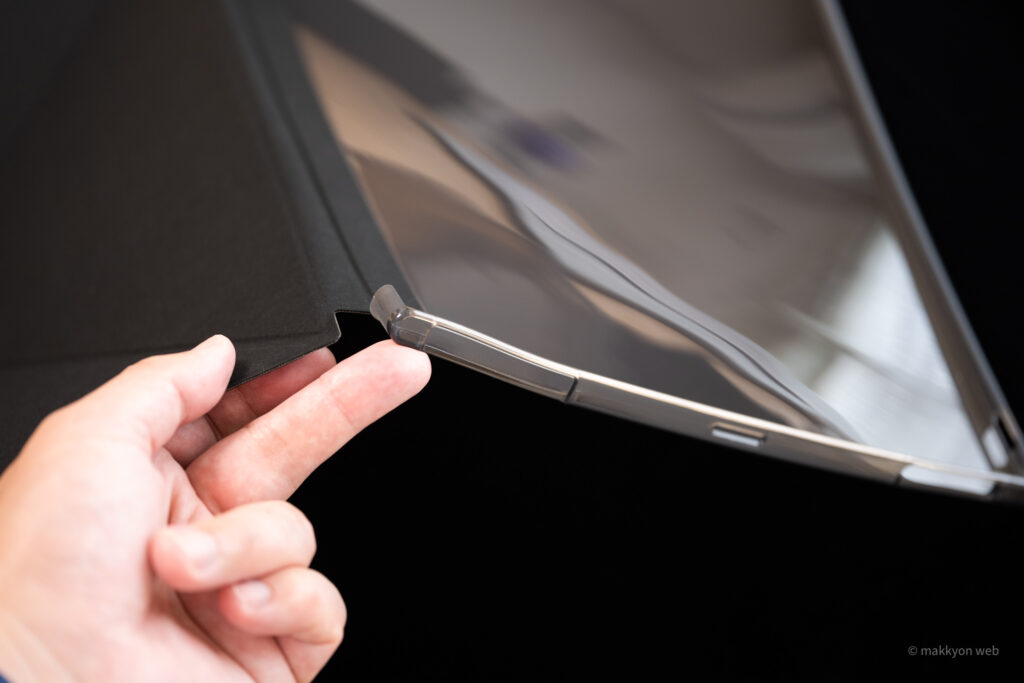 INNOCN 15K1F is a flat, stylish and mobile display
The back of INNOCN 15K1F is made of flat metal. It's like the top of a luxury notebook PC.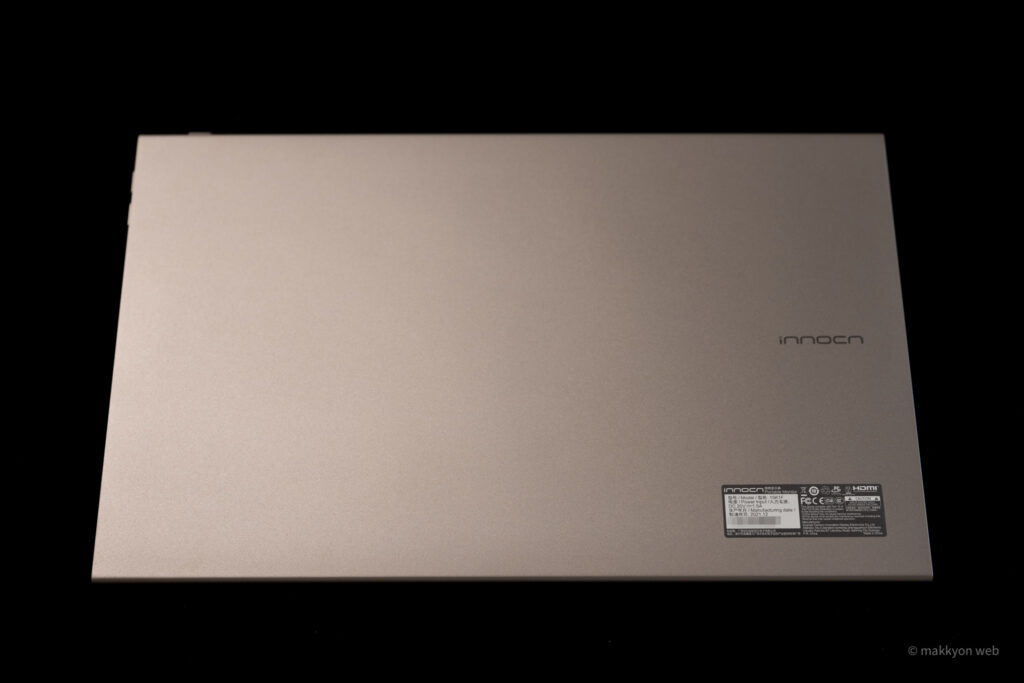 Mini HDMI, two USB-C ports, a volume button, and an interface are concentrated on the right side when viewed from the user. It also has stereo speakers.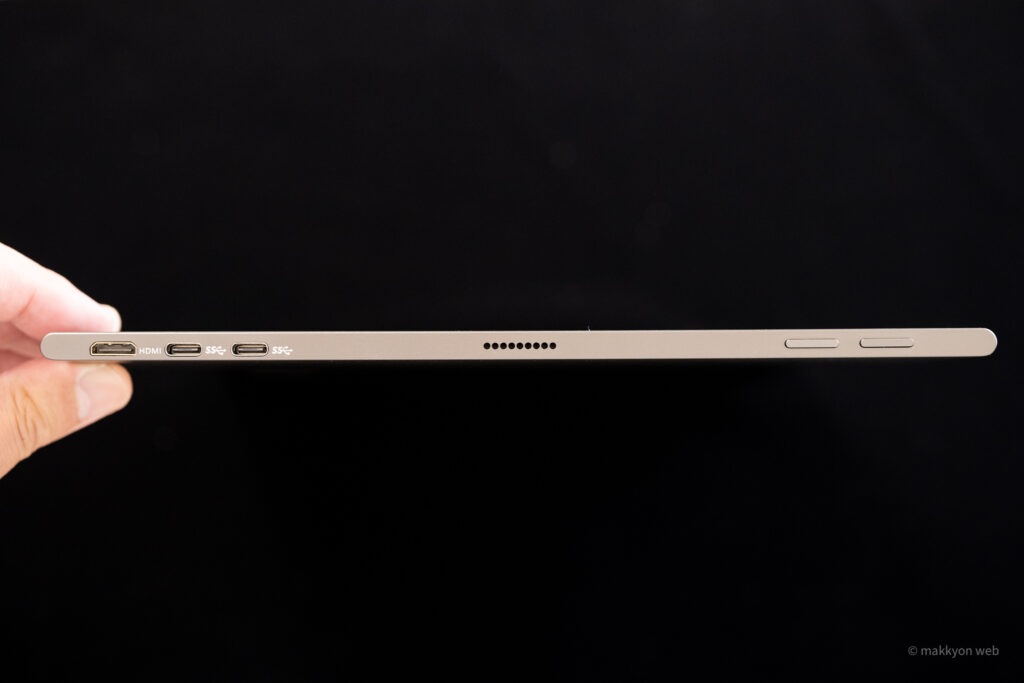 There is a power button on the top. This button is the enter key when operating the OSD. Next to that, there is also an LED that shows the power supply status.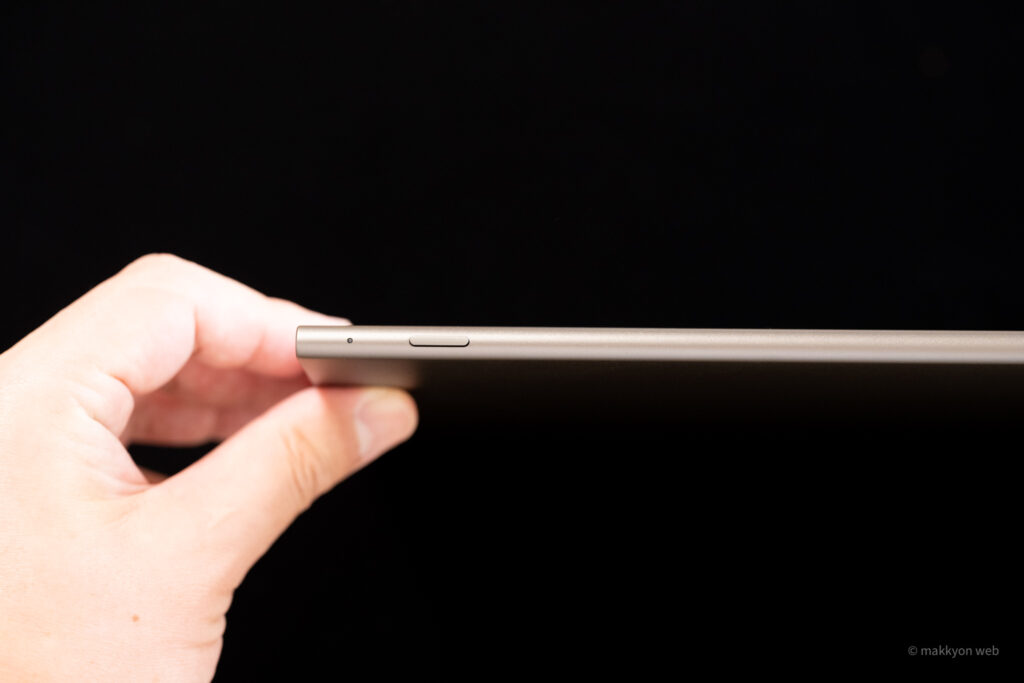 Only the speaker is on the left side.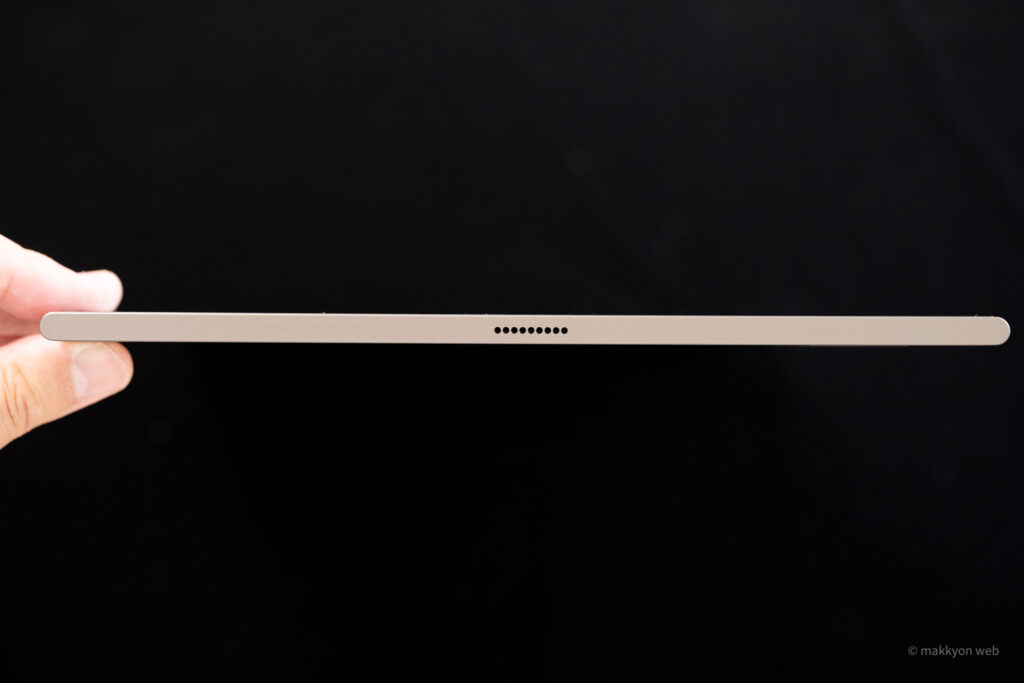 With a screen size of 15.6 inches, it weighs 732g. It's a little heavier than the iPad Pro 12.9 inches. However, because it has a large area, it feels lighter than the iPad Pro.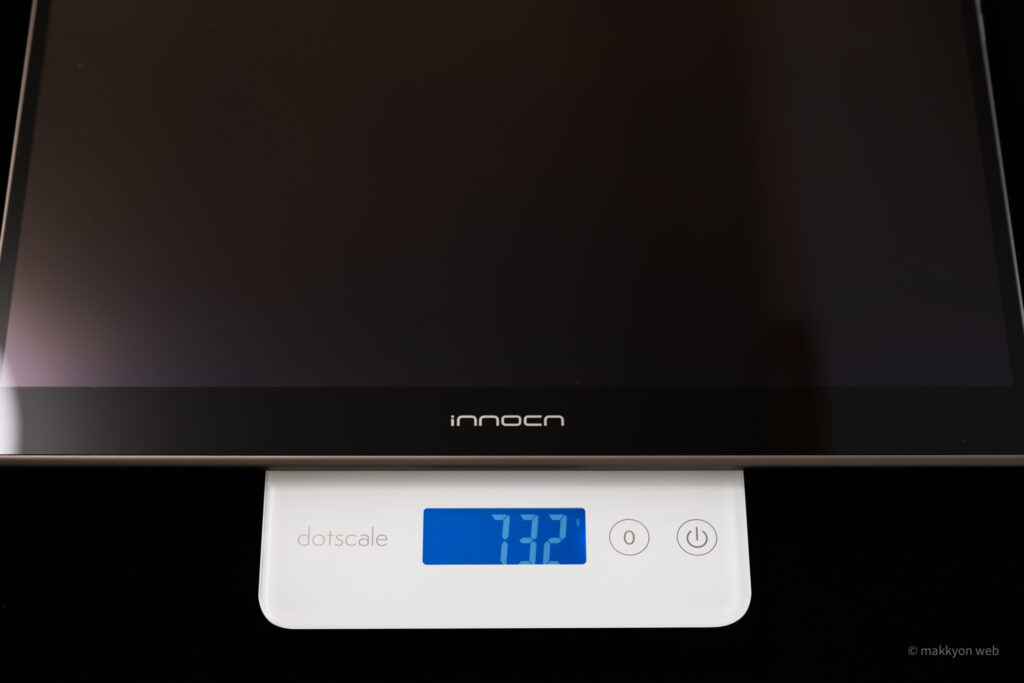 The combination of INNOCN 15K1F and the attached case weighs 1197g, which exceeds 1kg. It's about the weight of a MacBook Air.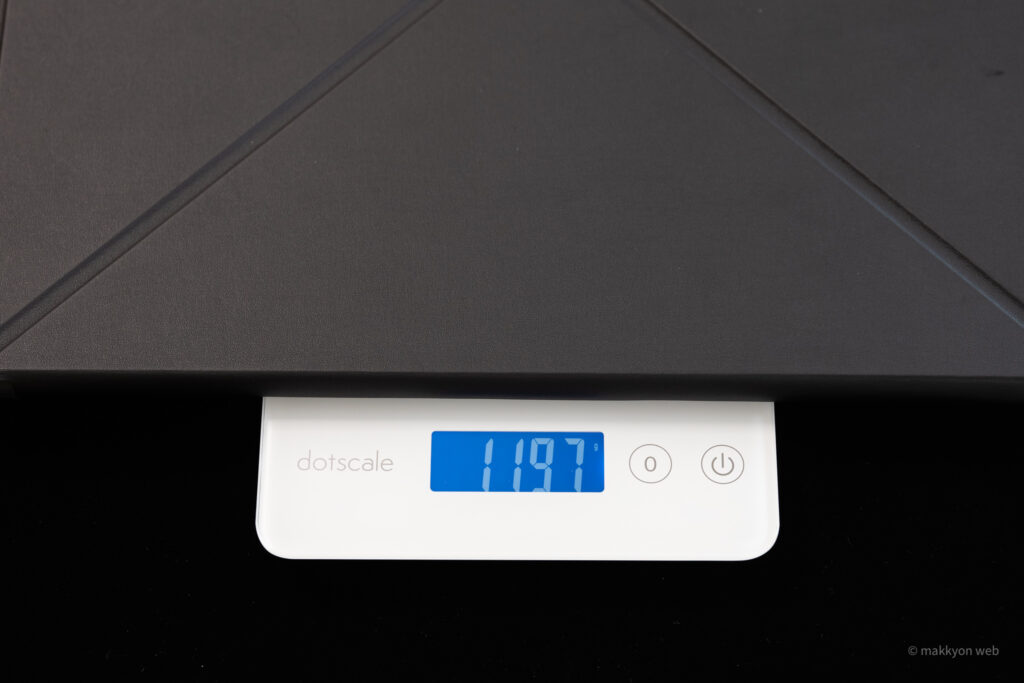 Turn the lid of the case back and bend it like origami to make it a stand.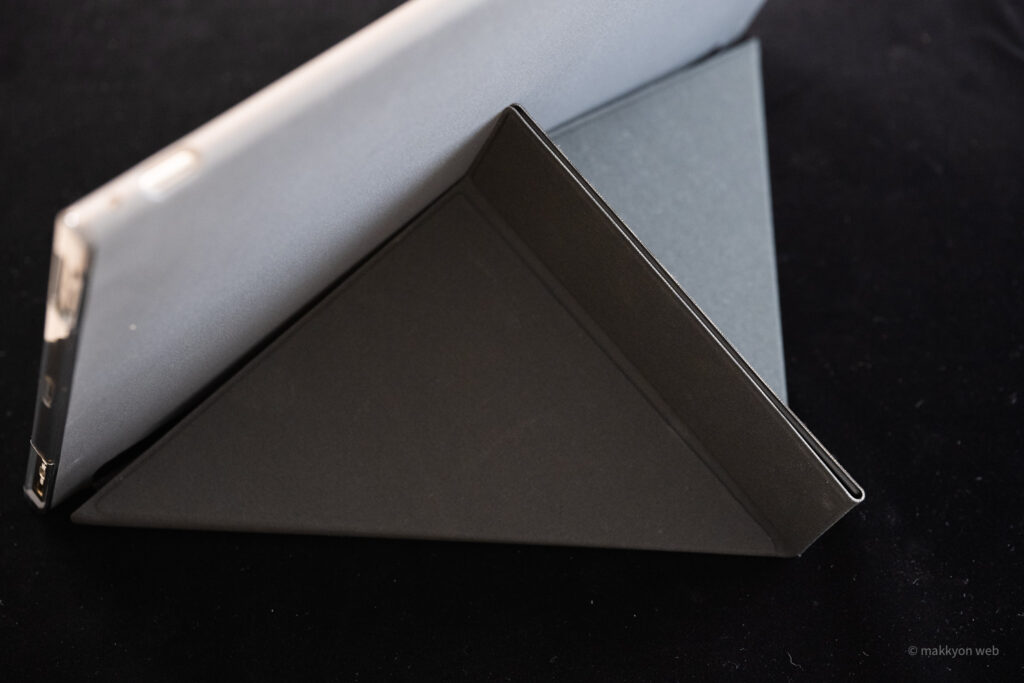 Now, let's connect to the MacBook Air and see the image quality and usability of the INNOCN 15K1F.
INNOCN 15K1F mobile display with natural beauty
I tried connecting to MacBook Air with a USB-C cable. The first impression was "Beautiful!" Previous mobile displays had a different impression from stationary displays, with their unique colors that required adjustments and their eyes being too bright and tiring.
However, the screen of INNOCN 15K1F has a natural beauty and you can see at a glance that it is a high quality panel.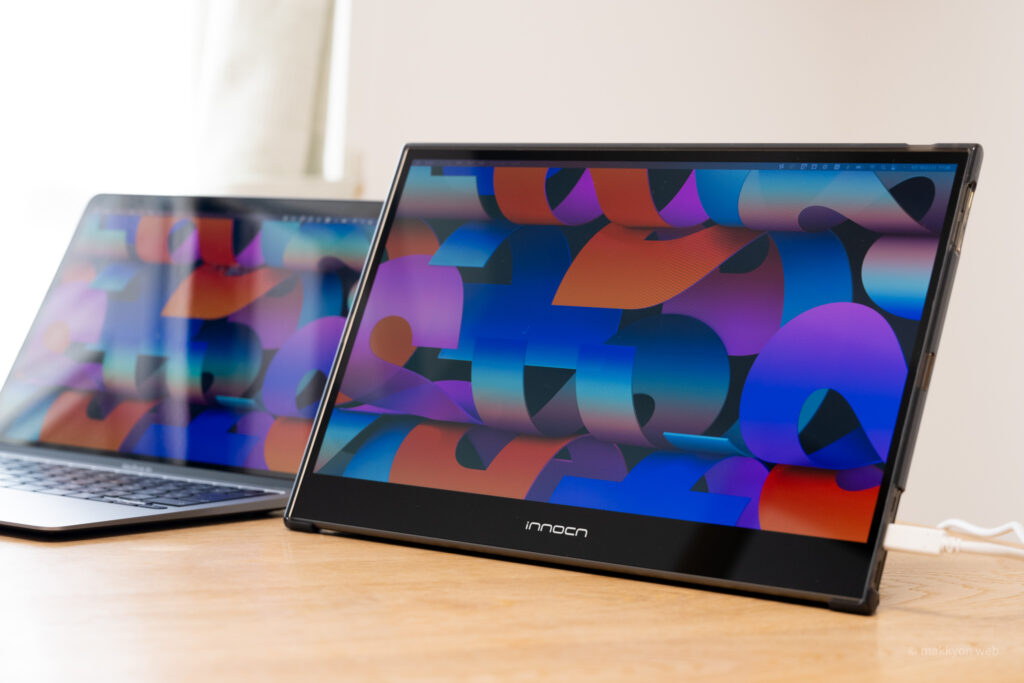 Is this beauty real? Let's compare it directly with the MacBook Air and iPad Pro, which have a reputation for the beauty of the LCD panel.
Is INNOCN 15K1F cleaner than MacBook Air or iPad Pro?
I tried arranging the MacBook Air and INNOCN 15K1F at the same angle. The brightness of the MacBook Air (left photo) is maximum, and the brightness of INNOCN 15K1F (right photo) is also maximum. If you put them side by side, can you see that they are as beautiful as the MacBook Air? If you take a closer look, you can see that INNOCN 15K1F has more color depth.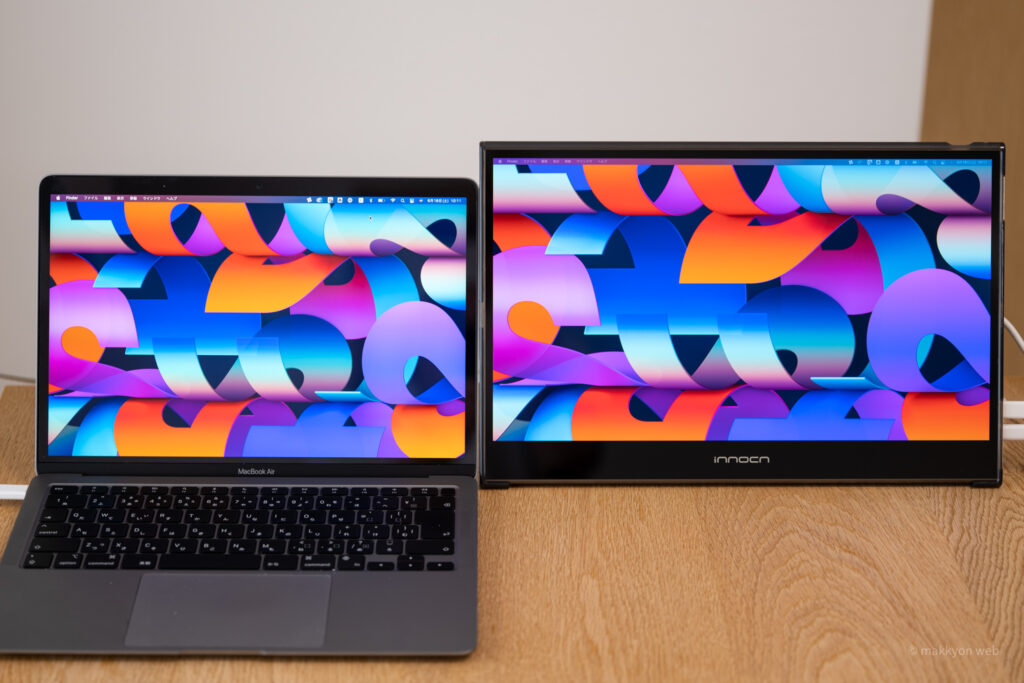 In this case, the comparison with the iPad Pro 12.9 inch is also expected. (IPad Pro 12.9 is a Liquid Retina XDR display with mini LED)
The iPad Pro 12.9 inch (left photo) and INNOCN 15K1F (right photo) were compared side by side. Both are equally beautiful, but the INNOCN 15K1F has a clearer contrast between brightness and darkness, demonstrating better color reproducibility. It's like OLED.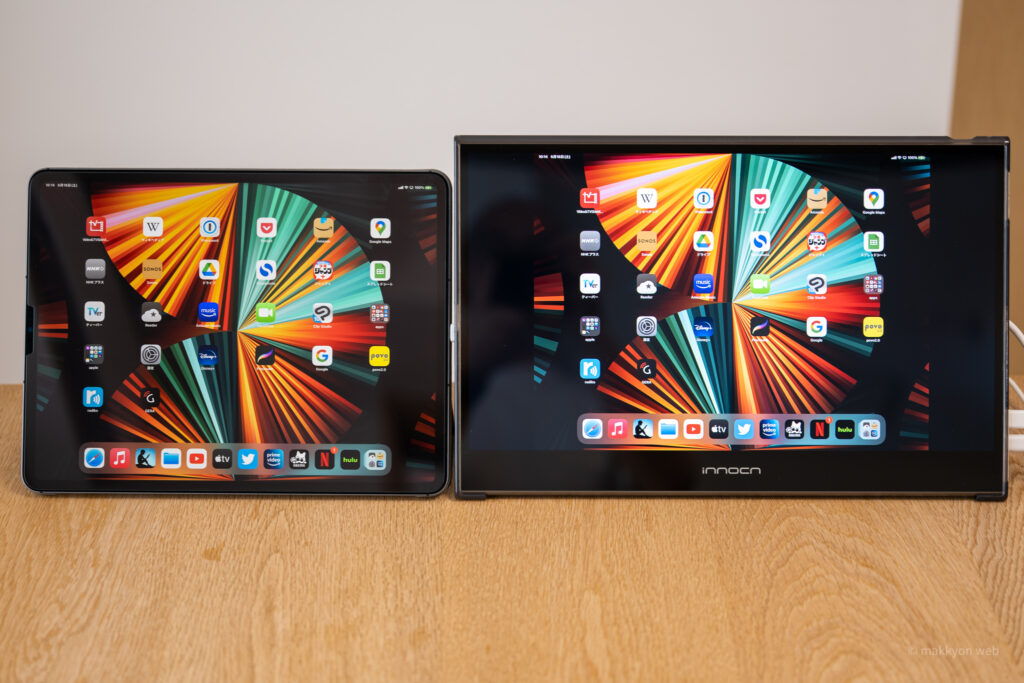 By the way, if you mirror the iPad screen, it will be fixed at a 4: 3 angle of view, so you can't take advantage of the 15.6 inch size …
Brightness is limited by bus power
By the way, when I connected the MacBook Air and INNOCN 15K1F with only one USB-C cable, I felt that the screen of INNOCN 15K1F was a little dark.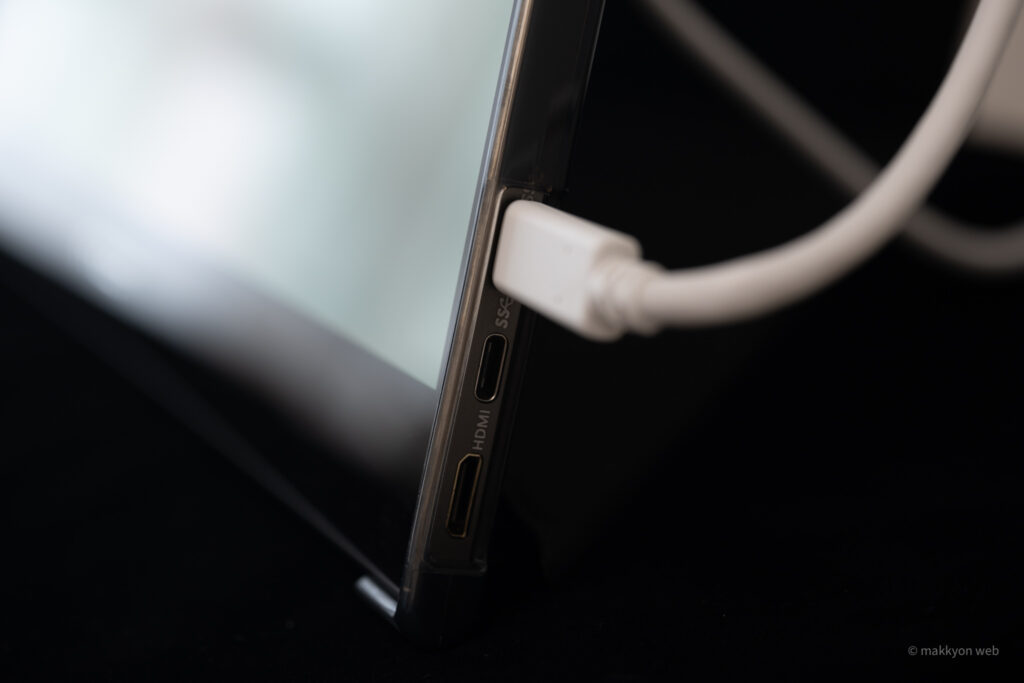 When I displayed the OSD there, the brightness was 20/100 and it did not increase any more. Apparently, if you move it with the bus power of the device side, this seems to be the upper limit.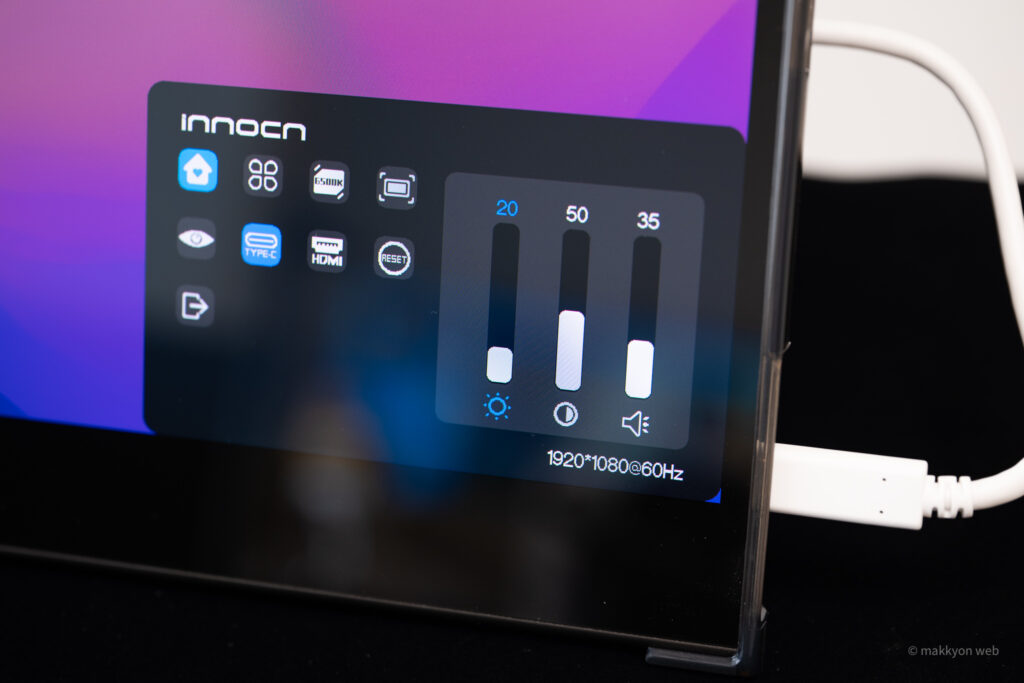 So, I tried connecting the AC adapter to the INNOCN 15K1F side.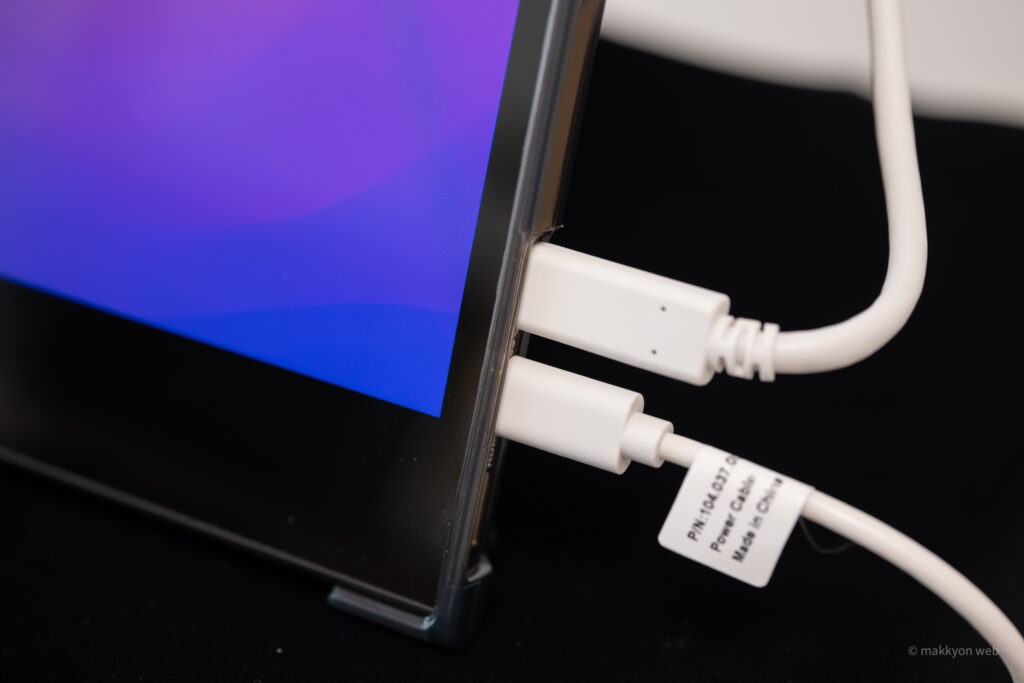 When I assisted the power using the included USB-AC adapter, I was able to raise it to 100/100.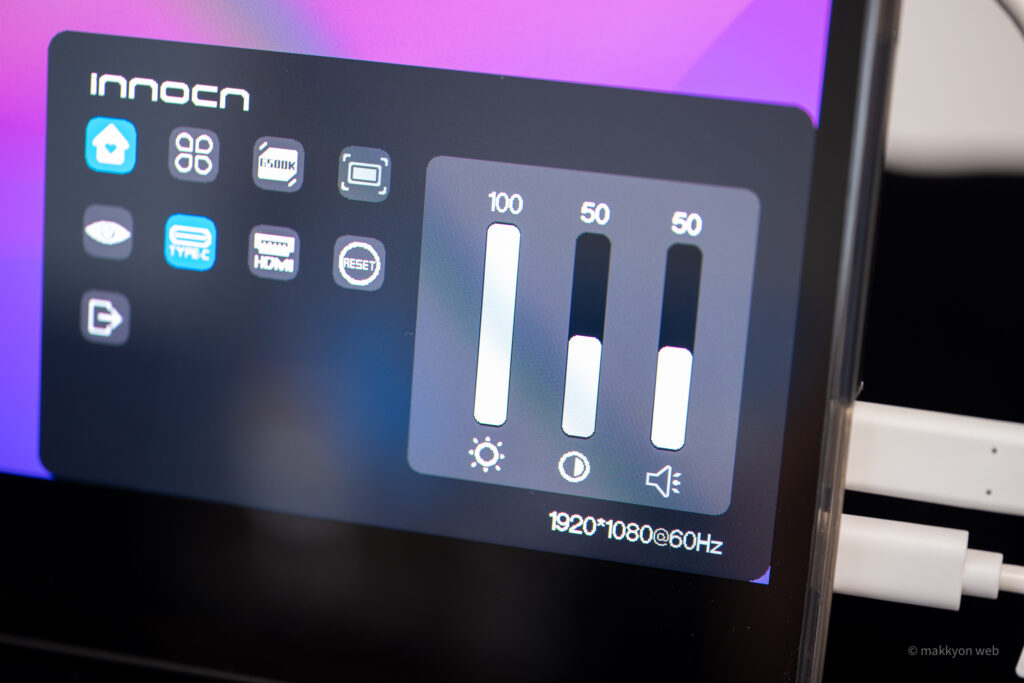 Please be careful if you are trying to operate with only a USB-C cable.
USB-C port works no matter which one you plug in
The INNOCN 15K1F has two USB-C ports. Even if there are two mobile displays of other companies, there is a product that one port is dedicated to power supply, but the INNOCN 15K1F worked even if it was replaced and inserted.
Pass-through charging to the device side is also possible
If the INNOCN 15K1F is powered by an AC adapter, it will also supply power to the device side (MacBook Air in this case).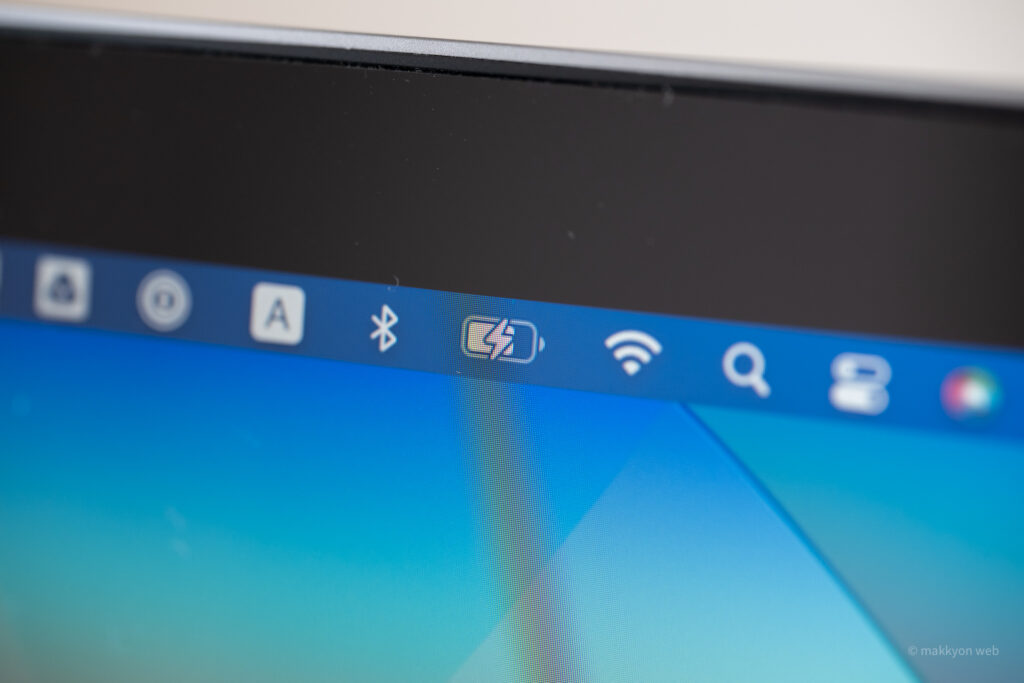 However, the power was minimal, and it was recognized as a "9W" adapter in the macOS system report.
Is "black" "black" in OLED displays?
High contrast and black reproducibility are often cited as features of OLED displays. The black that comes out on the LCD is shining with the backlight, so it doesn't become the original black. So it's a waste even in a pitch-black scene.
However, OLED will be very dark even in dark scenes. So, I tried playing the 4K source "Pacific Rim".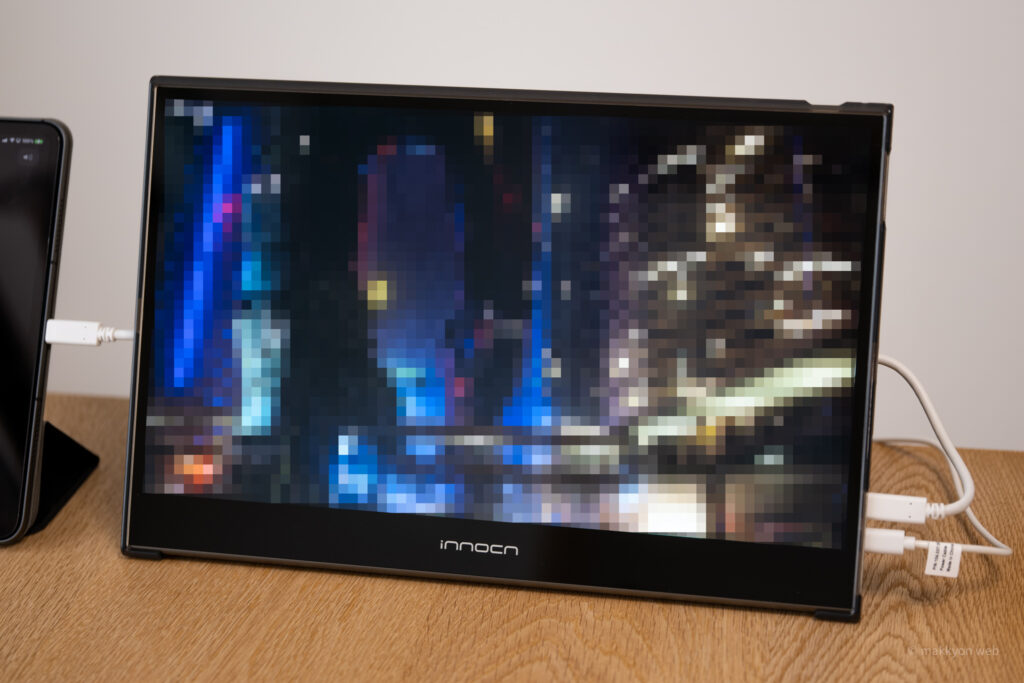 Playing back the battle between KAIJU and Jaeger in Hong Kong, the neon lights in Hong Kong are shining brightly, and the rest of the darkness is completely black. Amazing, as expected OLED. This is the one that makes the video fun.
The sound of the stereo speakers is as it is …
INNOCN 15K1F is equipped with stereo speakers on the left and right. It is convenient because audio is also transmitted with a single USB-C cable. However, the sound quality was reasonable, and the powerful sound of the aforementioned "Pacific Rim" was a little hidden, and the sound quality was light. Considering the high quality of the image, the speaker is a bonus.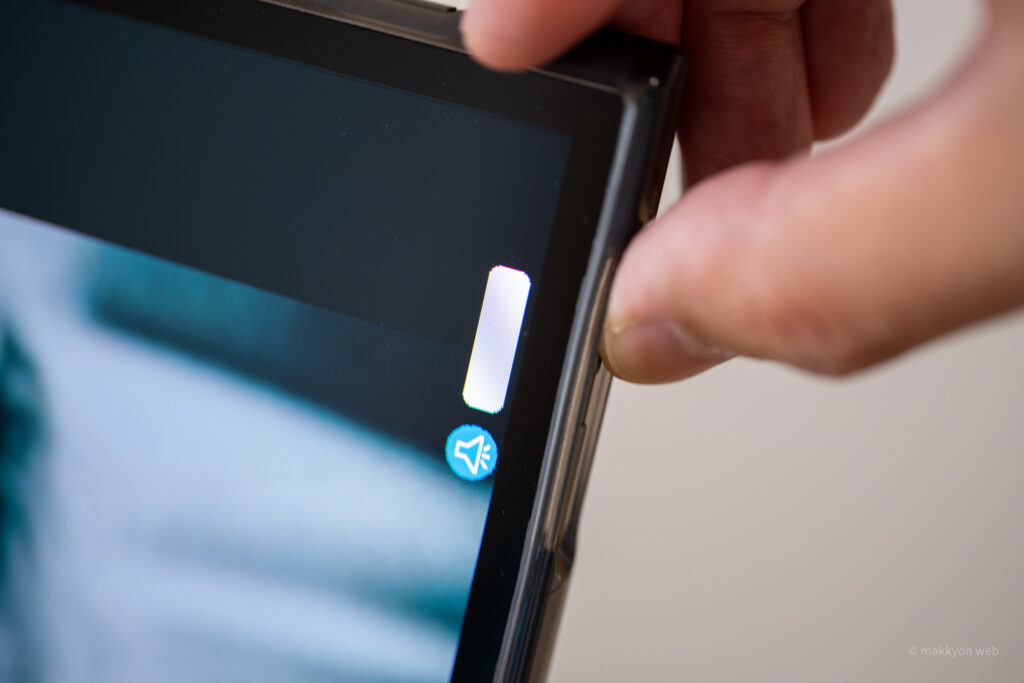 The image is too beautiful, so it feels like a waste, but if you want to enjoy a solid sound, use headphones or external speakers.
Compare INNOCN 15K1F with the organic EL version of Nintendo Switch
By the way, the INNOCN 15K1F is more beautiful than the display of MacBook Air and iPad Pro, but it shows its performance even in games.
Nintendo Switch Organic EL version (left photo) and INNOCN 15K1F (right photo). But the switch cannot be mirrored, so it's a little difficult to compare.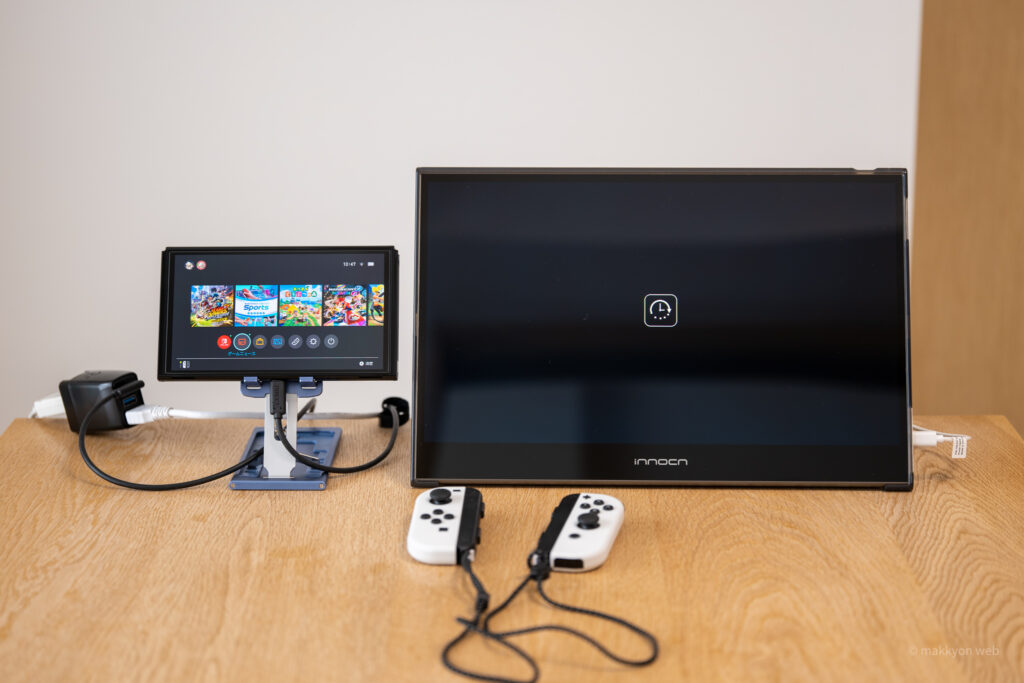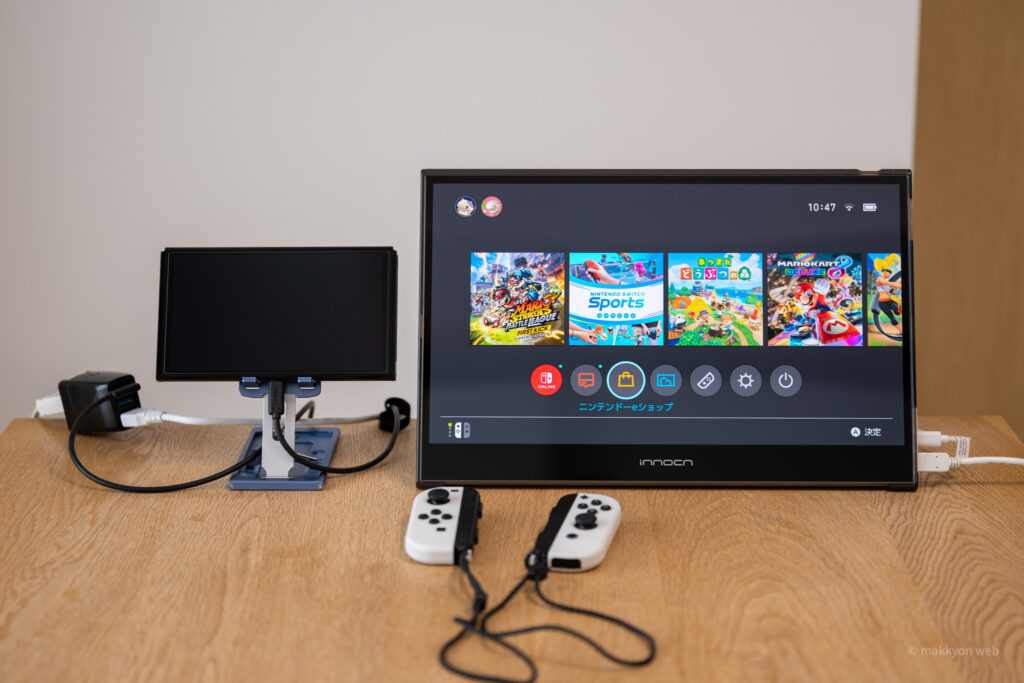 So, I combined the above two photos (both were taken at about the same time, and the adjustments are almost the same). INNOCN 15K1F is brighter and has higher contrast. It looks even more beautiful than the usual switch screen.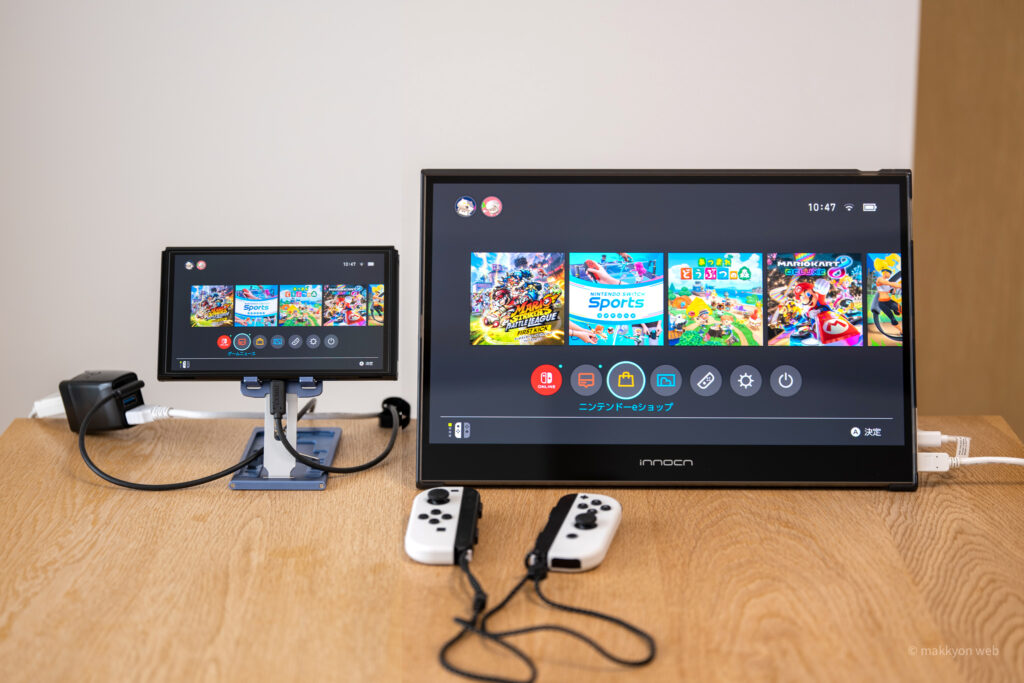 By the way, the screen refresh rate of INNOCN 15K1F is 60Hz, which is not a substitute for gaming displays such as 120Hz and 144Hz.
* The GENKI Covert Dock is used to display the screen of the Nintendo Switch without a dock.
Two worries for Nintendo Switch users? ?? Since its introduction in 2017, Nintendo Switch is an evolving game machine that continues to propose new ways of playing. To use such a switch.
Summary of INNOCN 15.6 inch OLED display 15K1F
OLED mobile display, the best! I felt that. No complaints other than the average performance of the speakers. What about OLEDs on mobile displays? I was wondering, but it is not inferior to Mac and iPad, but it is more beautiful than that, and I am satisfied with it.
Even when watching movies and videos, the contrast is high and the blackness is good, which brings out the goodness of the video source.
At the beginning, I wrote that OLED has become popular, but this product costs less than 40,000 yen on Amazon. Coupons are also distributed and it may be even cheaper, so please check it out.
Organic el mobile monitor INNOCN 15K1F 15.6 inch OLED panel mobile display pc monitor FHD 1080P 100% DCI-P3 1MS 3-sided narrow frame Lightweight MINI HDMI Type-c connection PS4 / PS5 / XBOX / Switch / PC / Mac compatible with stand cover at home Work business trip game movie with instruction manual.